Discover monsters galore this week as we read, write, sing, talk, and play together. Monsters don't scare us!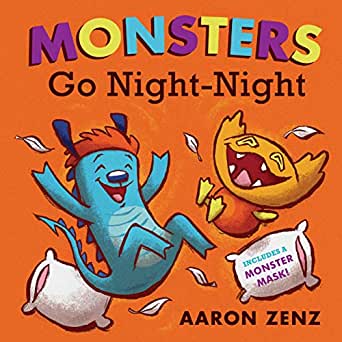 Bedtime means brushing your teeth, putting on pajamas, snuggling, and kissing your family goodnight. For monsters, bedtime looks a little different. They brush their teeth, but not with a toothbrush. They get dressed for bed, but not in slippers and nightcaps. They snuggle, but not with a blankie or a teddy bear. Monsters Go Night-Night takes readers through the bedtime rituals of seven friendly monsters while making each step of the routine a guessing game. Getting ready for bed has never been so much fun!
Use your library card or apply for an ecard here to access our digital library!
Increase pre-literacy skills as you read together:
Answer the questions throughout the book as you read.
Talk about how you get ready for bedtime. Is your routine the same as the monsters, or different?
Ask your little readers to point to or name the different items on the pages.
Talk about the colors that you see and practice counting the items on the pages.
There is a lot of large and noticeable print on the pages. Draw attention to these words with your finger as you read them. This will help your little ones to understand that the print carries the meaning, not the pictures.
#SING: If you're a monster and you know it sing along with us!
Horns, Fangs, Knees, and Claws (Tune: Head, Shoulders, Knees, and Toes)
Horns and fangs,
Knees and claws, knees and claws.
Horns and fangs,
Knees and claws, knees and claws.
Eyes and ears and mouth and paws.
Horns and fangs,
Knees and claws, knees and claws.
#EXPLORE: Make a Monster
You'll need:
Empty toilet paper roll(s)
Construction paper or tissue paper
Scissors
Glue
Paint, markers, or crayons
Encourage your little ones to create their own imaginary monsters using materials you have at home.
Here are some ideas:
Cut out shapes with scissors or tear paper with fingers to build fine motor skills.
Use glue to paste shapes to the monster body (toilet paper roll).
Use paint, markers, or crayons to add color or body parts to the monster(s).
#JOIN: From silly to scary, we love monsters one and all. See what monster magic we have in store this week.
Little Readers: M is for Monsters! This literacy-based program is for children from birth to pre-k and their families. We will sing, talk, read, write, and play together to develop the pre-literacy skills your little ones need to get ready to read and write. We will meet some monster friends as we read There's a Monster in Your Book by Tom Fletcher and Beware the Monster by Michaël Escoffier.
Monday, October 19, 2020 – 10 am
Little Movers & Shakers: Let's get the wiggles out! This music-based program is for children from birth to pre-k and their families. Through books, songs, and movement activities we will build pre-literacy skills. We'll start with Monster Boogie by Laurie Berkner and continue our monster moves with Frank Was a Monster Who Wanted to Dance by Keith Graves.
Each week we will use an instrument to sing a song and explore sounds and movement. This week we will be using rhythm sticks. Grab a pair of wooden spoons, unsharpened pencils, or anything you can use to bang together to create sound.
Tuesday, October 20, 2020 – 1 pm
Friday, October 23, 2020 – 10 am
Little Explorers: Calling all little monster lovers! This exploration-based program is for children from birth to pre-k and their families. We will use books to nurture curiosity, create, and discover the world around us. This week we will read Go Away, Big Green Monster by Ed Emberley and Monsters Love Colors by Mike Austin. After investigating our theme through stories, songs, and a game we will conclude our program with a hands-on activity.
Each week we will use a variety of materials that you may have at home for our exploration activity. This week's needed materials are:
Paint (multiple colors for mixing)
Plastic sandwich bag(s)
Wednesday, October 21, 2020 – 10 am
#KEEP READING: Check out these books for more great stories featuring monsters!