Animals are expressed in art in many different ways! We will share some great books about creating animal art, check out a Kanopy Kids video, and make our own artful animals.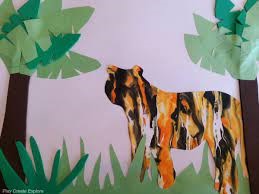 Supplies:
Cookie sheet or thick paper plate
Shaving cream
Food coloring OR paints
Cotton swabs or butter knife
White printer paper
Construction paper (various colors)
Glue
Markers or crayons
Instructions:
Spray a thin layer of shaving cream on the cookie sheet or paper plate. Take food coloring or watered down paint and drop orange, yellow, and black in stripes all along the shaving cream. Use the cotton swabs or butter knife to gently mix the paint into the shaving cream. Be careful not to mix too much, or it will make the colors muddy. Take a sheet of white paper and gently press it into the colored shaving cream. Pick it up and lay it down to set for a few minutes. Use the butter knife to carefully scrape off the shaving cream. Let the paper completely dry. Now you have a really cool pattered paper! Sketch out a tiger or follow the template in the link and cut out a tiger shape. Choose a piece of construction paper to be the background and glue in your tiger. Decorate its habitat, draw trees with markers or crayons, or cut them out of the construction paper and glue them in.
Discover Kanopy Kids! Use your library card to access Kanopy Kids for FREE, and explore all the cool videos, movies, and TV shows, like this Artzooka episode that teaches you how to make a whale out of a milk carton and make a cave for a bear:
#KEEP READING: Check out these books for more about animals in art!
#Library Academy
Make your quality time learning time by engaging your kids in Library Academy! Sign up for our weekly Library Academy newsletters to get easy-to-use programs that you can use wherever you are. They each start with a great book, include tons of enriching activities and coincide with a virtual library program that are designed to encourage reading motivation and build literacy skills. Learning is fun when you bring the library home!