This week, we are exploring some of the basic elements of art: line, shape, and color. We will share some books that highlight line, shape and color in art, check out a Kanopy Kids video, and create our own art pieces that feature these important building blocks for all artwork.
READ: Scribble Art by MaryAnn F. Kohl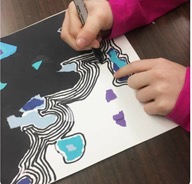 Supplies:
Sheet of white construction paper or cardstock
Sheet of black construction paper or cardstock
Assorted pieces or scraps of colored construction paper or cardstock
Glue stick or glue
Markers or crayons
Instructions:
The sheet of white paper will be the base of the collage. Take the sheet of black paper and tear it in half diagonally. Be creative as you tear, make the line wavy, jagged, etc. Glue one of the pieces of torn black paper to your white paper. Now take the pieces of colored paper and tear shapes out of them in different sizes. You can do geometric shapes, such as triangles, squares, and circles, or organic shapes, which are free-form. Choose about 5-8 of your favorites, and glue onto your white and black collage base. You can glue them on the white side, the black side, they can overlap sides or each other, use your imagination! Next, take a marker or crayon, and make repeating lines on the white side of your collage. They can be thick or thin lines; vertical, horizontal, or diagonal lines; or wavy, jagged, or straight lines; or a combination of what you like. Leave a little white space between the lines. Remember to save a space for your signature, because this masterpiece is done!
Discover Kanopy Kids! Use your library card to access Kanopy Kids for FREE, and explore all the cool videos, movies, and TV shows, like this Artzooka episode, that explains how frames and a background change the way our pictures look:
KEEP READING: Check out these titles for more on the elements of art
Library Academy
Make your quality time learning time by engaging your kids in Library Academy! Sign up for our weekly Library Academy newsletters to get easy-to-use programs that you can use wherever you are. They each start with a great book, include tons of enriching activities and coincide with a virtual library program that are designed to encourage reading motivation and build literacy skills. Learning is fun when you bring the library home!