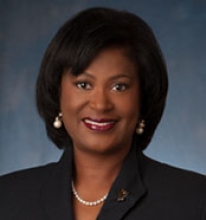 Re-elected for another 4-year term to the Jacksonville City Council, Joyce Morgan assumes new duties as Chair of the Rules Committee and Chair of the Value Adjustment Board. In addition, she will again serve on the Neighborhoods, Community Services, Public Health & Safety Committee. Last year, Morgan was Vice Chair of the Finance Committee. First elected in 2015, she served as the City Council Floor Leader. Her uncompromising leadership garnered her the "Charles D. Webb Award". That is the City Council's most prestigious internal award for commitment to public service. Morgan was appointed Council Chaplain her second year.
Dubbed the "Consistent Voice for Arlington", Morgan works to break down barriers through transparency in government. She brings City Hall directly to her neighborhood, through monthly town hall meetings. Morgan has initiated and participates in many clean-up activities throughout Arlington. Her open dialogue with law enforcement has created a climate of respect as citizens and police collaborate at monthly Sheriffs Watch meetings. Her work with schools, churches, non-profits, and other community organizations is unparalleled in helping to inspire and shift the momentum of District 1 forward in her second term.
Morgan points with pride to several projects slated for District 1 including:
A million-dollar rowing center to be built along the Arlington River
A 3.5 million-dollar swimming pool to be constructed at Blue Cypress Park
A new management team slated to begin operating the Blue Cypress Golf Course
Improvements at Bruce Park and Warrington Park
A million dollars in funding for renovations for the Norman Studios
And JTAs 2.5 million dollar high-tech roundabout at University Blvd and Merrill Rd
In addition, Council Member Morgan fought for a new zoning overlay in the Renew Arlington Community Redevelopment Area and the Façade Grants to help fund the upgrades.
Arriving in Jacksonville back in 1988, Morgan was a television personality in both Atlanta and Macon, Georgia, and was a news anchor here in Jacksonville at Channel 17 (WJKS). She left for a position in Dallas but returned to Channel 4 (WJXT) in 1993. Her three decades in communications and journalism have sharpened her understanding of the elements needed to build a strong community and city. She is a lifelong community servant, volunteering with dozens of organizations. She is a member of Alpha Kappa Alpha Sorority Inc. and has a host of honors ranging from media awards to Girl Scouts' Women of Distinction.
Morgan is married to Dr. Richard Danford, Jr., CEO of the Jacksonville Urban League. They have three children, Faith, Morgan, and Richard III. Joyce and her family are members of Bethel Baptist Institutional Church.