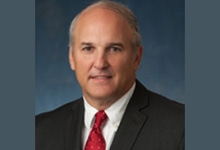 Danny, having just recently retired after 27 years was the President and founder of Planogramming Solutions, Inc., an international outsourcing Retail Space Management Solutions Company founded in 1991 here in Jacksonville, Florida. Prior to starting his company, in 1985 he moved to Jacksonville working for Winn-Dixie Corporate after having graduated from Valdosta State University, earning degrees in Business Management & Management Information Systems. Danny has served on the VSU Harley Langdale Jr. College of Business School Advisory Board for many years.
Danny has served the City and the Southside community through various community groups and appointments, beginning with the founding of Better Baymeadows Inc., a Public/Private Partnership with the FDOT. Since 2007, prior to being elected to City Council, Danny served on the Mayor's Citizens Planning Advisory Committee "CPAC" for District 3, chairing the Growth Management and Transportation committee for most of those years. In 2012, was appointed by the Jacksonville City Council to the TRUE Commission* and in 2013 to the JIA Area Re-Development Agency Board. Danny also served his homeowner community of Deercreek Country Club as a two term president and six-term Treasurer up thru 2015.
In 2011, Danny was instrumental in leading the effort to "re-district" the Southside which led to the creation of the new District 11 seat for which he is now the first elected City Councilman for this area. Danny during his three years on council has served on various committees including Finance (2 years), Land Use & Zoning (3 years), Value Adjustment Board (3 years), Rules (1 Year) and as the Council liaison to the City's "Self-Insured" Health Insurance Committee (3 years).  Danny has served the Council in leadership positions including Vice-Chair of Finance 2017-2018, Chair of the Land Use & Zoning (LUZ) 2016-2017, and Chair of the Tower Review Committee 2015-2016. Additional assignments have included the Special Committee's on Solid Waste, on Parks, on Consolidated Government and recently on the Committee of the Future of JEA.
Danny was awarded the City Council's most prestigious award, the Charles D. Webb Award for 2016-2017 given annually by the outgoing President, to the Council Member that best exemplifies the extraordinary commitment to public services demonstrated by the late Charles D. Webb during his years on the City Council from 1971 until his death in 1976.
Danny and his wife Linda just celebrated their 25th wedding anniversary and have two daughters, Ashlyn who is a graduate from UCF with a degree in Broadcast Journalism and is currently the Public Information Officer (PIO) for the City of Valdosta Georgia after having been the TV Multimedia Journalist Bureau Reporter in Thomasville, GA for WALB NBC/ABC. Lauren who attends Stanton in the IB program is about to complete her junior year.