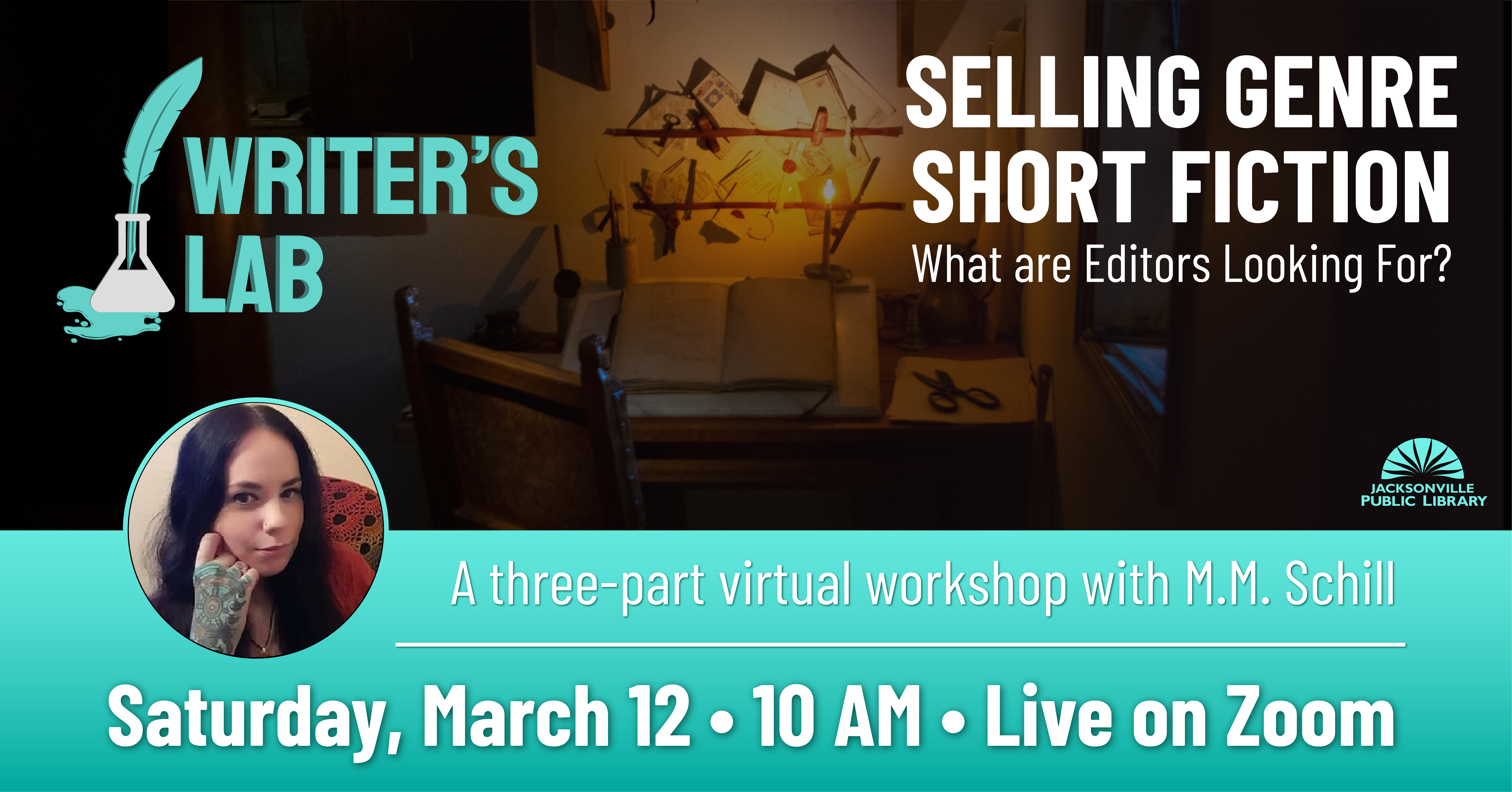 You've got a great story. You've made your characters complex. You've put everything on the page, with a great fantasy world or a murder mystery hook (or both!), and your word count comes in at a tight short story or novella length.
Now what?
Author and PseudoPod associate editor M. M. Schill will tell you how to make your short fiction shine above the rest and how to sell it to the right publications.
#JOIN:
M. M. Schill for Selling Genre Short Fiction. Click the titles to register.
Saturday, March 13: What are Editors Looking For?
Saturday, March 20: Competitive Edge: How to Stand Out Among the Slush
Saturday, March 27: The Business of Selling in the Genre Pro-Market
M. M. Schill currently resides in North Florida. She's a writer, award-winning baker, graphic designer, and illustrator. When she's not creating, she studies and teaches martial arts. Outside of those pursuits, she's an outspoken advocate for abuse survivors. She maintains close ties to local survivor volunteer groups and help-centers. She often writes on the topic when she isn't crafting in her speculative fiction worlds. 
#READ:
The best way to sell fiction is to write good fiction! M. M. Schill recommends the following books for upping your writing game. All of these books include sections on selling your fiction, as well.
The Fantasy Fiction Formula, by Debora Chester
How to Write Science Fiction and Fantasy, by Orson Scott Card
The Kick-Ass Writer, by Chuck Wendig
#EXPLORE:
Are you tired of staring at a page after doing all your research and writing pages of your new story? You can get more great writing advice from the Writing Excuses podcast, hosted by genre luminaries including Mary Robinette Kowal, Brandon Sanderson, and Dan Wells. There are hundreds of 15-minute episodes on topics from promotion and branding to worldbuilding to editing to puppetry (yes, really).