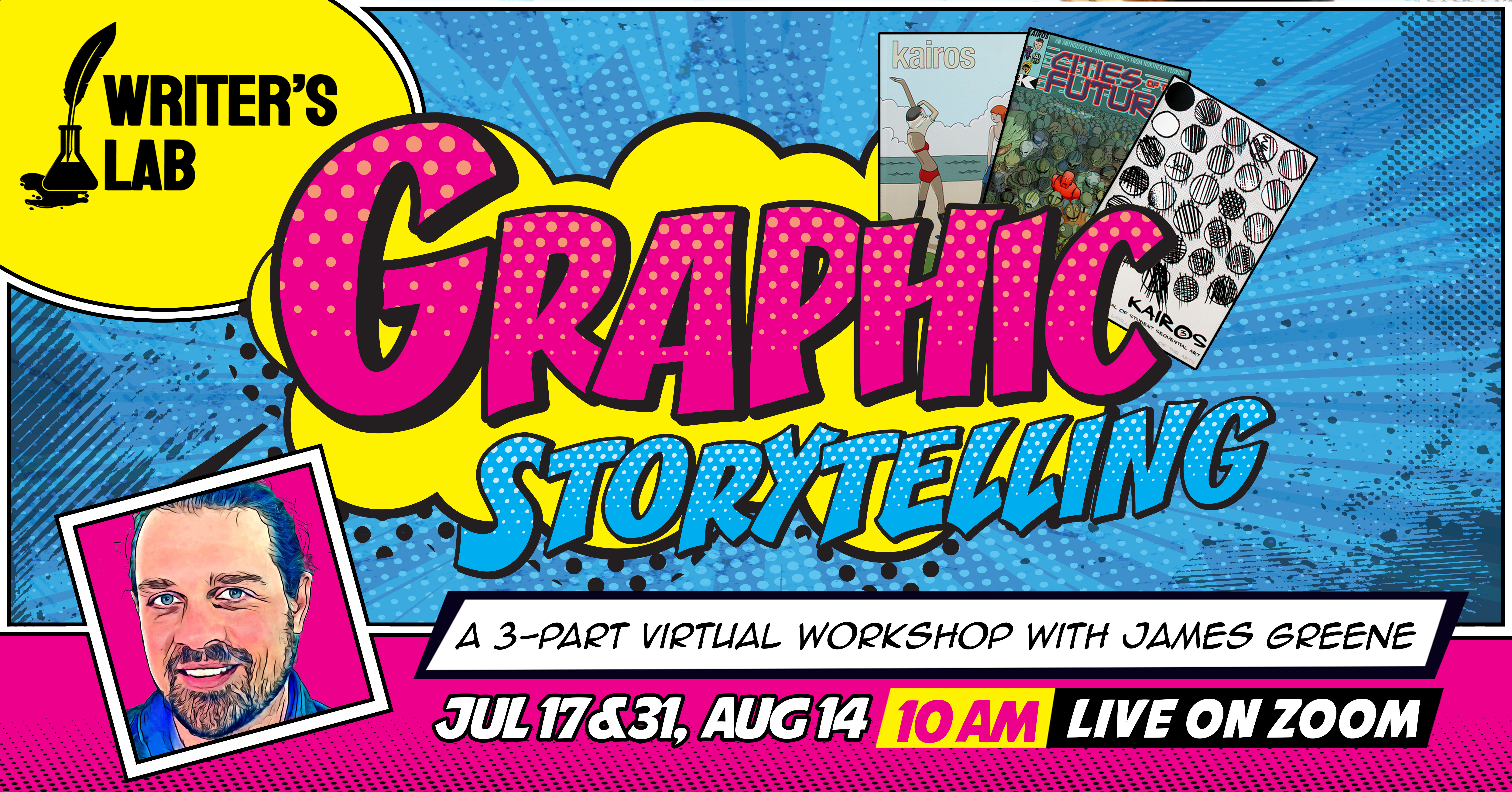 #Writer's Lab: Graphic Storytelling
#July 17 & 31, August 14 at 10am
Have you always wanted to write and/or draw comics? Are you interested in partnering with an artist to form a creative team to craft a graphic narrative? Learn some key lessons in creating your own comics with artist and educator James Greene in this three-part workshop. Exploit the real-estate of the blank page while yielding to the collaborative virtues of words and pictures where image is text, too.
Practice the art of sequential storytelling with comics educator James Greene, creator of Meet the Neighbors and the KAIROS series of student comics anthologies.
#JOIN:
Graphic Storytelling Workshop with James Greene
July 17: Words and Pictures
July 31: The "Invisible" Art
August 14: The Page as a Unit of Meaning
Sign up for one workshop or all three!
#READ:
James recommends the Bone series by Jeff Smith, set to be adapted soon for Netflix. "I hugely recommend checking out our collection of Scholastic's full-color Bone books and also Rose, which is kind of a prequel to the saga. The series fits into the fantasy realm with very good characters and graphic storytelling. Jeff Smith creates such lush backdrops, and his experience in animation lends a lot of great 'acting' from the cartoon stars. It goes to show how storytelling skill, faith in your product, and persistence can pay off creatively and financially. Read it so we can talk about it together!"
#EXPLORE:
James recommends the Cartoonist Kayfabe podcast, available on YouTube and your podcatcher of choice. "Drawing is something I try to do for about two hours a day. I like to have podcasts playing during that time, and on long nights I keep company with one called Cartoonist Kayfabe by award-winning cartoonists Jim Rugg and Ed Piskor. The duo have both worked in the medium for decades, with Piskor creating the stellar Hip-Hop Family Tree, a nonfiction comic book origin story for hip-hop music. Kids of the 80's and 90's will appreciate that. Jim Rugg is the creator of many titles including Street Angel: The Deadliest Girl Alive and is the artist on a new graphic novel called The Plain Janes. Fans of comics across generations will find something in this podcast, as each episode usually involves an artistic analysis of a notable or historic comic book."
Originally from Cedar Rapids, Iowa, James Greene moved to Florida almost 20 years ago and considers the creepy-crawly Southeast his home. He holds a BFA (2001) in Printmaking and Photography from the University of Northern Iowa and a MFA (2006) in Printmaking from the University of Tennessee. Since 2002 he has held a number of art education posts including in higher ed, secondary education, museum education. He presently conducts library programming while being a single dad of two sons.