Tuesday, September 28, 2021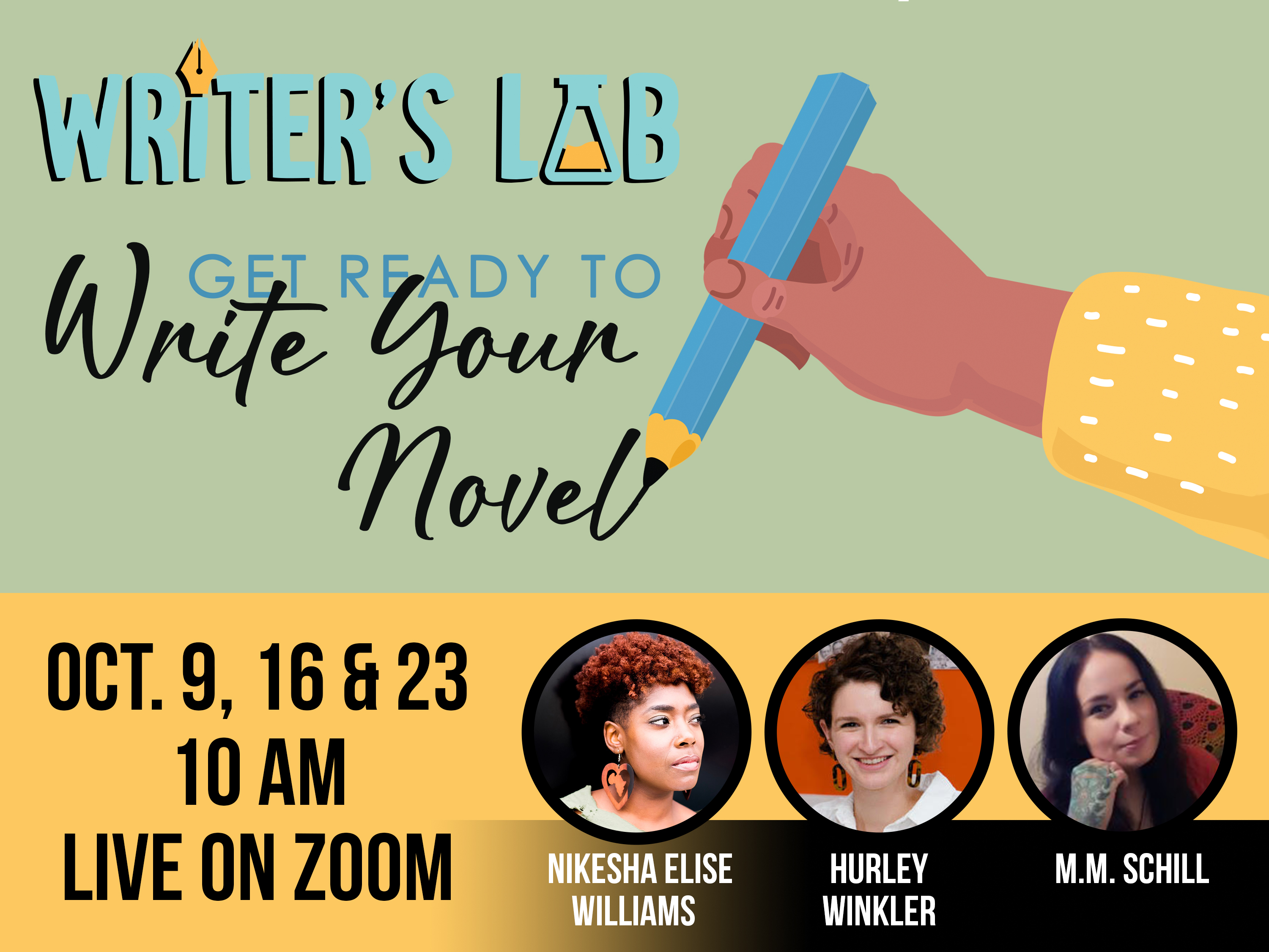 National Novel Writing Month is just around the corner! Whether you're an eager Wrimo, stocking up on snacks, water, and writing tips to see you through your 1667-word days, or a curious aspiring writer, wondering what you can really accomplish in a month of writing, our October Writer's Lab workshops have you covered!
Join us online to work with three local writers for hands-on workshops to improve your novel's Setting, Character, and Plot before you even begin. Come ready to learn and ready to write!
#JOIN: Nikesha Elise Williams, Hurley Winkler, and M.M. Schill to Get Ready to Write Your Novel
Register for one workshop or all three!
October 9 - The Importance of Place: The Silent Character of Your Story, with Nikesha Elise Williams
Every story takes place somewhere, be it a real city, state, country, or one that is entirely made up. Every story has a setting. In "The Importance of Place" workshop, award-winning author Nikesha Elise Williams will help you connect the story and characters you are crafting with the location and place that the story is taking place.
This workshop is for writers who want to give their stories another level of depth beyond dialogue, character development, and descriptive exposition. By focusing explicitly on place, participants will discover new layers they can add to their stories, novels, essays, or nonfiction works in progress by capturing the feel, smell, sound, and movement of their setting in picturesque prose or vivid verse.
October 16 - Building Lively Characters in Fiction with Hurley Winkler
In any piece of fiction, character is the heartbeat of the story. A strong, memorable character lasts well beyond the final page of a short story or novel.
In this hands-on workshop, we'll discuss critical techniques for building strong, memorable characters, including voice, dialogue, and point of view. We'll work through writing exercises that we'll share with one another. Come prepared to put pen to paper! Register here.
October 23 - Plot Nesting for Genre Fiction with M.M. Schill
Create efficient, tight story structure, with a sense of completion, using the "Plot-nesting Technique". "Plot-nesting", sometimes called M.I.C.E. Method (or quotient), was originally popularized by Orson Scott Card and has been championed by sci-fi/fantasy writer Mary Robinette Kowal in recent years.
In this discussion we will go over what plot-nesting is, how plot-nesting can be used to tighten up story drafts, and the many strengths of this method, along with alternatives to plot-nesting when it comes to crafting a well-rounded piece of genre fiction. We'll also discuss how to save a story's ending once it's gone off the rails, how to start a story to get an editor's attention, how to approach editors in the pro-market, and genre expectations on the pro-market. Register here.
#READ: 
As you get ready to write a novel in a month, it might be helpful to hear that many authors have taken their 50,000 words and turned them into published novels (after much editing and revision, of course!). Check out some books that got their start in NaNoWrimo:
The Night Circus, by Erin Morgenstern
Wool, by Hugh Howey
Fangirl, by Rainbow Rowell
The Beautiful Land, by Alan Averill
#EXPLORE:
If this is the first you're hearing of NaNoWriMo, check out the event and organization here. And if you're feeling the challenge, register to write 50,000 words in November!