Monday, November 15, 2021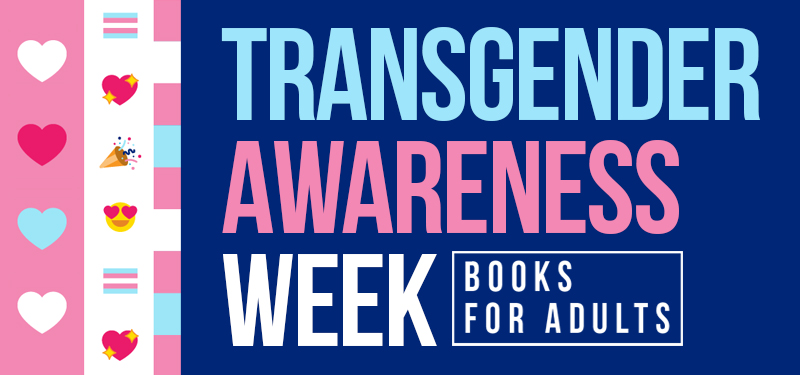 Transgender Awareness Week
Are you or someone you love transgender or gender non-conforming? While there are many great examples of positive trans representation in media, there's nothing quite like getting into a good book and getting into the mind of someone with real, lived experience. What is it like to be transgender outside of the spotlight of Hollywood? How do every day trans folks and the people who love them navigate life, love, careers and coming of age?
Each year between November 13 and 19, people and organizations around the world participate in Transgender Awareness Week. So, while not a traditional "week" (it doesn't always start on Sunday or Monday), it is observed the seven calendar days leading up to Transgender Day of Remembrance on November 20. The purpose of both events is to help raise visibility about transgender people and the issues members of the community face.
Sarah McBride's biography Tomorrow Will Be Different: Love, Loss, And The Fight For Trans Equality is a powerful entry point into the LGBTQ+ community's battle for equal rights and what it means to be openly transgender. McBride is a Delaware state Senator who is best known as the first transgender person to speak at a national political convention in 2016.
The importance of positive stories
While Transgender Awareness Week is often celebratory or focused on positive stories and examples of representation, Transgender Day of Remembrance is a more solemn event. Started in 1999 by Gwendolyn Ann Smith as a vigil for Rita Hester, this day is set aside to honor the memory of transgender people whose lives were lost to acts of violence that year.
For this reason, there is also a Transgender Day of Visibility on March 31, created in 2009 in an effort to acknowledge and celebrate living members of the transgender community. However and whenever you celebrate, a great way to bring attention to the transgender and gender non-conforming community -- and their needs -- is by sharing positive stories and experiences of transgender individuals.
Trans representation in media
Even if you don't know someone who's transgender, you may have encountered trans representation in TV and film. Artists and celebrities like Laverne Cox, Elliot Page, Jazz Jennings, Indya Moore, MJ Rodriguez and Nicole Maines have been open about their stories – in part – to show that trans people experience joy as well as tragedy, love and belonging as well as hate and discrimination.
Nicole Maine's story is told by Pulitzer Prize-winning author Amy Ellis Nutt in Becoming Nicole: The Transformation Of An American Family. Maines is best known for her portrayal as the superhero Dreamer (a.k.a. Nia Nal) in the CW's Supergirl. Prior to acting, she was the anonymous plaintiff in the Maine Supreme Judicial Court case Doe v. Regional School Unit 26, where she argued her school district could not deny her access to the girls' bathroom for being transgender. She is the first to portray a transgender superhero on television.
Trans stories in the world of fiction
Fictional stories, with transgender or gender non-conforming main characters can have a very powerful and positive effect. One of the most talked about books this year has been Detransition, Baby by Torrey Peters. It made history (and headlines) when it became the first book written by a trans woman to appear on the longlist for the Women's Prize for Fiction.
Likewise, Felix Ever After by National Book Award-winning and bestselling author Kacen Callender has popped up on several reading Young Adult reading lists. Callender is Black, queer, trans, and uses they/them and he/him pronouns. Callender debuted their chosen name when announcing Felix Ever After in May 2019.
Booklist
So, whether you're celebrating Transgender Awareness Week by educating yourself or you're just looking for affirming stories about trans people, written by trans and gender non-conforming folks: the Library has several great options. Here are a few page turners with trans or gender non-conforming characters: