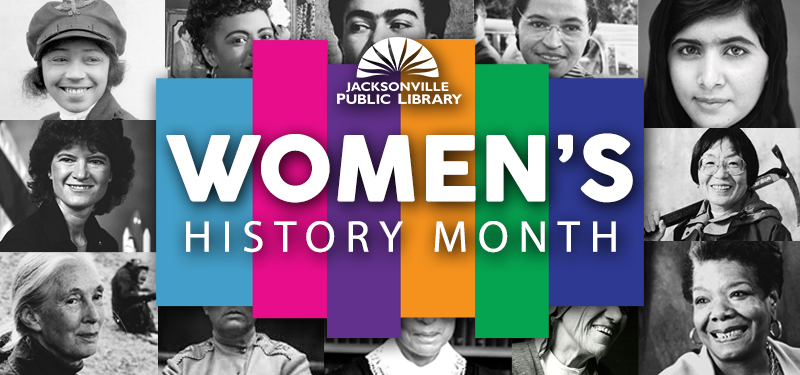 A More Inclusive History
For the last 34 years, the month of March has been designated "Women's History Month" by Presidential Proclamation. It is designed to "celebrate the contributions women have made to the United States and recognize the specific achievements women have made over the course of American history in a variety of fields."
In essence, this month is about making sure everyone's stories are told. It's about making sure the accomplishments of women take their rightful place and ample space alongside the achievements of men. If we are telling - and if children are learning - this more accurate and inclusive history, then women's "contributions" will finally be given (and celebrated for) their true weight and importance. Then and only then will these stories command the gravity and attention they deserve.
As important as these stories are to tell: This celebration is not just about honoring the past. It is an annual reminder but it is also an opportunity to reflect, to learn, and to grow. Women's History Month is just as much about the challenges of today and our hopes for the future as it is about honoring and setting the record straight about the past. We are constantly making and writing our history. We need to do everything we can to ensure no one gets written or left out. Our future needs to be even more inclusive and equal.
Some of the women and girls featured in these booklists might just change the way you see history. Others may help you better understand the current state of women's rights and the issues facing women and girls domestically and globally. Even if these books don't fundamentally shift your perspective or offer you a ton of new insight (though we surely hope they do!), these stories of may still give you reason to cheer. And maybe, just maybe... they will give you the inspiration you've been looking for to continue leading change in your chosen field, in your workplaces, in the community, or in the country at large.
Adult Booklist
Youth Booklist
"If we want our girls to benefit from the courage and wisdom of the women before them, we have to share the stories." – Shireen Dodson
One way to honor the women in these stories is to confront the issues and challenges of our time. Included in the list are contemporary women who are actively working to secure a better future for themselves, other women and girls as well as people of all genders, races, ethnicities, etc. They do more than simply hope for a more equal and equitable future. They are putting in the work. So, this Women's History Month, let's celebrate the trailblazers and everything that they accomplished. Let's also make sure the hurdles that they worked so hard to clear actually stay cleared. Finally, let's uplift and encourage all of the brave modern day women and girls who have picked up the baton and worked to become the change they wish to see in the world.
There will always be new trails to blaze and more progress to be made. As a country and as we collectively move ever closer to that "more perfect union" talked about in the Preamble to our Constitution, may we always recognize the contributions of women in that process and to that progress.
Telling the Stories of Women
Women's History Month actually began as Women's History Week back in 1978. It was a community celebration in Santa Rosa, California. By the following year, this movement to acknowledge and celebrate women's roles in American history quickly spread to other communities. And by 1980, a consortium of women's groups and historians had formed and started lobbying for national recognition.
Their efforts proved to be successful. The first national "Women's History Week" was declared in 1980 by President Carter the week of February, March 8 (to coincide with International Women's Day). Seven years later, Congress passed Public Law 100-9 – officially making March "Women's History Month." For more history, check out this link.
Since then, it's been the mission of groups like the National Women's History Alliance "to tell the stories of women who transformed our nation." In recent years, the Alliance has grown their online presence to make resources for celebrating Women's History Month more accessible. They also plan to create physical museum "to educate, inspire, empower, shape the future, and provide a complete view of American history."
The NWHA believes that "women's history inspires all people to have equal respect for everyone's experiences and accomplishments and to see there are no obstacles to achieving their dreams." Learn more by clicking here.
Digital Exhibits To Explore
Currently, there is an exhibit called "Girlhood (It's Complicated) presented by the Smithsonian Institution and the National Museum of American History that's worth checking out. "Spanning a timeframe of more than 200 years and showcasing over 200 objects, this exhibition examines the ways American girls have spoken up, challenged expectations and been on the frontlines of change." View the exhibit here.
Another great resource is the National Women's History Museum's monthly "Fab Five" which highlights "women that have, and continue to make, history." This March, they are spotlighting Sylvia Rivera, Stacey Abrams, Anna Arnold Hedgeman, Pauli Murray, and Cori Bush for "Activism and Civic Engagement." Check it out here.