#Jacksonville's First Female Architect
Recently, there has been some discussion about and renewed interested in Jacksonville's first female architect, Henrietta Dozier aka "Harry." There are great articles and interviews on the Jacksonville Historical Society's website as well as the Jaxson magazine/blog. This Women's History Month, the Library dug into its Special Collections and a few old Florida Times-Union articles as well. Just what was there about this woman's story that's so compelling that we come back to it, decade after decade? Was it her determination to succeed in a field dominated by men? Was it her approach to life or the boundaries she pushed? What more can we learn from her?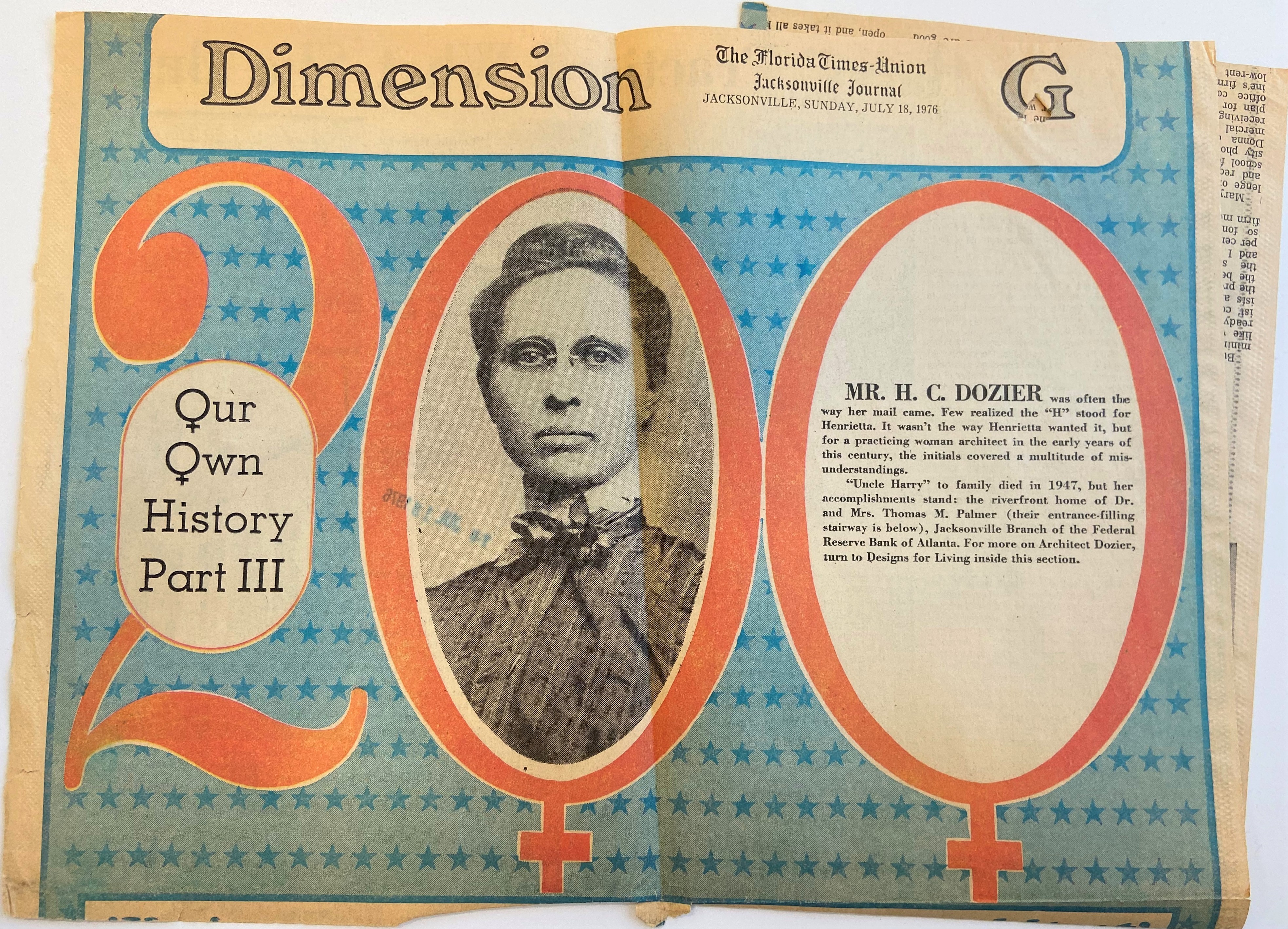 #Women Can Be Architects
Henrietta Cuttino Dozier was born in Fernandina Beach in 1872. In a WPA interview from 1939 she said, "Even in my childhood I wanted to study architecture, and have drawn plans since I was seven." One of only three women in her graduating class at MIT's School of Architecture in 1899, she moved to Georgia shortly after (she is also credited with being the first female architect in the state) and began her career in Atlanta. She moved back to Jacksonville in 1914 – where she lived till her death in 1947. She was also the first Southern woman to become a member of the American Institute of Architects. Her list of accomplishments include the Federal Reserve Bank building on North Hogan Street and the Lampru Court apartments in Springfield and at least a dozen homes in Riverside and Avondale.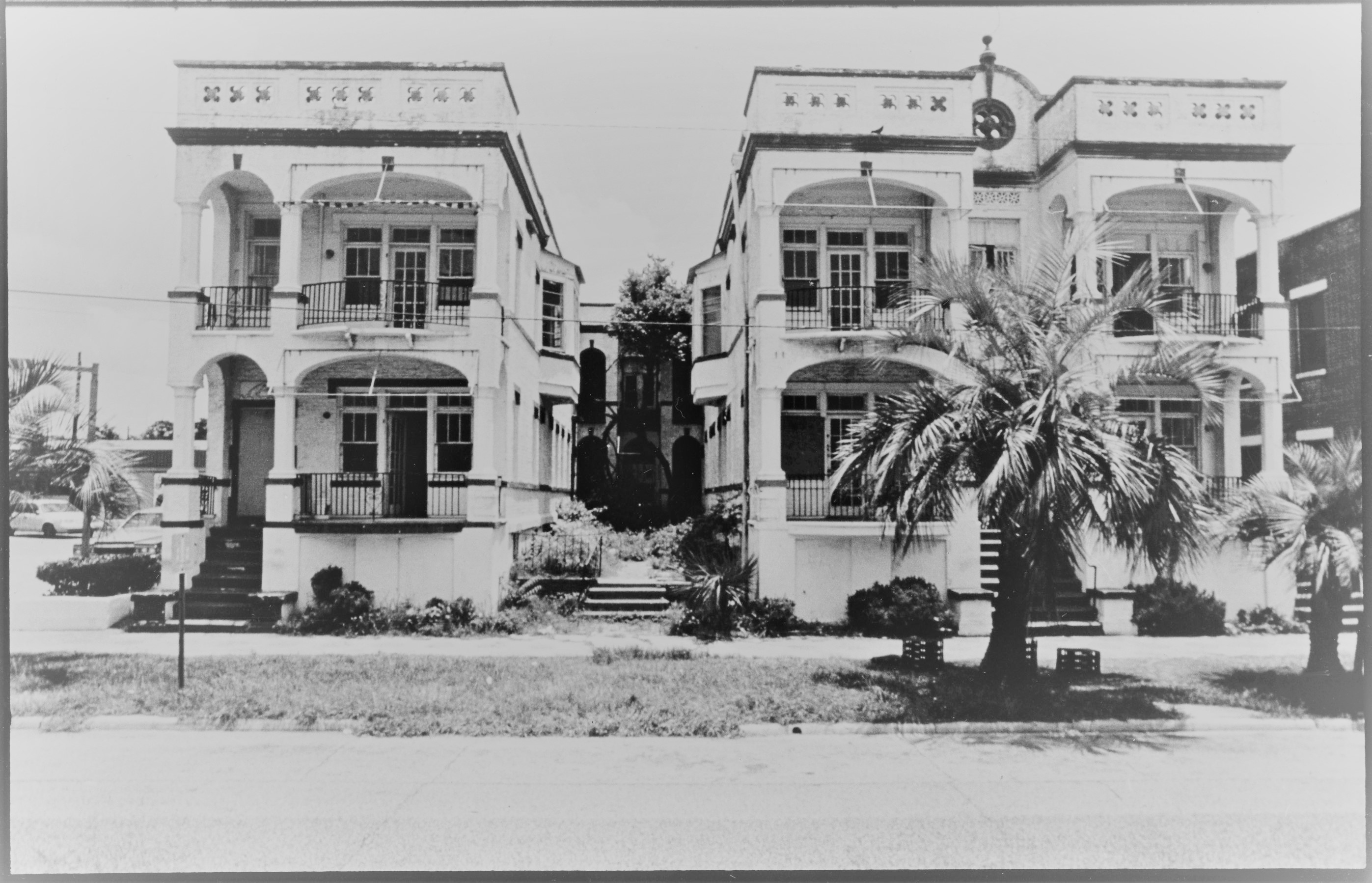 For more on the old Federal Reserve Bank, check out the Visit Jax Virtual Tour.
She also read voraciously, (secretly) wrote a romantic novella called A Woman Scorned: A Tale of Old Carolina (though it never got published), was a devoted genealogist, and learned to fly a plane in the 30s. Before her death, she was said to be working at the Naval Air Station. She had actually applied for a patent having to do with a safety device for planes. So, she was still designing things well into her 70s.
#What's the Problem with Pants?
Dozier was a pioneer in many respects. Lauded as a "daring" and "tough woman" in a "man's world," several accounts of her start with anecdotes about showing up to construction sites in pants and a hard hat (scandalous at the time) and referring to herself as "Harry" or "Mr. H.C. Dozier, architect." Apparently, the men working at these sites hated this and dreaded seeing her come. However, that attitude may have had more to do with the fact that she was a female, there to inspect their work. It probably had less to do with her practical work attire or what we would now call personal protective equipment. But this wasn't the only way she broke gender norms.
While some believe her frequent use of "Harry" as an alias was simply an attempt to simply get more clients or respect, Dozier had actually been using that name since at least high school. According to one article by Sharon Weightman, staff writer for the Florida Times-Union in 1994, Dozier's commencement program in 1891 lists her as "Harry Dozier." She was also known as "cousin Harry" and "uncle Harry" by some of her family.
#Dozier's Style
"Harry's" architectural design style has been called "eclectic" and "individualistic." She thought Paris had the richest architectural landscape and often voiced disappointment in newer buildings built in other areas of Europe and here in the U.S. with simpler or "purer" designs. She felt they lacked originality. Her designs were often an assemblage of different historical periods – showcasing the depth of her knowledge and her experimental and bold vision. Interestingly, though, she isn't as celebrated or well known as other Jacksonville architects like Henry J. Klutho, who frequently mixed styles to impressive effect. According to Cynthia Parks, another staff writer for The Times-Union in 1976, Dozier almost got to build a new City Hall to replace the one lost in the Great Fire of 1901. She drew up plans for a four-story Italian Renaissance style building (costing $400,000) that included a first-floor auditorium with seating for 2000. She even had a rather persistent champion in City Councilman D.C. Randolph. However, the project was ultimately rejected.
Several of her buildings have been "lost" – either literally razed for new development or credit for the design was lost to poor record keeping. However, the list of known and existing structures is still impressive.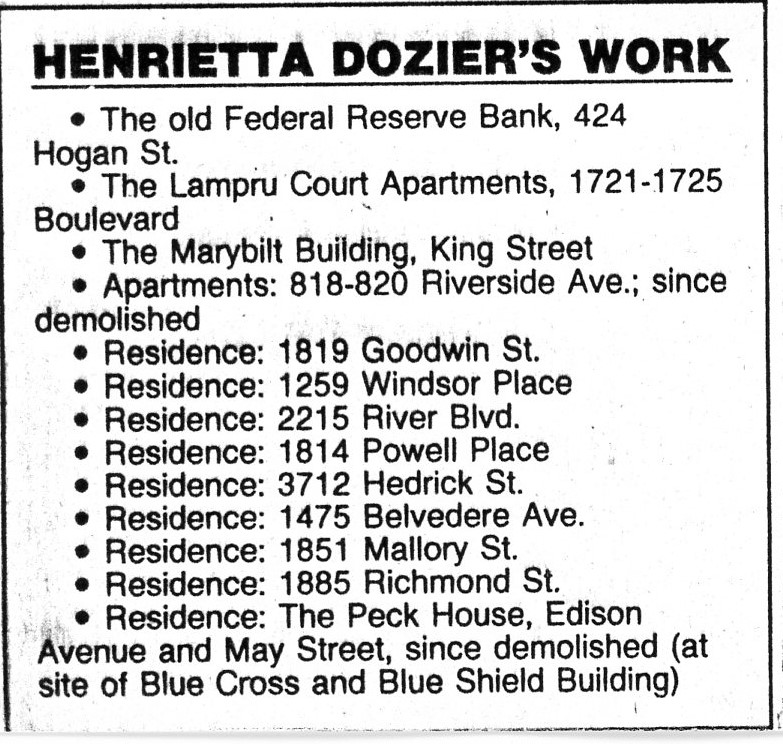 #The Dozier Legacy
"I do not know whether my life history will be of any interest," she said, "but, believe me, I have always lived! I love life and I want to live just as long as I can be of any use," Dozier said in an interview on March 1, 1939, conducted by Rose Shepherd for the Federal Writers' Project, a federal government project to fund written work and support writers during the Great Depression.
In the same interview, Dozier would go on to say, "For the most part I have been treated fairly. I remember one instance when designs were asked for the State and County Building in Atlanta, I went to the county officials, in the confidence of youth – it was in 1904 – but I knew what splendid training I had received, and stated brashly I would like to have this job. They said, 'We are sorry, Miss Dozier, but we cannot give it to you because you are not a voter.'" Of course, the 19th Amendment to the U.S. Constitution, which granted women the right to vote, was later ratified on August 18, 1920.
She obviously did not let that incident (or really anything or anyone) stop her form living life on her terms. This remarkable, persistent woman indeed added to the diversity of Jacksonville architecture. And it wasn't because she played the game. She played by her own rules and left quite a mark on the city in the process.
For those interested, there is also a book about Henrietta Dozier and other female architects called Architecture: A Place for Women by Ellen Perry Berkeley and Matilda McQuaid (editors) from the Smithsonian Institution Press.