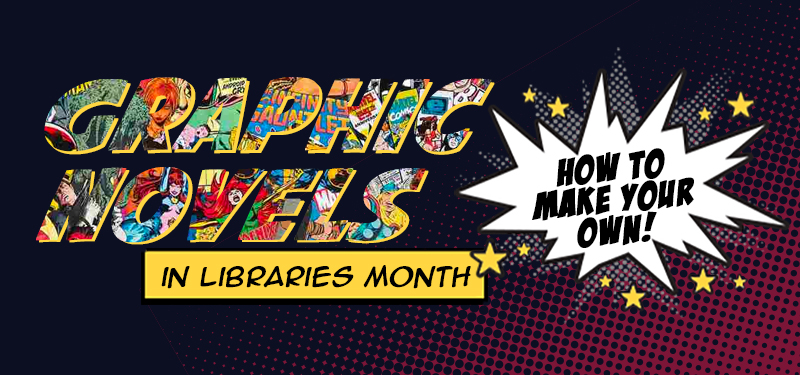 July is Graphic Novels in Libraries Month...
Comics – and their longer-form siblings, graphic novels – are much more than just books with pretty pictures. There may have panels instead of paragraphs and rely a lot more on visuals than descriptions but they actually share a lot in common with their prose (or text-only) counterparts. You can find graphic novels covering just about every conceivable genre and subject matter.
In recent decades, the art form has grown to include a wider variety of stories as well as more complex and diverse characters. It's not just about superheroes! But even those have become more sophisticated. This Graphic Novels in Libraries Month, take another look at graphic novels. From superheroes to "slice of life," from horror to humor and from biographies and historical non-fiction: there's something for everyone and all ages.
Have Graphic Novels Really Changed That Much?
Storytellers from around the world have expanded upon and continue to experiment with the graphic novel format. With compelling stories that rival (and often inspire) Hollywood itself and top-notch art, graphic novels are now the subject of reviews, museum exhibits and academic study. If you look, you'll still find plenty of sci-fi epics and superhero comics anthologies but these titles don't dominate the bookshelves like they once did.
Today, you're just as likely to find among the Library's collection a good graphic memoir like Tomboy by Liz Prince or historical non-fiction like March by famed Congressman John Lewis (about the Civil Rights Movement). Art Speigelman's Pulitzer-Prize-winning graphic memoir Maus is a great example of the potential that exists in this medium for serious storytelling. It illustrates (both literally and figuratively) conversations that the author had with his father, an Auschwitz survivor, about life in wartime Poland and the horrors of the Holocaust.
Benefits of Reading Comics and Graphic Novels
This sort of "serious" material is not just reserved for adult graphic novels, though. The format is often used to handle tough topics and other non-fiction stories for teen audiences. It can make the subject a little easier to handle and it feels a lot less intimidating.
For struggling young readers, graphic novels can act as a gateway into a world of reading; they build confidence, comprehension and vocabularies. Not only that, being able to see the characters' reactions, facial expressions, and body language can help teach valuable social skills like empathy.
What Are You Waiting For?
With so many reasons to give graphic novels a try and with so many great titles to choose from… now is the perfect time to head on over to your local library, to the Library's catalog, or our app. If you just can't get enough comics and graphic novels, Hoopla from your Library is your new best friend. Actually, it's great for streaming or downloading eBooks, eAudiobooks, movies, TV shows, music, and comics. If you're using the mobile app, you can also download titles to your device for offline playback later (where WiFi might not be available).
If you're interested in making your own comics and graphic novels, be sure to scroll to the bottom of each of the booklists below that accompany this blog. We've included some how-to books for different age groups. Or, sign up for "Graphic Storytelling with James Greene" or one of our other fine comic-themed programs (listed below).
#A Week of Comic-Themed Library Events
Join the library for a week-long comics celebration this July! Check out three great programs for readers, writers, and lovers of comics:
#ComiClub Book Club
Tuesday, July 13, 6pm at the Willow Branch Library
Whether you can name every Robin from memory or you liked that one episode of Watchmen on HBO, the ComiClub is here for you! This quarterly book club will read a variety of comics and graphic novels, starting with The Sandman: Overture. This stunning tale follows the King of Dreams as he travels across the universe—and into realms unbounded by time and space—on a fateful mission to prevent all of reality from unraveling. Register here to save your spot.
---
#Lit Chat with Michael Regina
Thursday, July 15, 7pm on Zoom
Michael Regina has been drawing comics since the third grade, and his passion for art and storytelling has stayed with him his whole life. The Jacksonville artist published his first books with Kickstarter money back in 2013, and now his newest book, The Sleepover, is being published by a major imprint. Find out how he achieved this success at our next Lit Chat! Register here and receive the Zoom link one hour before the event.
---
#Writer's Lab: Graphic Storytelling
Saturdays, July 17, July 31, and August 14, 10am on Zoom
Have you always wanted to write and/or draw comics? Are you interested in partnering with an artist to form a creative team to craft a graphic narrative? Learn some key lessons in creating your own comics with artist and educator James Greene in this three-part workshop. Sign up for one session or all three here and receive the Zoom link one hour before the event.
---