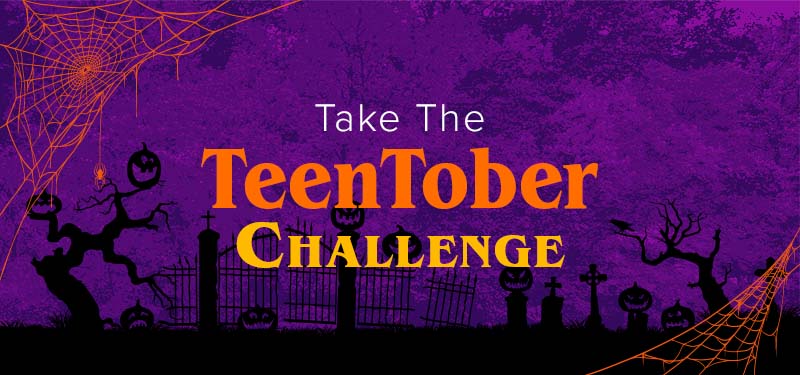 TeenTober All Year Long
What if there was a library made just for teens? What would it look like? What kinds of programs or services would it offer?
Take the TeenTober Challenge
TeenTober is a month-long celebration of teen services – and it's happening in libraries across the country, including yours! Teens can swing by their favorite library branch or even log in from home (or on the go) to participate in #TeenTober events throughout October (and beyoooooond!).
Programs Just for Teens
Did you know: 82% of public libraries offer after school programs to teens? Have you ever attended one? Last month, in person programs started coming back to the branches! We also still have a number of virtual and on-demand programs like Teen Think Tank.
Creative Ink
Are you craving an outlet for your creativity? Connect with your inner artist and other teens with Creative Ink! Whether you're a novice or the next big thing, this new, in-person teen art program is for you! You'll get inspired by books, famous artists or movements, experiment with new creative techniques, play games, and use a variety of materials to express yourself.
This program meets every other week -- afterschool at 4:45 p.m. -- at five library locations (Argyle, Beaches, Brentwood, San Marco, and Southeast). Art supplies for the project are provided free of charge but registration is required. Sign up by clicking here.
Get Lit(erary) with your library!
It's a subscription service, goodie bag, and Teen Book Club all in one. So, not only do you get swag (fun gifts, snacks, and more), it's a great way to discover new books.
There are two ways to join:
Sign up just ONCE as a subscriber. Never ever have to register again!
Register month-to-month. Think of it as a 30-day free trial.
Sign up now:
Pick up the book and your "Get Lit" bag at your favorite library branch. Once contacted, you have 7 days to pick up your bag.
Optional: Register for the virtual book chat the last Friday of the month at 4 p.m.
Teen Advisory Board (TAB)
It's the best way to make your voice heard and get the books, programs, and services you want to see at your library. In-person and virtual volunteer opportunities for teens (ages 12-18 years old) and those seeking a Bright Futures Scholarship (16-18 years old) are available!
We have in-person TAB groups and a virtual TAB group and they meet over Zoom twice a month on Saturdays. Register for a meeting and make your voice heard!
Books to Get You "Tok"ing
Teen spaces and young adult collections are really important! That's why 97% of public libraries offer a dedicated section for teen books and materials. Stop by and pick up a book (or hang out and study) today! Don't know what to choose? Just ask a library staff member for help!
Or, if you'd like to know what other teens are checking out: We've put together this booklist of some of the most-checked-out and most-talked-about titles in fiction, manga, and more. If you really like the book (or it made you cry), you could even do your own #BookTok video! Or, you know, just tell your friends about it in real life or at a TAB meeting. Happy reading!