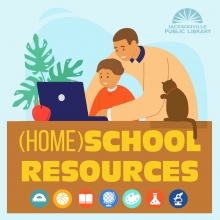 We know that the 2020 school year will be challenging for many and that there are still many uncertainties when it comes to what learning will look like this fall, but we want to help get you through it as best we can. That's why we're making it easy for parents and kids to supplement learning at home by utilizing our electronic resources. Below is a list of our educational resources that you can use for free from home. 
#Pre K
#Elementary 
#Middle School and Beyond 
Also, if you are contemplating homeschooling or virtual learning and are wondering how to introduce this lifestyle to your children, we've got some fun reads that will help your children learn about characters who are navigating being at home for school too. Sometimes, it's nice for kids to see themselves in the books that they read to know they are not alone and that there are others out there who have walked in their shoes. Read that blog post here.
If you have any questions about homeschool resources, please feel free to reach out to us here.