#Digitize Your Family Photos
You may not think too much about, but these days, you can carry a high-definition camera and nearly endless photo albums in your pocket or in the palm of your hand. Technology has come a long way. New and better storage media, the cloud, and even social media sites pretty much guarantee that your memories really can last a lifetime – and beyond. But what do you do about all those family photos and videos captured before digital cameras and smart phones?
#Pass It On
If you want to pass down your entire family history to future generations, you might need some help figuring out how to preserve and digitize those old photos and videos caught on film. The Library can help. This Preservation Week (April 25 – May 1) – or whenever you have the need – schedule your appointment with the Special Collections department and the Library's Digitization Station. Let us help you preserve your family history.
You have the opportunity to further preserve these memories by adding digital copies to our community history project. If you have photos that feature local parks, monuments, historic buildings, parades, festivals, or other items of value to local history, please give us a call at 904-255-6195.
#Get to Know the Digitization Station
Appointments can be booked in 2-hour blocks online or over the phone. Please note: Special Collections is currently open by appointment only. Walk-in visits are accommodated when possible. For more information, please call 904-255-6195.
For a complete breakdown of the equipment and software available in the Library's Digitization Station, check out this page. Before you arrive for your appointment, you might want to watch the helpful how-to videos located there. They briefly cover the basics of digitizing VHS as well as scanning photos, slides, and negatives. In addition to operating as a traditional document-size flatbed scanner for photos up to 8"x10", the Epson scanner has two holders: One for medium format film and one for 35mm slides and film. There's another piece of hardware available called an ImageBox for quick scanning of slides, film and small prints (either 3"x5" or 4"x6").
#Digital Storage Considerations
Be sure to bring an external storage device with you to the Digitization Station such as a flash drive (of at least 8 GB) or SD memory card (if you're using the ImageBox). Files can also be saved to a cloud storage like Google Photos. It's best to back up multiple copies of your data on multiple types of media, and store in multiple locations.
Adobe Photoshop software is available for touching up photos. Just be sure to save files in stable, non-proprietary formats such as .pdf, .jpg, or .tif when you're done (instead of .psd).
#About Preservation Week
Sponsored by the American Library Association (ALA)'s Association of Library Collections & Technical Services (ALCTS), Preservation Week inspires actions to preserve personal, family, and community collections in addition to library, museum, and archive collections. It also raises awareness of the role libraries and other cultural institutions play in providing ongoing preservation education and information.
#Saving Your History
Digitizing your family's history can take a lot of time. How you store film, photos, textiles, and paper in the meantime might make the difference between your being able to digitize them at a later date and losing them forever. These storage tips will keep your treasured family keepsakes safe: http://www.ala.org/alcts/pwtips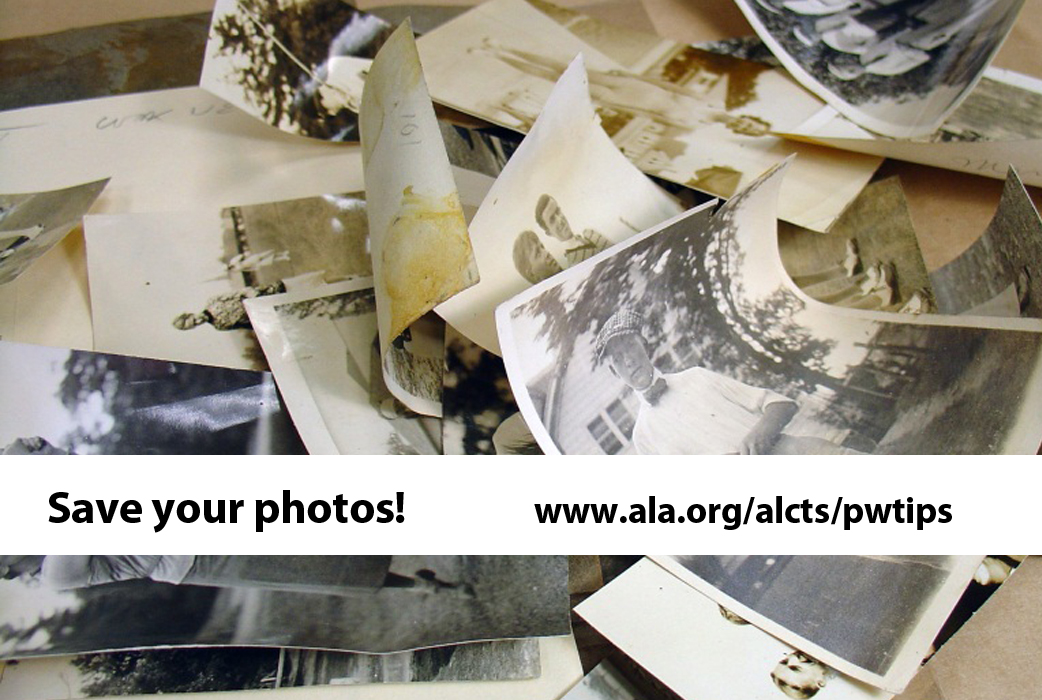 #Preservation for Military Families
There are many keepsakes of importance to military and their families that were not covered in the link above. To learn how to safely display your memorabilia and proper preservation techniques for medals, badges, embroidery, insignia, hats, flags, etc. click here: http://www.ala.org/alcts/preservationweek/ch/military