Wednesday, December 1, 2021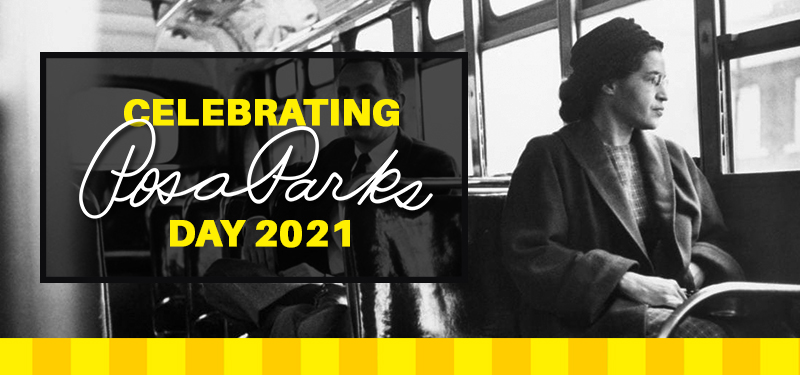 Rosa Parks Day: Celebrating the Mother of a Movement
Rosa Parks was arrested and charged with violating Montgomery's segregation law on December 1, 1955, an act that would kick start the Montgomery bus boycott. For more about the woman, the history and the movement, check out The Rebellious Life Of Mrs. Rosa Parks by Jeanne Theoharis.
"I had given up my seat before, but this day, I was especially tired. Tired from my work as a seamstress, and tired from the ache in my heart," Parks would later say. The African American struggle for civil rights is explored in more detail in books like The Movement by Thomas C. Holt.
Recognizing Rosa Parks
For her part in the Civil Rights Movement, Rosa Parks would eventually receive the Presidential Medal of Freedom (the highest award bestowed by a president) and the Congressional Gold Medal (the highest honor bestowed by Congress).
The California State Legislature created and first celebrated Rosa Parks Day on February 4, 2000 in recognition of the date of her birth. Ohio and Oregon officially celebrate on the day of her arrest, December 1.
While Rosa Parks day is not a federal holiday or celebrated in every state, a bill was introduced in the House on August 27, 2021 as H.R. 5111, by Rep. Jim Cooper (D-TN5). If it passed, it would be the first federal holiday to honor a woman. For more African American women of the Civil Rights Movement, read Lighting The Fires Of Freedom by Janet Dewart Bell.
More to explore
If you have been inspired by Rosa Park's story to take a stand in your own life or if you would like to learn more about her or other civil rights leaders like the Rev. Dr. Martin Luther King, Jr., the Library has a few suggested reads!
Youth Booklist
Teen and Adult Lists