Friday, February 19, 2021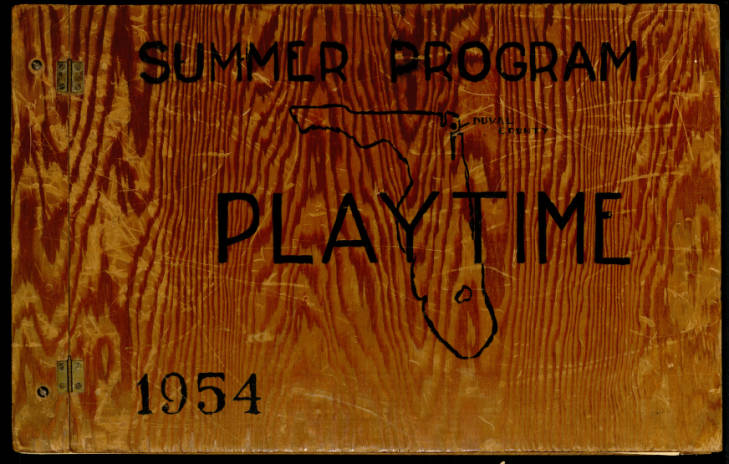 Summer Recreation Program Scrapbooks
In the 1950s, the Duval County Recreation Program ran in the segregated African-American schools, the Jefferson Street Swimming Pool, and the Brewster Hospital during summer break. Activities included playground, library, homemaking, arts and crafts, movies, and music. These photos were originally kept in very large wood bound scrapbooks but can now be accessed online.
See Anyone You Know?
One of the many teachers whose photo appears in the scrapbook was the mother of former JPL Deputy Director Carolyn Shehee Williams (who retired in 2015). Do you recognize yourself or anyone you know? If you can identify other people in the photos (the children would be in their 70s now), please give us a call at 904-255-6195.
Covering 1954, 1956, and 1958, the program was held at the following locations: Jacksonville Beach (#144), West Jacksonville (#143), Isaiah Blocker (#135), Arlington (#125), New Stanton (#153), James Weldon Johnson (#152), Moncrief (#124), Wesconnett (#116), Baldwin (#114), Douglas Anderson (#107), Long Branch (#106), Matthew W. Gilbert (#146), A.L. Lewis (#105), West Lewisville (#104), Jefferson Street Swimming Pool, and Brewster Hospital.
Our Other African-American Collections
These three scrapbooks are the newest addition to the Digital Image Collection. Other collections of worth mentioning here: Jacksonville Civil Rights History, Jacksonville Black History Calendars, Emerson Jones, New Stanton High School, and Rufus E. Payne. It's a great place to learn more about Jacksonville history.
These collections are a great complement to the African American Collection. Physical items are held on the fourth floor of the Main Library in the Special Collections Department. Due to COVID safety, right now Special Collections is only available by appointment. However, the digital archives are available 24/7 online under the Learning & Research tab and Special Collections.
Currently, there are more than 1,000 subject and biography files in the African-American Collection with unique photographs, person papers and primary source materials in the digital collection. Covering scholarly works and local African American history: this collection truly brings to life the rich historical, social, civic, religious, economic, and cultural influence that African-Americans have had here in Jacksonville and Northeast Florida.
Need Another Reason to Visit?
On permanent display in the department, the Library has an untitled but somewhat-rare sculpture by famed artist of the Harlem Renaissance, Augusta Savage. There are only three of her sculptures on display in Jacksonville. Two are on display in the Cummer Museum of Art and Gardens. This African-American artist, educator, and activist was born in Green Cove Springs in 1892 and lived in Jacksonville for several years before moving to New York to pursue her art career. To read more about this amazing woman, click here.
Contact Us
If you'd like to pursue the African-American Collection or learn more about Black history in Northeast Florida, click here to book an appointment with Special Collections. Appointments can be booked in 2-hour blocks. For more information, call 904-255-6195.