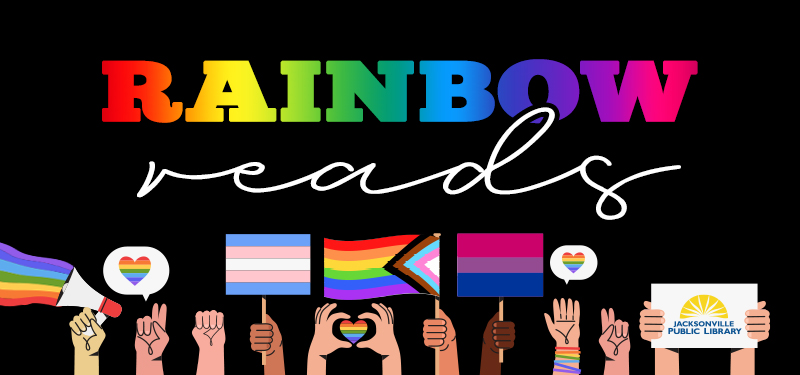 #What Is LGBTQ+ Pride Month?
Pride Month is celebrated each year in the month of June to honor the 1969 Stonewall Uprising. This series of protests – which began with a police raid on the Stonewall Inn nightclub in Manhattan and continued for several days after – is largely credited with sparking the LGBTQ+ rights movement.
Learn more about key figures in the uprising, including self-identified drag queens Marsha P. Johnson and Syliva Rivera, and other Rainbow Revolutionaries: 50 LGBTQ+ People Who Made History in Sarah Prager's wonderful children's book. For more LGBTQ+ history, be sure to check out our Rainbow Reads booklist (which can be found at the bottom of this blog).
#Why Pride Is Needed
"Pride is both a jubilant communal celebration of visibility and a personal celebration of self-worth and dignity," President Biden wrote in his 2021 Pride Month Proclamation. Pride Month is about more than just celebrating history. Being LGBTQ+ in America still carries a lot of risks. "Our Nation continues to witness a tragic spike in violence against transgender women of color," Biden said. "LGBTQ+ individuals — especially youth who defy sex or gender norms — face bullying and harassment in educational settings and are at a disproportionate risk of self-harm and death by suicide."
#Trials and Trailblazers
The President went on to say, "Pride is a time to recall the trials… and to rejoice in the triumphs of trailblazing individuals who have bravely fought — and continue to fight — for full equality." Whether it was an LGBTQ+ rights activist, the first LGBTQ+ character on network television or the first "out" U.S. Cabinet member: their paths paved the way for many others. Pride Month is a time to remember and honor them. But it's also a time to celebrate progress and to enjoy the rights and visibility their powerful example afforded others in the community.
In the 50+ years since Stonewall, LGBTQIA+ Americans have fought for and won many important civil and human rights. These include the Matthew Shepard and James Byrd, Jr. Hate Crimes Prevention Act, marriage equality and the repeal of "Don't Ask, Don't Tell" (the ability to serve openly in the military).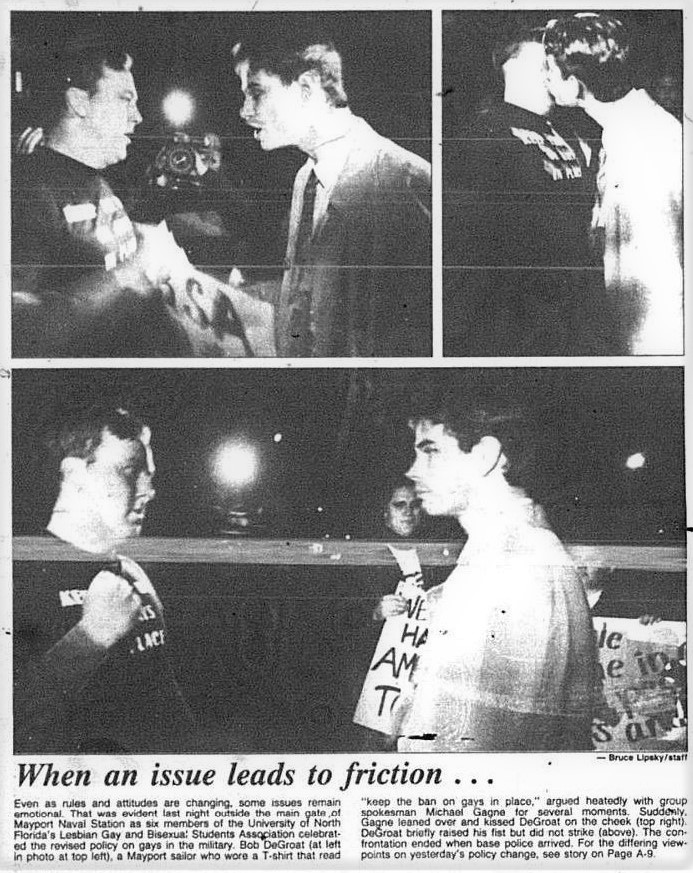 If you're interested in learning more about the historic fight for marriage equality, Pulitzer Prize winning author Debbie Cenziper worked with Jim Obergefell to tell his story – of love, loss, and a Supreme Court case – in the book Love Wins: The Lovers and Lawyers Who Fought the Landmark Case for Marriage Equality.
#The Importance of Joy
Love is also at the center of Casey McQuinston's New York Times Bestselling book Red, White & Royal Blue which asks the question: "What happens when America's First Son falls in love with the Prince of Wales?" This modern, gay fairytale romance is fun, witty, and full of heart.
It doesn't shy away from talking about homophobia or the difficulties and importance of coming out (especially for public figures). However, it does balance the "negative" of the initial backlash and family drama with beautifully written love letters, Hollywood-worthy romantic gestures, and a truly incredible ending. You'll find it hard not to root for the star-crossed lovers.
Like Obergefell v Hodges did in real life, book and stories like Red, White & Royal Blue show that LGBTQ+ people can have truly epic love stories and that they deserve happy endings. For a young adult read-alike, you can also check out Simon vs. The Homo Sapiens Agenda by Becky Albertalli – it's the book the movie Love, Simon was based on.
#The First Pride
The first Pride march was held in New York City on June 28, 1970, on the one-year anniversary of the Stonewall Uprising. By all estimates, there were three to five thousand marchers at the inaugural Pride who'd come to celebrate and to demonstrate for equal rights.
While "pride" is usually a joyous occasion, it is also a protest and always has been. The fight for dignity, visibility, safe spaces, and equal rights are all a part of these celebrations. The iconic Stonewall Inn is now on the National Register of Historic Places, a National Historic Landmark, and a National Monument – owing to its importance in this major moment in American history.
For more about Stonewall and LGBTQ+ activism in the 50s and 60s, you can check out Stonewall Riots: Coming Out in the Streets by Gayle E. Pitman, which was released on the 50th anniversary (in 2019).
#Pride in Jacksonville
The first Pride event in Jacksonville was held in 1978 at Willow Branch Park in Riverside Avondale. It was one of the first in Florida. Over the years, it has been characterized as a either a picnic or a protest. The truth is, it was both. "The 300 or so people who attended the festival risked their personal and job safety doing so," said Richard Ceriello, president of the AIDS Memorial Project of Northeast Florida in an interview with the Times Union in 2019.
Worth noting: The River City Pride parade, now one of the largest parades in Jacksonville and longest running in Florida, still starts at the Willow Branch Park before making its way to 5 Points. The picturesque park continues to be a significant location for LGBTQ+ residents as does the adjacent Willow Branch Library.
JASMYN (Jacksonville Area Sexual Minority Youth Network) formed and started meeting in the early 90s at the Willow Branch Library after a young man named Ernie Selorio posted a desperate appeal for solidarity inside the library. JASMYN now has their own facilities and an array of health and other support services for homeless and LGBTQIA+ youth.
#Willow Branch Park
The AIDS Memorial Project, Greenscape, and the City of Jacksonville started planting trees in the Willow Branch Park in 2019 – one for each of the more than 100 Jacksonville residents who've died of AIDS over the years. This ongoing "Love Grove" project officially began with the planting of three trees and a ceremony on Valentine's Day. Importantly, it was also timed to coincide with the two-year anniversary of the City Council expanding the Human Rights Ordinance to include sexual orientation and gender identity in the City's anti-discrimination laws.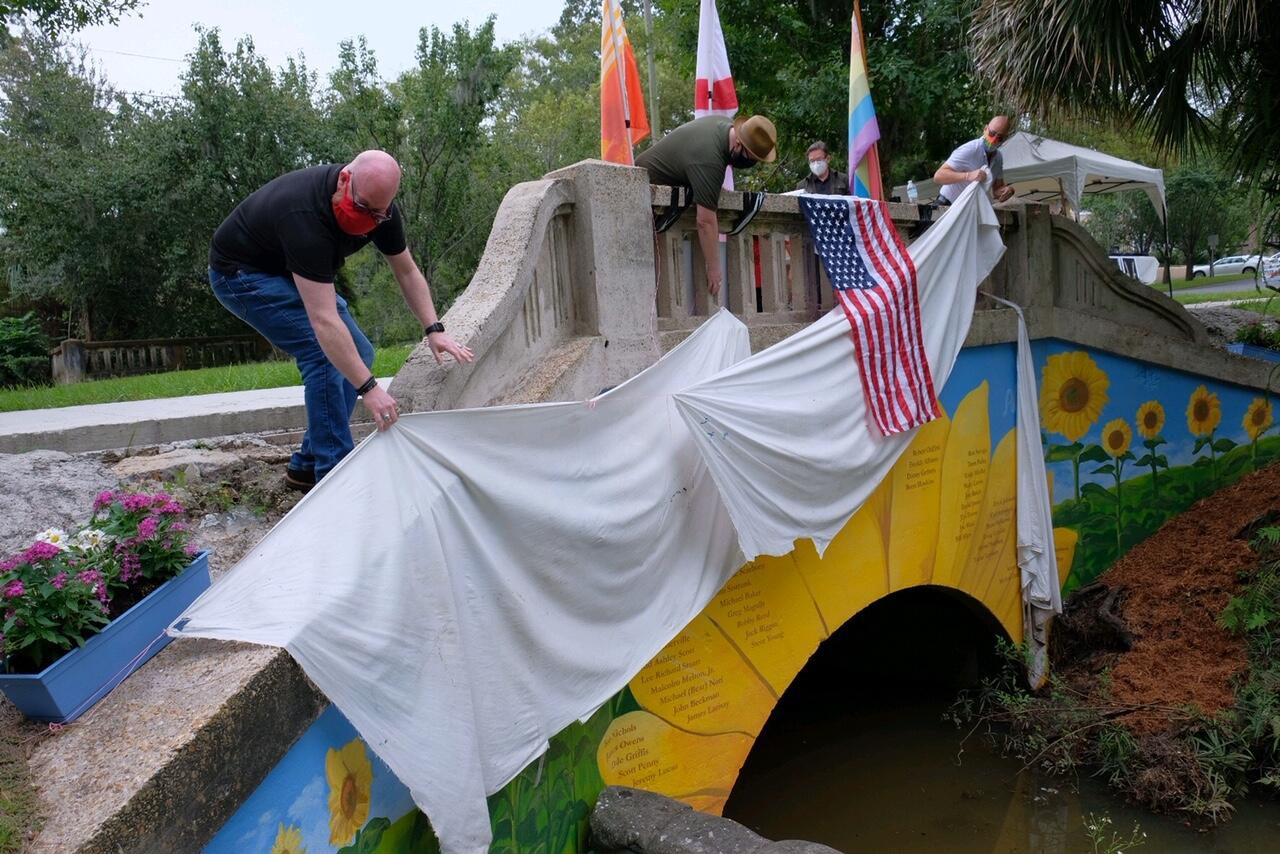 All of this is part of a larger beautification project for this historic patch of greenery. A memorial -- which would include permanent installations of public art in the form of a bridge, arch, and spire -- is also being planned. For more information, visit AIDS Memorial Project website.
Of course, there are also several Pride events in Jacksonville (too many to mention) both throughout June and in October (during LGBTQIA+ History Month). Importantly: these Pride events also welcome allies from outside the LGBTQ+ community. They can be opportunities to show support, to observe, listen and be educated.
#The Library's Pride Events
Join us for the Read with Pride Teen Book Chat (for ages 12-17) on Saturday, June 19 at 1:00 – 2:00 p.m. Come chat with other teens – virtually – as we talk about our favorite books with LGBTQ+ authors and characters. Share the favorites you love and discover new ones too! There will be ice breakers, book trailers, Kahoot!, and of course, time for some short book discussions and recommendations. Check out this list of young adult "Read with PRIDE" titles that we'll be discussing.
For some on-demand teen programming, check out the "Read with Pride" Teen Think Tank which includes 36 easy rainbow crafts you can do at home and another great booklist.
There will also be a Rainbow Family Storytime with songs and stories in the park on Wednesday, June 23 at 10am just outside Willow Branch Library. Social distanced seating will be set up and masks are recommended. 
#Read the Rainbow
Finally, be sure to take a look the books in this short "Rainbow Reads" list. It's by no means exhaustive but there are some great titles – handpicked by our Readers' Advisory Team. If you're looking for fiction, you can use "Sexual minorities – Fiction" or "Fiction / LGBTQ+" (without the quotation marks) to find more in the catalog. You can also add "young adult" to "fiction" to find LGBTQ+ YA titles.
If you really connect with one of these books, don't forget to share it with a friend or family member.
Pride is for anyone and everyone, even if it's about the LGBTQIA+ community. Happy Pride and happy reading!
#"Rainbow Reads" Youth Booklist
#"Rainbow Reads" Adult Booklist