Wednesday, January 27, 2021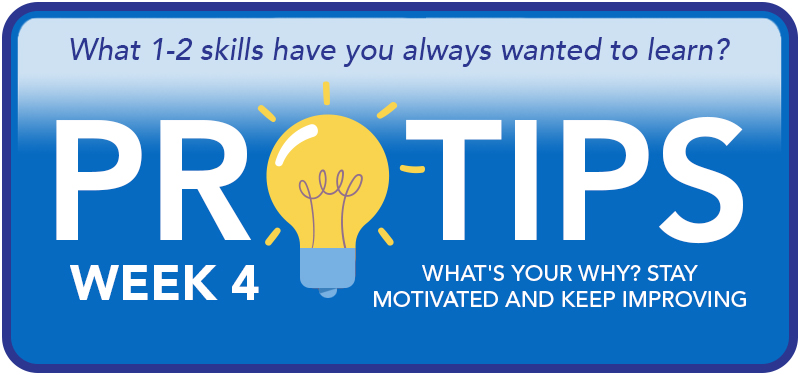 30 Minutes of Learning Challenge:
Week Four: What's Your Why?
Hopefully by now, you've identified the 1-2 skills you've always wanted to learn (the what), turned those hopes and dreams into S.M.A.R.T. goals (the how), set aside at least 30 minutes a week for learning (the when), and started a course or learning path on Lynda.com (the where). What we haven't talked about a lot in this series is "the why." If at any point you're struggling to stick to those goals it's "the why" that will help you put and keep all of that into perspective. And it might just help you get across the finish line.
So, I have to ask: What's your motivation for learning?

Review Your Whys.
If it helps, go ahead and write down a few reasons why your goal or goals are important to you. Here's an example of that, using a goal that I'm working on and three motivations for it:
I am learning how to Publish an eBook:
Because I want to make sure people like me have a voice and that they know that they are not alone.
Because I have an interesting story to tell, a unique voice, and there's just not that much out there on the topic.
Because I want to show up for myself and replace the "negative tape" that's been playing in my head that claims I never finish what I start.
Please note: You don't have to think of three personal motivations for each goal. But if you can't think of any reason to work towards a goal, you might consider whether that particular goal is the right thing for you (at least right now). You're much more likely to follow through if you're motivated to finish.
Maybe your goal is to Become a Small Business Owner? You might list "whys" like: 1) "because I want make my own hours" or 2) "because I want to help revitalize the (down)town I love." You may be looking for something as simple and powerful as ";independence." If you want to help Writing a Resume or Finding a Job, your motivations may include "supporting my family" or "becoming a homeowner."; Even if your learning goal is "simple" and easy to master like Budgeting in Real Life (a 44 minute course you can complete in one or two sittings), you might need some motivation to keep using that skill once you've learned it.
Whatever your why, write it down and keep reminding yourself. It is my hope that all of these strategies and tools I've laid out over these past four weeks will make achieving that learning goal easier. But things worth doing are rarely ever "easy."; That's why motivation – knowing your why – is so important.

Looking for More Motivation?
If you're having trouble coming up your "whys," these two booklists just might give you the inspiration you're looking for. My personal favorite from this list is Big Magic: Creative Living Beyond Fear by Elizabeth Gilbert. Yes, she is also the author of Eat, Pray, Love. In this book, Gilbert offers this suggestion: pursuing your creative interests (what she calls living a creative life) isn't just for professional artists. Furthermore: your creative outlets don't have to earn you fame or fortune. And you don't have to be the most skilled artist out there in order to justify creating. If making things brings you joy: that's your reason and that's good enough. My big takeaway: You don't have to wait on anyone's permission to be who you want to be. Just start creating, keep learning, and keep doing that thing that brings you joy for as long as you like. Even if it's just a hobby. Even if it never makes you money.
Creativity Booklist
If your goals are more technology- or business-related, you might find this list more to your liking. In addition to some practical advice for entrepreneurs, there are lots of examples here of innovative projects and big ideas to spark your imagination. I enjoyed The Messy Middle: Finding Your Way Through the Hardest and Most Crucial Part of Any Bold Venture by Scott Belsky. As a rule, we love talking about the initial idea behind a successful startup. It's especially thrilling when it's a "rags-to-riches" type story or what some people refer to as an "overnight success." We also love it when a successful entrepreneur sells their idea or company for big bucks. What we don't focus on or talk as much about is the part in between: All of the successes and failures in the middle and what a roller coaster that can be. And here's the kicker, though. That part might take years. So how do you strengthen your resolve and see that creative venture to the finish line? For starters, we can all stop glorifying the "humble beginning" and "happy ending." And we can stop being so afraid of failure. Failure often teaches us a lot more than success does. According to Belsky, the "messy middle" is where the most growth happens. Maybe we need to talk about that more. If you can relate: Maybe this booklist is for you:
Entrepreneurs Booklist

Keep Learning
You can start streaming thousands of online video tutorials on Lynda.com today. You don't have to wait for a class to become available or for your schedule to line up. It's all on-demand and at your own pace. It's all accessible 24/7 from your computer. Just make sure you visit Lynda.com through the Library's website or by typing jaxpubliclibrary.org/lynda. As long as Lynda knows you're a Jacksonville Public Library user, you'll be prompted to log in with your library card. Then, it's all FREE!
If lifelong learning is your goal, you may also want to enroll in LibraryU or join the LibraryU Facebook Group. It's a collection of staff-led classes, special guest events, book clubs, writers' groups, and more.