Tuesday, January 12, 2021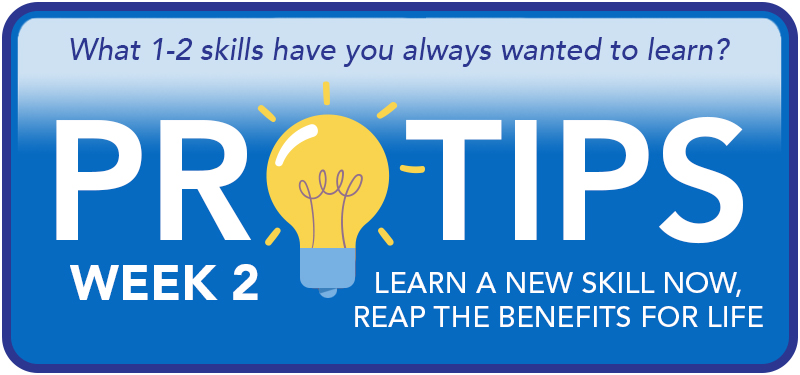 #30 Minutes of Learning Challenge:
#Week Two: Set Learning Intentions
It's 2021 and many of us could use a fresh start. Whether it's training for the career of your dreams, finally investing some time and energy into your art or music, or getting serious and opening that small business you've always talked about: Lynda.com and the Library can help you.
If you're pressed for time or just a little "Zoomed out" at this point (and let's face it, most of us are)… and all you can commit to right now is "30 Minutes of Learning" a week, trust that you can still make incremental and meaningful progress toward that #goal.
With so many videos on a variety of topics, though: how and where do you start? That is, how do you narrow your dream down to a truly Specific, Measurable, Achievable, Realistic, and Time-Based (S.M.A.R.T.) Goal? Today's "Pro Tips" might just have a few answers for you! So, let's learn a little bit more about Lynda.com and what exactly is the big fuss all about.

#Lynda.com Courses
First, Lynda.com has A LOT of video tutorials - like 267,000 and growing. Not to worry, though, those are organized into around 6300 separate "course" offerings. A single course may contain several smaller, easily digestible videos. So, when they say: learn at your own pace, they mean it. You can start and stop a course, bookmark it, and return where you left off at any time. Basically: You don't have to eat the entire elephant at once. Those courses are then roughly divided into four areas of interest: Business, Software, Technology, and Creative Skills. Of course, some of these "areas of interest" intersect. For example, a musician who wants to record and produce a song or an album may take creative skills courses as well as software, technology, and business courses. That's part of the reason why Lynda.com also groups related courses together into what's called "Learning Paths" like this one called "Become a Music Business Entrepreneur."
If you're just getting starting with Lynda.com, you'll probably want to click on the "Library" drop-down button at the top. There, you'll see 12 broad categories: 3D + Animation, Audio + Music, Business, CAD (Computer-Aided Design), Design, Developer, Education + E-Learning, IT (Information Technology), Marketing, Photography, Video, and Web.
As you hover over each category, you'll see the coordinating topics, software, and learning paths change.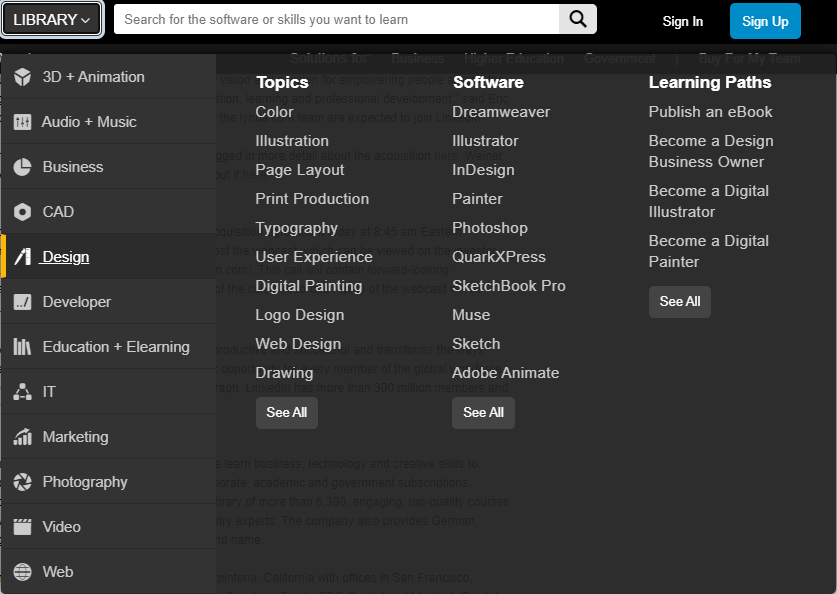 So, while you can use the search field or browse a complete list of courses or individual videos, that might not be the most effective use of your time - at least starting out. There is a better way and we'll show you.

#Lynda.com Learning Paths
Learning Paths are curated collections of content. For a quick primer, watch this video. Learning Paths combine courses and videos from different instructors and are geared towards helping you develop a specific set of skills. Individual courses within the path will still give you that more "focused" instruction for which Lynda.com is famous. It's just that after you develop that one skill or master that one piece of software, your learning path will suggest the next logical course you'd want to take to get you closer to your ultimate goal.
Since this month just happens to be National Hobby Month and National Creativity Month, we're going focus for a minute on some learning paths for the creative types among you. Find these learning paths under "Design."
If you've mastered the basics and what to take things a bit further, you may also consider:
Become a Craft Business Owner – turn your craft into a full-fledged business! Or, check out the Become a Design Business Owner. These are two 12-hour series of courses which cover entrepreneurship and the fundamentals of running a small business (including creating a business plan).
There is also the more general Become a Small Business Owner learning path. It's a 12-hour series with some of the same courses. These are just three of the over 130 business-related learning paths available on the site. And you don't have to stick to the obvious paths. While you may be a bookkeeper, you might want to learn how to better market your professional services. If you're in a creative field, Lynda.com can help you fill in the gaps when it comes to the business side of things. If you're more business-minded, perhaps a course on innovation can help you shake things up? Whether you want to be a better leader or you are looking for training or professional development opportunities for staff, Lynda.com is an invaluable resource.
Ask yourself: what 1-2 skills would get you closer to where you want to be? What courses will help you get your business better positioned or making more profit? Start there. Devote at least 30 minutes a week. Reap the benefits of that learning for life.

#What is Lynda.com?
With tutorials in five languages, Lynda.com is a global platform for success. For 20 years, Lynda.com has helped students, leaders, IT and design pros, project managers—anyone in any role—develop software, creative, and business skills. Accessible 24/7 from your desktop or mobile device, you can visit Lynda.com by logging in through the Library's website. And it's all FREE with your library card.
If you'd like a printable calendar to help you keep on track with your learning goals and progress, email JPLPromotions@coj.net.