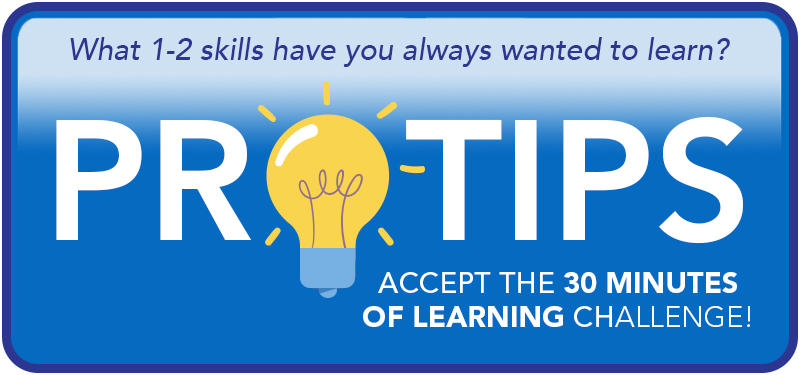 30 Minutes of Learning Challenge:
Week One: Getting Started
Why do so many of our New Year's resolutions end up failing? Usually, one of two things happen: our resolution isn't specific or realistic enough and/or we didn't have a plan in place (with steps) or a timeline for achieving that goal. It's the difference between saying, "I want to make more money this year" and "I will get five more clients by April and then I will ask my boss for a 4% raise at my next performance evaluation."
That's where S.M.A.R.T. goals are extremely helpful. Things like commitment and accountability do help (notice I didn't mention will power?). That's usually where resolutions begin and end, unfortunately. To be truly effective, we also need 1) to be Specific in what we hope to accomplish, 2) develop some Measure for success, and 3) we need to make our goals Achievable 4) and Realistic given the 5) Time frame in which we hope to complete said S.M.A.R.T. goal.
As we kickstart 2021, ask yourself: What 1-2 skills have you always wanted to learn? Remember: Start small. The point is not to get overwhelmed or take on too much too fast. If "The Tortoise and the Hare" taught us anything as kids it's that: It is always better to make incremental progress toward a goal than to start strong and burn out before the race is over. So, write that S.M.A.R.T. goal down (in detail) and start taking small steps toward completing it.
"People who commit to a goal in writing are 42% more likely to succeed" - according to a 2015 study by Dominican University.

Start the challenge
One way to set new learning goals this year and achieve them is by accepting the "30 Minutes of Learning Challenge". Commit to at least 30 minutes of learning a week - and keep track of your progress along the way. This learning can be anything. That's up to you. Because the Library values lifelong learning and discovery, we have a lot of things you can choose from and we are more than happy to help you chose. For the sake of today's blog, though: We are only going to list one.

Why use Lynda.com?
Lynda.com lets you learn online, at your own pace. You can select courses relevant to your current job or the career you want - in areas like Business, Technology and Marketing. You can also pursue other passions! With courses on financial literacy, social media, even drawing and music theory, you'll be able to grow and develop in the areas you care about both at and outside of work.
You may watch an entire course, or individual videos – some are as short as four or five minutes. You will be able to bookmark courses that suit your interests, keep track of the courses you have taken, and when you complete a course, you'll receive a certificate. And it's all FREE with your library card.

What is Lynda.com?
Lynda.com bridges the gap between the career you want and the skills you need. It is an award-winning industry leader in online training, with a digital library of over 6,000 courses covering a wide range of technical, business, software and creative topics. Accessible 24/7 from your desktop or mobile device, you can visit Lynda.com by logging in through the Library's website.
In the coming weeks, we'll be highlighting different "learning paths" and some of our favorite online courses. Whatever your goals end up being: Use this month to prioritize them. That is, make your learning - make you - a priority, even if you can only commit to 30 minutes of learning a week.
If you'd like a printable calendar to help you keep on track with your learning goals and progress, email JPLPromotions@coj.net.
You can also enroll in our LibraryU newsletter or join the Facebook Group. LibraryU is a collection of classes and events that are free to every library cardholder. Join a community of learners just like YOU and be the first to find out about new Writer's Lab, LitChat, virtual Book Clubs, and other fun programs.