Friday, February 12, 2021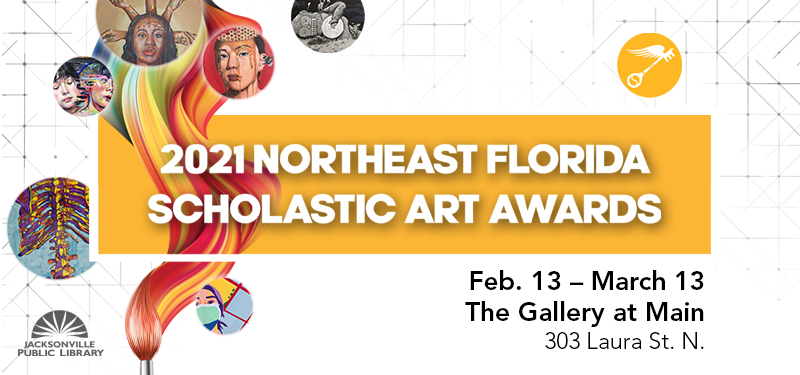 #Gallery to Feature Work of Student-Artists
The Northeast Florida Scholastic Art Awards: Gold Key Exhibition runs from February 13 through March 13 in the Gallery at the Main Library. Come view work by the best of NE Florida's middle school and high school artists, who are competing in the nation's largest and oldest student art awards. Some of the winning juried pieces from this collection will go on to exhibit in New York at Parsons/The New School of Design.
The month-long exhibit will feature "Gold Key" award-winning artworks by middle and high school student-artists from counties across the northeast Florida region including Baker, Clay, Duval, Flagler, Nassau, St. Johns, Union, and Volusia and will be installed in the 1st floor gallery and the second floor atrium space. Any pieces awarded "Silver Key" or "Honorable Mention" will be exhibited digitally.
Masks, temperature checks, and social distancing are required to enter any Jacksonville Public Library building. These changes and protocols are in place so that everyone can safely view the work at their own pace and on their own schedule. You can visit the Main Library between the hours of 10:00 a.m. to 6:00 p.m. Monday through Saturday (closed Sundays).
This year the NEFSAA Awards Ceremony isn't happening in real life and there will be no opening reception at the Library. This means these talented student-artists won't have the celebratory photo ops that usually happen at the ceremony and afterwards at the exhibit at Main Library. Please share your photos of your Gold or Silver Key winning artists and their amazing award-winning works using the hashtags:
#nefsaaGoldKey, #nefsaaredcarpet
About the Awards
Northeast Florida Scholastic Art Awards (NEFSAA) has been the regional visual art affiliate for the Scholastic Art & Writing Awards since 2009, offering recognition, celebration of, and college scholarship offers for visual art students in our area. The Northeast Florida Art Education Association, the group that organizes Northeast Florida Scholastic Art Awards each year, is a team of volunteer art educators, art administrators, artists, and retired art educators.
This regional program is the single largest way we as a community are able to celebrate and honor our student-artists across northeast Florida. NEFSAA handles the regional adjudication, awards, and art exhibitions for eight counties across northeast Florida including Baker, Clay, Duval, Flagler, Nassau, St. Johns, Union, & Volusia. Gold Key winners at the regional level automatically go on to the national competition for possible National Honors and cash prizes!
The 2021 NEFSAA season collected and adjudicated just under 3,000 student submissions from 928 students. 1,091 awards were distributed to 546 student winners. These regional award winners earned college scholarship offers from Savannah College of Art & Design, Jacksonville University, and the University of North Florida.
Since 2015, student-artists earning regional awards through this program have earned over $30 million in college scholarship offers from our partnering colleges and universities.