Monday, November 22, 2021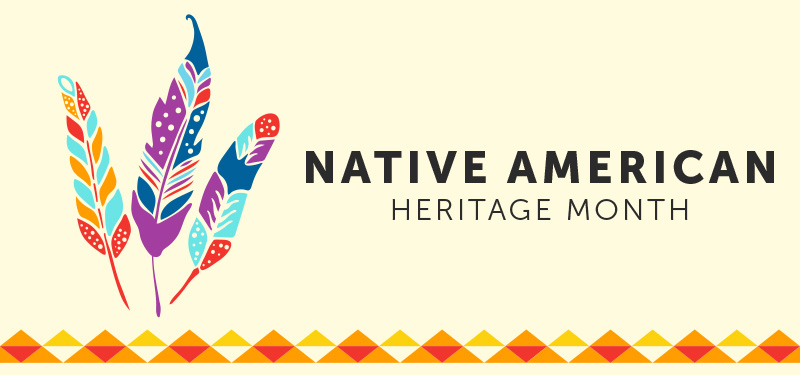 Native American Heritage Month
November is Native American Heritage Month, a time to celebrate the rich and diverse cultures, traditions, and histories and to acknowledge the important contributions of Native people.
It is also a great time to raise awareness about the unique challenges Native people have faced – both historically and in the present. Indigenous people and their cultures are not relics of the past. They are alive, breathing, and amazingly resilient.
What The Eagle Sees: Indigenous Stories Of Rebellion And Renewal by esteemed academic Eldon Yellowhorn and award-winning author Kathy Lowinger tells the history of how Indigenous people kept their cultures alive in the face of disease, war, and assimilation efforts – from an Indigenous perspective. Many remain deeply connected to the land, to their families, to their communities, and to their cultural ways of life.
Reconstructing Indigenous History
In a recent Lit Chat, UNF professors Dr. Denise Bossy and Dr. Keith Ashley spoke about their work in reconstructing a more accurate indigenous history of what we now call Northeast Florida. While written records do exist about the Timucuan people and the various tribes they consisted of – like the Saturiwa and Utina – much of what we know comes from the French and Spanish.
Their work aims to create a fuller picture through archeology and other modern research methods. Shell rings, mounds, and other monumental architecture have shed a lot of light on the indigenous inhabitants of the area – both pre- and post-contact with European colonists. From bones and pottery fragments we can learn what people ate and how they celebrated.
To learn more about their work, check out The Yamassee: From Florida to South Carolina edited by Denise Bossy and Late Prehistoric Florida: Archaeology at the Edge of the Mississippian World edited by Keith Ashley. Ashley and Bossy are currently co-writing a book titled Heca Utimile/Our Land: The Indigenous History of Northeast Florida.
If you missed it, the recorded Lit Chat with Keith Ashley and Denise Bossy will be available on the Library's YouTube channel and Completely Booked Podcast feed sometime in December or January.
For another, wider view of Native history (outside of Florida), check out books like An Indigenous Peoples' History of the United States by Roxanne Dunbar-Ortiz.
What else can you learn from the Library?
If you're a parent, you might have picked up a Jax Kids Book Club bag for your rising kindergartner (sometime in the last decade or so). Included in the book bundle is We're Going to the Timucuan Preserve! by Fran Peacock Coker. The Library will be distributing bags again at the end of the current school year and continuing throughout Summer Reading Program.
If you have slightly older children, you may also want to check out The Timucua Indians: a Native American Detective Story by Kelley G. Weitzel.
Celebrating Native American Heritage Month
While a fuller, more accurate picture of indigenous history is being reconstructed, the historical and current experiences of Native people can perhaps be best understood by reading and amplifying the contemporary work of living, breathing Indigenous people.
For non-Natives, this learning process can start with books by Indigenous authors like The Firekeeper's Daughter by Angeline Boulley or I Can Make This Promise by Christine Day.
If your interest lies in more recent history, you may want to take a look at Code Talker: a Novel About the Navajo Marines of World War Two by Joseph Bruchac. For books that battle misconceptions, #NotYourPrincess : Voices of Native American Women by Mary Beth Leatherdale.
For Indigenous folks, or anybody who likes a good story, there are also several fiction titles including Where The Dead Sit Talking by Brandon Hobson, a 2018 National Book Award Fiction finalist. The Night Watchman: A Novel by Louise Erdrich was the winner of the 2021 Pulitzer Prize for Fiction.
You can find these and more in this month's booklists:
Children's Booklist
Teen Booklist
Adult Booklist