#November is National Novel Writing Month!
Are you having trouble getting motivated to finally sit down and write that book you've been saying you would write one day? Then you, my friend, are a prime candidate for NaNoWriMo and this month is the perfect month to start!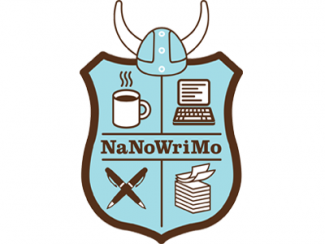 Each year, National Novel Writing Month (NaNoWriMo) encourages people to take on the challenge of writing a 50,000 word first draft of a novel in only 30 days. Each year over 300,000 people participate in NaNoWriMo activities around the world. The Jacksonville Public Library is supporting our local NaNo Writers by providing helpful resources and inspiring stories from local authors. Can you commit to writing 50,000 words of your novel in 30 days? That's just 1,667 words per day.
#Upcoming Virtual Classes for NaNoWriMo Writers
This year, due to COVID, we cannot get together in person but our upcoming online classes have lots to offer. Here are a few you can sign up for:
Have a book you want to write but are unsure what to use? Why not try Pressbooks? Learn about the free Library service, Pressbooks. A web-based platform for ebook creation and publication. We will be discussing how to access Pressbooks, how to use the native themes, and how to publish your book directly to the Library. Click here to register for this class. 
Get the most of your hard work by learning how to make your manuscript into an ebook. Ebooks are becoming an increasingly widespread way of getting your words into the hands of others. This class will show you some common formatting pitfalls to avoid and how to get the most out of your hard work. While we will focus primarily on Microsoft Word the tips in this class are applicable to most modern word processors. Click here to register for this class. 
Learn how to create a cover for your new ebook. You've written the book. The characters are ready. The prose is tight. You've had five different people edit for you. Now all you need to do is get a cover for that sucker. Come to the library and learn how to make a great cover for your ebook. Click here to register for this class. 
Your book is edited; now get it published. Hot on the heels of our "Editing your Ebook" class comes, "Get published at the Library!" Here you will discover the Indie Author Project and how you can use it to get your prose into the people's hands. Learn what you need to get access to this valuable service. Spoiler: all you need is a book and a library card! Click here to register for this class. 
#More Digital Resources for NaNoWriMo Writers
The library has many digital resources for those that can't make it to our virtual classes or prefer to write alone. If you're not sure where to begin your writing, here is a perfect booklist that will give you a running head start. Additionally, be sure to check out some of the courses that Lynda.com offers Jacksonville Public Library patrons like Learn how to publish eBooks, Grammar Girl's Quick and Dirty Tips for Better Writing and Writing: The Craft of Story! A Jacksonville Public Library card is required to access these digital resources.