Alternate history novelist Taylor Anderson joins our Lit Chat series on Tuesday, January 12th, at 7 pm. Taylor will be discussing his Destroyermen series and his most recent and final book, Winds of Wrath. Click here to register.
Read: If you are not already a fan of the Destroyermen series, start with the first book Into the Storm, available from the Library. For further reading in the alternate history genre, check out the novels Fatherland and Out of the Dark or the short story anthologies Worlds or Infinity's End in the Library collection.
Watch: For background on an American naval warship, watch the documentary USS Indianapolis: the legacy, CA-35, an account of the destruction of the heavy cruiser ship during the WW II and the rescue of it's crew members after ten days at sea.
Explore: Click on the following website to experience both visual and audio tours of the USS Midway, an aircraft carrier that served in the Pacific during WW II.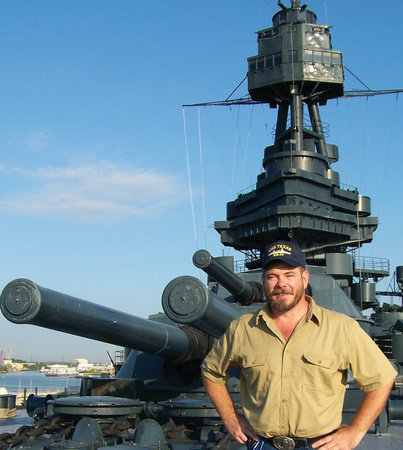 ABOUT THE AUTHOR
Taylor Anderson is the New York Times bestselling author of the Destroyermen series. A gunmaker and forensic ballistic archaeologist, Taylor has been a technical and dialogue consultant for movies and documentaries. He is also a member of the National Historical Honor Society and the United States Field Artillery Association, which awarded him the Honorable Order of St. Barbara. He has a master's degree in history and teaches that subject at Tarleton State University.