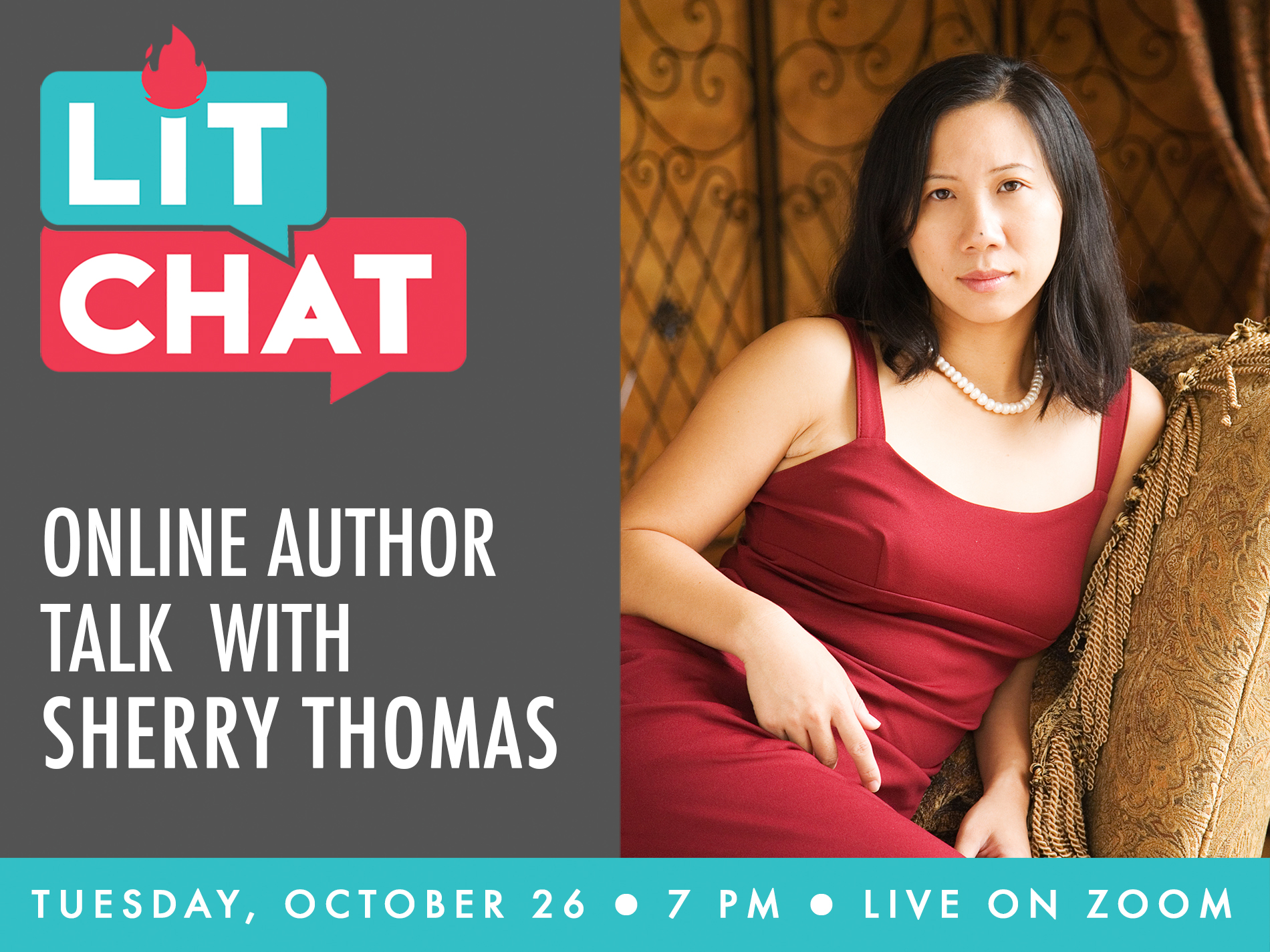 Cap off this year's Spooky Season at our chat with Sherry Thomas, author of the Lady Sherlock series of historical mysteries, including the upcoming Miss Moriarty, I Presume?/p>
#JOIN:
Lit Chat with Sherry Thomas, Tuesday, October 26, at 7pm. Click here to register.
USA Today-bestselling author Sherry Thomas decided that her goal in life is to write every kind of book she enjoys reading. Thus far she has published romance, fantasy, mystery, and a wuxia-inspired duology. Her books regularly receive starred reviews and best-of-the-year honors from trade publications, including such outlets as the New York Times and National Public Radio. She is also a two-time winner of Romance Writers of America's prestigious RITA® Award. Sherry immigrated from China at age 13 and English is her second language.
#READ:
Check out Sherry's extensive backlist in the library catalog while you wait for her next Lady Sherlock book, Miss Moriarty, I Presume?, out November 2.
Sherry recommends:
"The books that first inspired me to want to write my own Sherlock Holmes adaptation with a romantic element, Laurie R. King's Mary Russell/Sherlock Holmes stories. The series begins with the fantastic The Beekeeper's Apprentice, in which a retired Sherlock Holmes takes on a young girl with a remarkable intellect as his protégé.
Other historical female sleuths: the Veronica Speedwell series by Deanna Raybourn, the Brontë Sisters mysteries by Bella Ellis, the Lady Darby series and the Verity Kent series by Anna Lee Huber, the Lady Emily series by Tasha Alexander.
Mysteries that are kind of historical to us now but written as contemporary works: the Lord Peter Wimsey books by Dorothy L. Sayers, especially those featuring Harriet Vane."
#WATCH:
Sherry recommends: "The show that made me get off my behind and actually write my own Sherlock Holmes adaptation: BBC Sherlock. My favorite episodes are The Great Game, A Scandal in Belgravia, and The Sign of Three." Sherlock is currently not on any streaming services (though you can buy episodes via Amazon, iTunes, and other services), but you can check out the comics based on the BBC series on hoopla.
Sherry also invites you to check out some series available on Netflix: "I also love seeing how people tell stories elsewhere in the world. I grew up watching anime, and have recently discovered some gems. My two new favorites are Violet Evergarden, which is extraordinarily moving, and The Way of the Househusband [check out the manga here], which is funny, lighthearted, and yet oddly touching. I recommend watching with the original audio and subtitles, rather than the dubbed versions.
I love a good love story, but Hollywood seems reluctant to go all in on series-length love stories—Bridgerton being a very notable exception. But Korean TV dramas, which typically run about 16-20 episodes, one season and done, are not at all afraid to be first and foremost love stories, with mysteries, adventures, politics, etc., thrown in. My two most favorite k-dramas are Crash Landing Into You, which has a South Korean heiress and businesswoman accidentally paragliding into North Korea (my niece squealed about it when she was done watching upon my recommendation), and It's Okay to Not be Okay, featuring a hard-edged children's book author and a kind-hearted psychiatric caregiver. Crash Landing Into You does all the classic romance tropes beautifully and It's Okay to Not be Okay turns all the classic romance tropes on their heads beautifully."
#EXPLORE:
Are you a mystery maven, or a newbie to the genre? Either way, you can get some great recommendations from our book club, Mysterious Affairs with the Highlands Mystery Machine. Check out their upcoming books in our event calendar and register to attend!
HOW USEFUL WAS THIS ARTICLE TO YOU?
If you closed that survey pop-up but are ready now to let us know how useful this article is to you, we'd love to hear it. Click here for a very short survey so we can make our content fit you better. Thank you!