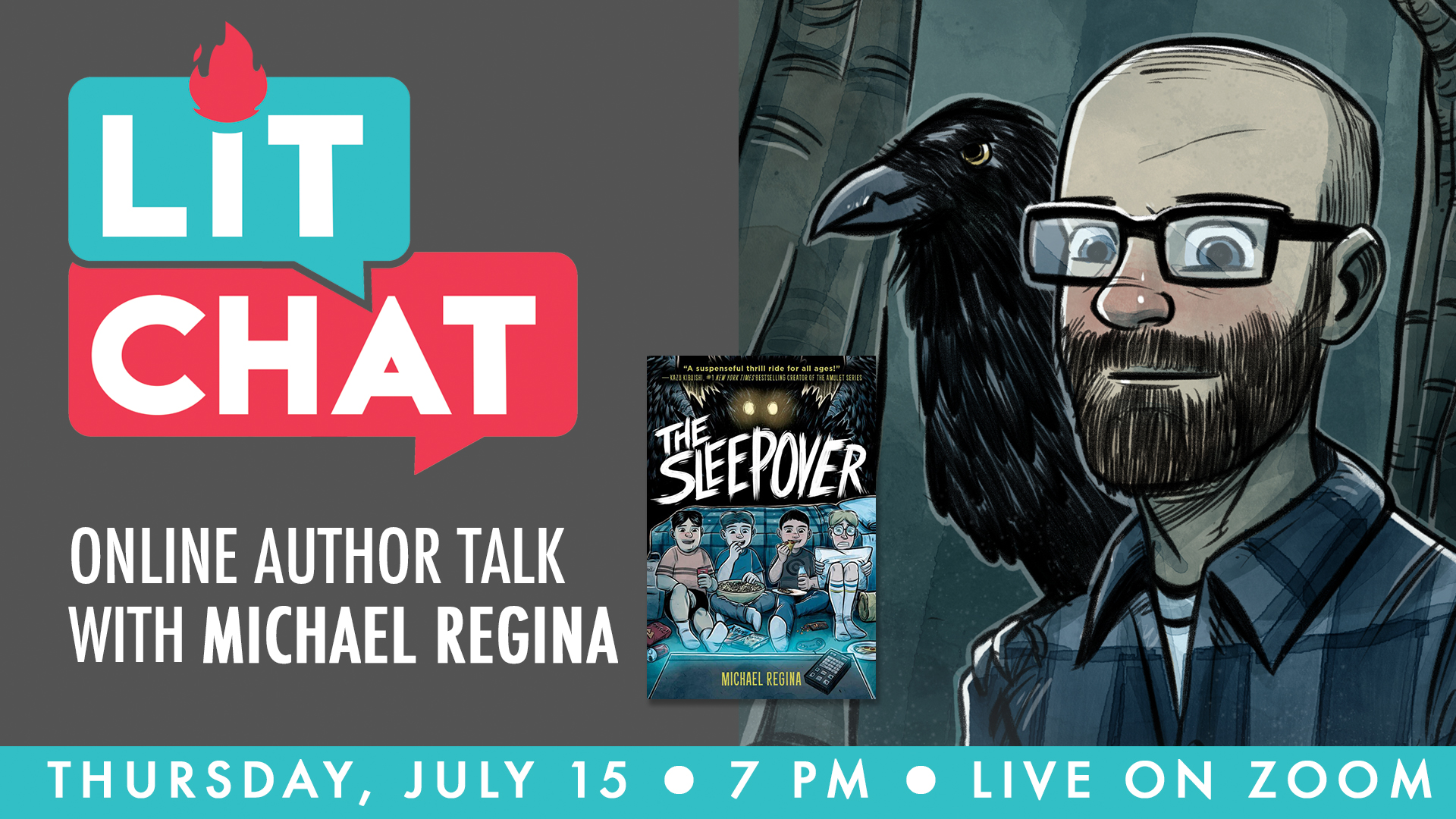 Jacksonville artist Michael Regina published his first books with Kickstarter money back in 2013, and now his newest book, The Sleepover, is being published by a major imprint. Find out how he achieved this success at our next Lit Chat!
#JOIN:
Lit Chat with Michael Regina, Thursday, July 15, at 7pm. Click here to register.
Michael Regina has been drawing comics since the third grade, and his passion for art and storytelling has stayed with him his whole life. He studied painting and drawing at the University of North Florida and minored in literature. Michael is also the creator of the Webtoons.com featured comic Adamsville.
When he's not making comics, he loves fishing, begrudgingly rooting for the Jacksonville Jaguars, and spending time with his family. They all live in Jacksonville, Florida.
#READ:
Check out Michael's first book series, Adamsville, in the library catalog. What do you do when you're one of the most popular kids in middle school, and you see a monster? That's exactly what happened to local star basketball player Chloe Johnson. The city of Adamsville is full of secrets. Secrets that will change everything they've known... Forever.
Michael recommends:
Dog Man: Mothering Heights, by Dav Pilkey. Book 10 in the Dog Man Series. Dog Man is down on his luck, Petey confronts his not so purr-fect past, and Grampa is up to no good.
The Amulet Series, by Kazu Kibuishi. After the tragic death of their father, Emily and Navin move with their mother to the home of her deceased great-grandfather, but the strange house proves to be dangerous. Before long, a sinister creature lures the kids' mom through a door in the basement. Em and Navin, desperate not to lose her, follow her into an underground world inhabited by demons, robots, and talking animals.
Deep Work, by Cal Newport. Deep work is the ability to focus without distraction on a cognitively demanding task. It's a skill that allows you to quickly master complicated information and produce better results in less time.
The Ocean at the End of the Lane, by Neil Gaiman. Dark creatures from beyond the world are on the loose, and it will take everything our narrator has just to stay alive: there is primal horror here, and menace unleashed - within his family and from the forces that have gathered to destroy it.
#EXPLORE:
Michael recommends:
The movie Peanut Butter Falcon, available on DVD at your library. Peanut Butter Falcon is the story of a young adult with Down Syndrome who breaks out of a care facility to train to become a professional wrestler.
Kayaking Jacksonville's waterways, available at your nearest kayak launch. If you need some ideas for where to go, check out a kayaking guide from the library.