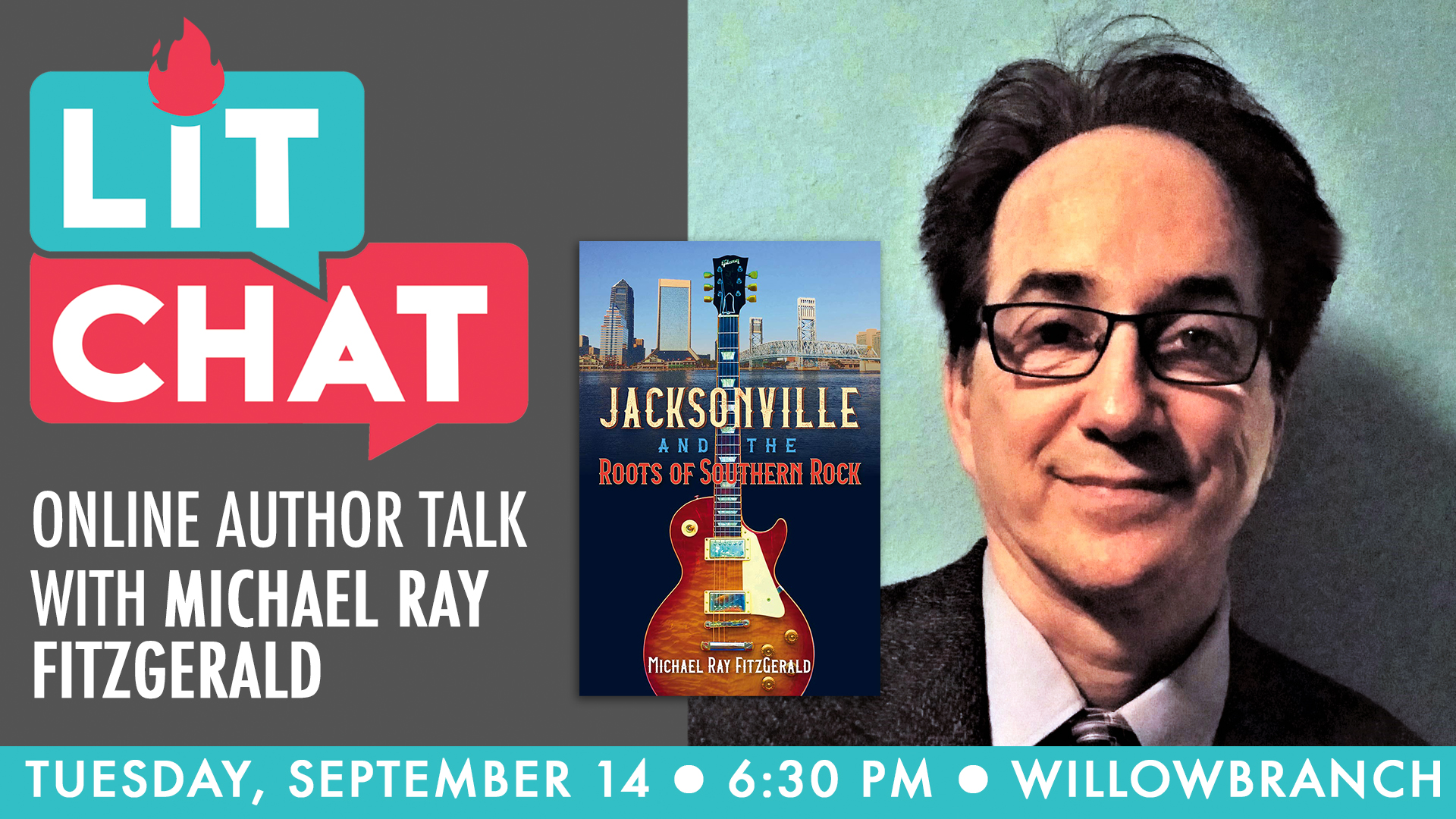 Willow Branch Library sits in a corner of Willow Branch Park, a popular location for local musicians during the late 1960s to develop and expand their audience. Named after the "Human Be-In," San Francisco's 1967 counterculture celebration, Jacksonville's "be-ins" spawned several notable acts, including the Allman Brothers Band.
In Jacksonville and the Roots of Southern Rock, Michael Ray FitzGerald digs into the history of bands like the Allman Brothers and Lynyrd Skynyrd and how Jacksonville played a role in bringing these bands to a national audience. FitzGerald and Alan Bliss, CEO of the Jacksonville Historical Society, will talk about this and more live at the Willow Branch Library!
#JOIN:
Lit Chat with Michael Ray FitzGerald, Tuesday, September 14, at 6:30pm. This event will be held with a small audience live at the Willow Branch Library, or you can watch it virtually via Zoom. Click here to register to attend the live event, or click here to register to receive the Zoom link. FitzGerald will be signing books before the event starting at 6:00, and the audience is welcome to stay after the Lit Chat to explore the Willow Branch Library's exhibit on the 1968 be-ins.
Michael Ray FitzGerald is a freelance writer and media historian. He has written hundreds of articles for local, regional, national and international publications.
FitzGerald, a former career musician, has a bachelor's degree in journalism from Jacksonville University, a master's in mass communication from University of Florida, where he also taught journalism, and a doctorate from University of Reading in Berkshire, England. He also taught at University of North Florida, Flagler College, and College of Coastal Georgia.
#READ:
Check out Michael Ray FitzGerald's book, Jacksonville and the Roots of Southern Rock, and learn more about the bands that called Jacksonville home.
For more great reads about Southern rock and the Allman Brothers, check out:
Lynyrd Skynyrd: Remembering the Free Birds of Southern Rock, by Gene Odom 
Music Everywhere: The Rock and Roll Roots of a Southern Town, by Marty Jourard 
One Way Out: The Inside History of the Allman Brothers Band, by Alan Paul 
Please be With Me: A Song for My Father, Duane Allman, by Galadrielle Allman 
Rebel Yell: An Oral History of Southern Rock, by Michael Buffalo Smith 
Skydog: The Duane Allman Story, by Randy Poe 
From Macon to Jacksonville: More Conversations in Southern Rock, by Michael Buffalo Smith 
#WATCH:
There are a few great films about Southern rock as well! Check out these films, recommended by Michael Ray FitzGerald:
Gone with the Wind: The Remarkable Rise and Tragic Fall of Lynyrd Skynyrd 
Song of the South: Duane Allman and the Rise of the Allman Brothers Band
#EXPLORE:
Take a field trip to the Willow Branch Library to see a temporary display of photographs of the 1968 be-ins, and then visit the park next door to imagine yourself in the crowd!
If you want to learn more about the Be-ins, read a recent article by local author Tim Gilmore on his website, JaxPsychoGeo.