Thursday, September 30, 2021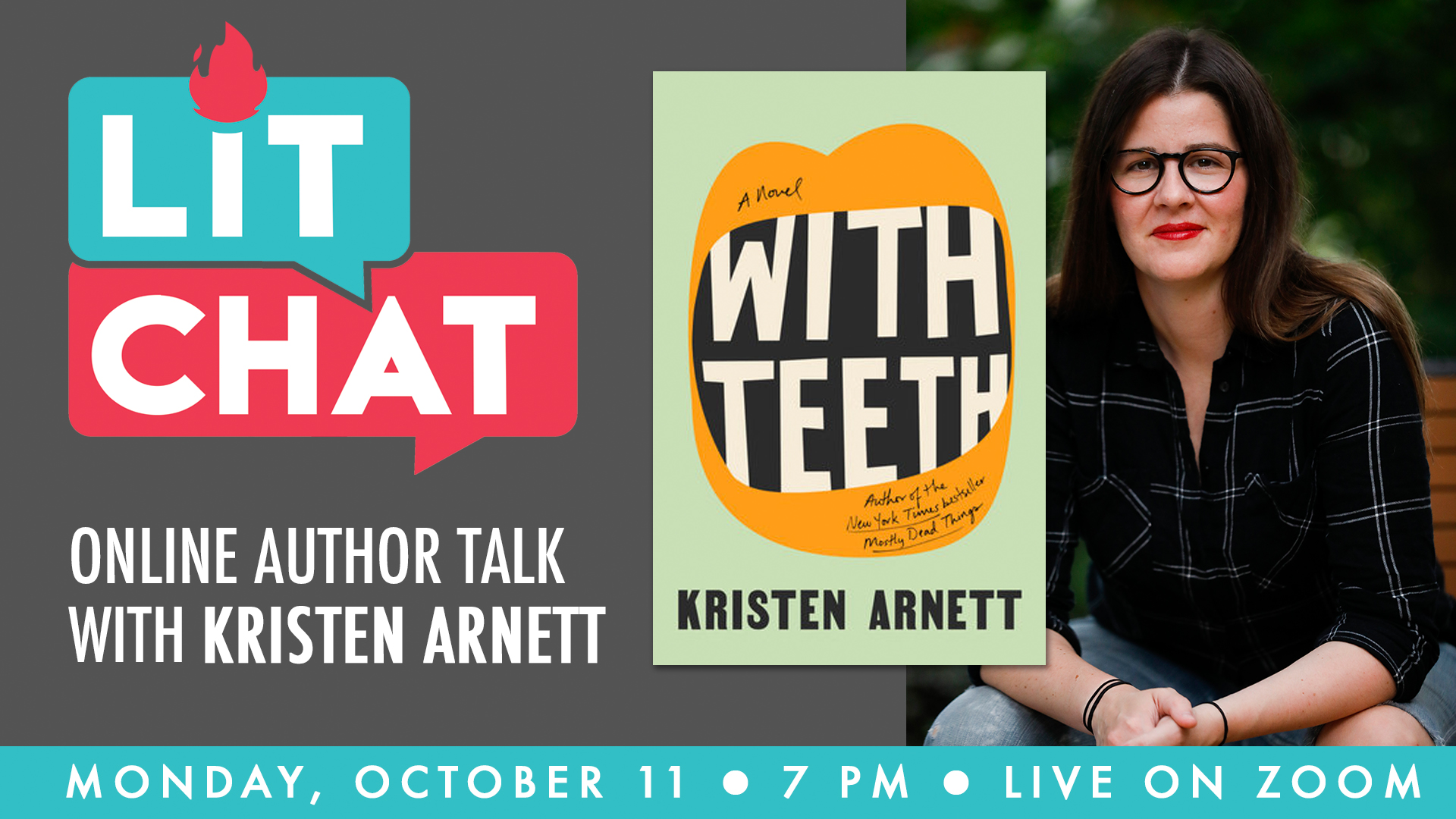 Kristen Arnett's novels and short stories explore queer life and life in Florida, combining the two with her signature dark humor. Join us to chat with the New York Times bestselling author about the stories that motivate her to write, what she's learned from writing, and more!
#JOIN:
Lit Chat with Kristen Arnett, Monday, October 11, at 7pm. Click here to register.
Kristen Arnett is the author of With Teeth: A Novel and the New York Times bestselling debut novel Mostly Dead Things, which was a finalist for the Lambda Literary Award in fiction. She is a queer fiction and essay writer. Her work has appeared at The New YorkTimes, The Cut, Oprah Magazine, Guernica, Buzzfeed, McSweeneys, PBS Newshour, The Guardian, Salon, and elsewhere. Her next book (an untitled collection of short stories) will be published by Riverhead Books. She has a Masters in Library and Information Science from Florida State University and currently lives in Miami, Florida.
#READ:
Check out Kristen's work in the library catalog, including her most recent release, Mostly Dead Things. 
Kristen recommends: Alexander Chee's Edinburgh, Danielle Evans' The Office of Historical Corrections, and Torrey Peters' Detransition Baby
#WATCH:
Kristen recommends The L Word: Generation Q, currently airing its second season on Showtime, and Party Down, available for streaming on STARZ. You can also find season 1 of Party Down on DVD in our catalog.
#EXPLORE:
Kristen recommends a wide variety of experiences, from your backyard to the other end of the state in two directions!
Local fun: Kiddie pools, French Bulldogs, 7-Eleven roller hot dogs, and Cigar City Brewing's "Florida Man" beer
Road trip time: Ponce de Leon Springs and the griddle pancakes at The Old Spanish Sugar Mill, and Books & Books which is an independent bookstore in Miami.
#HOW USEFUL WAS THIS ARTICLE TO YOU?
If you closed that survey pop-up but are ready now to let us know how useful this article is to you, we'd love to hear it. Click here for a very short survey so we can make our content fit you better. Thank you!