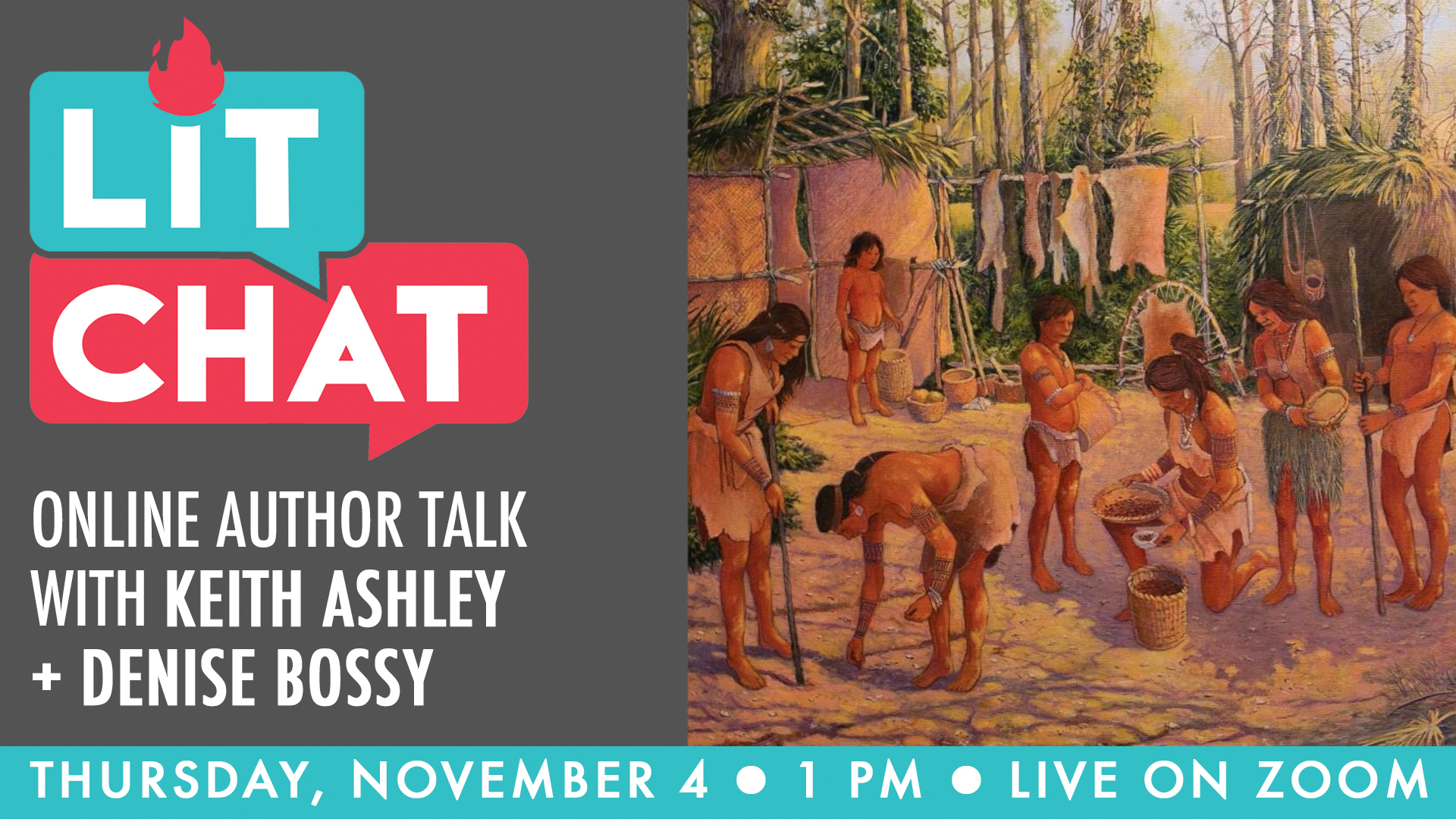 Join Keith Ashley and Denise Bossy from the University of North Florida as they discuss Jacksonville's indigenous history and share research tips! 
#JOIN: 
Lit Chat with Keith Ashley and Denise Bossy - Online, Thursday, November 4, at 1pm. Click HERE to register. Ashley and Bossy will debunk some major myths about the indigenous communities of Northeast Florida and share research tips to those interested in conducting their own research.
Dr. Keith Ashley is an Assistant Professor of Anthropology at the University of North Florida (UNF) and is UNF's Archaeology Lab Director. His research focuses on the cultures and histories of the indigenous peoples of southeastern North America, with a special interest in Northeast Florida.
Dr. Denise Bossy is an Associate Professor of History at the University of North Florida. Bossy specializes in cross-cultural relations between Indians, Europeans, and Africans in the early South. Her current research specializes specifically with the Yamasee Indians of Florida, Georgia, and South Carolina. One of her current book projects include The Yamasee Indians: A New History of the Early South.
Ashley and Bossy are currently co-writing a book titled Heca Utimile/Our Land: The Indigenous History of Northeast Florida.
#READ: 
The Yamassee: From Florida to South Carolina edited by Denise Bossy
"The Yamasee Indians are best known for their involvement in the Indian slave trade and the eighteenth-century war (1715-54) that took their name. Yet, their significance in colonial history is far larger than that. Denise I. Bossy brings together archaeologists of South Carolina and Florida with historians of the Native South, Spanish Florida, and British Carolina for the first time to answer elusive questions about the Yamasees' identity, history, and fate."
Late Prehistoric Florida: Archaeology at the Edge of the Mississippian World edited by Keith Ashley
"Prehistoric Florida societies, particularly those of the peninsula, have been largely ignored or given only minor consideration in overviews of the Mississippian southeast (A.D. 1000-1600). This groundbreaking volume lifts the veil of uniformity frequently draped over these regions in the literature, providing the first comprehensive examination of Mississippi-period archaeology in the state."
#WATCH: 
Check out the Florida Historical Society's YouTube page to learn more about Florida history! Check out the two videos below that feature our two speakers.
#EXPLORE: 
The Beaches Museum is a free museum in Jacksonville Beach where you can explore the past, present, and future of Jacksonville's beach communities. 
There you can see one of the museum's exhibitions Our Land: Indigenous Florida. In 2019, Dr. Keith Ashley and Dr. Denise Bossy as well as their students from the University of North Florida designed the exhibition.
#HOW USEFUL WAS THIS ARTICLE TO YOU?
If you closed that survey pop-up but are ready now to let us know how useful this article is to you, we'd love to hear it. Click here for a very short survey so we can make our content fit you better. Thank you!