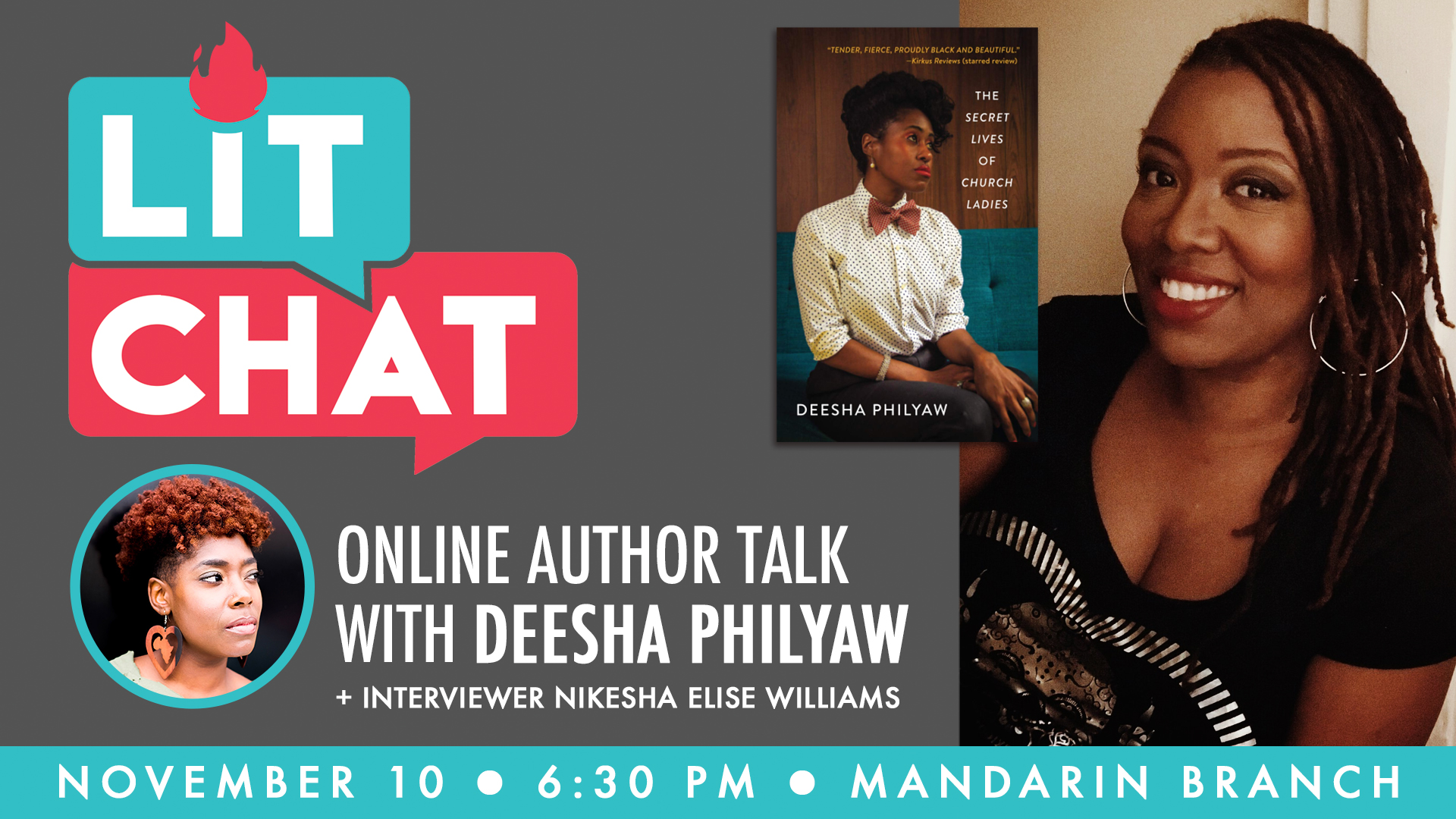 Deesha Philyaw, a graduate of Stanton College Prep and Yale University, is now a multiple award-winning author for her work, The Secret Lives of Church Ladies. Join us for an in-person and live-streamed conversation with Deesha about her book and her writing process at the Mandarin Branch Library!
#JOIN:
Lit Chat with Deesha Philyaw, Wednesday, November 10, at 6:30 pm. This event will be held with a live audience at the Mandarin Branch Library, or you can watch it virtually via Zoom. Click here to register to attend the live event, or click here to register to receive the Zoom link.
Deesha Philyaw is the author of the debut short story collection The Secret Lives of Church Ladies (West Virginia University Press, 2020), which won the 2021 PEN/Faulkner Award for Fiction, the 2020/2021 Story Prize, and a 2020 LA Times Book Prize: The Art Seidenbaum Award for First Fiction; the collection was also a finalist for the 2020 National Book Award for Fiction. She is also the author of Co-Parenting 101: Helping Your Kids Thrive in Two Households After Divorce, written in collaboration with her ex-husband.
#READ:
Check out Deesha's work in print and audio in the library catalog. 
Also check out some of Deesha's reading recommendations: "I'm lucky to get advance copies of books, so most recently I've enjoyed forthcoming works by quite a few writers including Palmares by the inimitable and uncompromising Gayl Jones; Tell Me How to Be by Neel Patel; Red Lip Theology by Candice Benbow; Shoutin' in the Fire by Danté Stewart; and Black Joy by Tracey Michae'l Lewis-Giggetts. And I just finished Maurice Ruffin's fantastic short story collection, The Ones Who Don't Say They Love You. At this very moment, I'm reading Leslie Pietrzyk's novel, Admit This to No One."
#WATCH:
Deesha recommends some great watches you can find on various streaming services: "I'm looking forward to seeing Candyman when it's available online; I like a good scary movie. I'm a bit behind, so I'm just getting into Steve McQueen's Small Axe film series. And Queen Sugar Season 6 is upon us, and I'm excited for that." 
In the library, you can find the book Queen Sugar that the TV show is based on; the 1992 Candyman movie that the new one is a sequel to; and Jordan Peele's other horror movies, Get Out and Us. 
# LISTEN:
Deesha says, "In terms of music, I love playlists, making them and listening to ones others have curated. The editors of Oxford American invited me to make a playlist to accompany my latest short story in their Southern Lit fall issue. It includes tracks by Kendrick Lamar, Minnie Riperton, Eurythmics, Geto Boys, Luther Vandross, and more."
HOW USEFUL WAS THIS ARTICLE TO YOU?
If you closed that survey pop-up but are ready now to let us know how useful this article is to you, we'd love to hear it. Click here for a very short survey so we can make our content fit you better. Thank you!