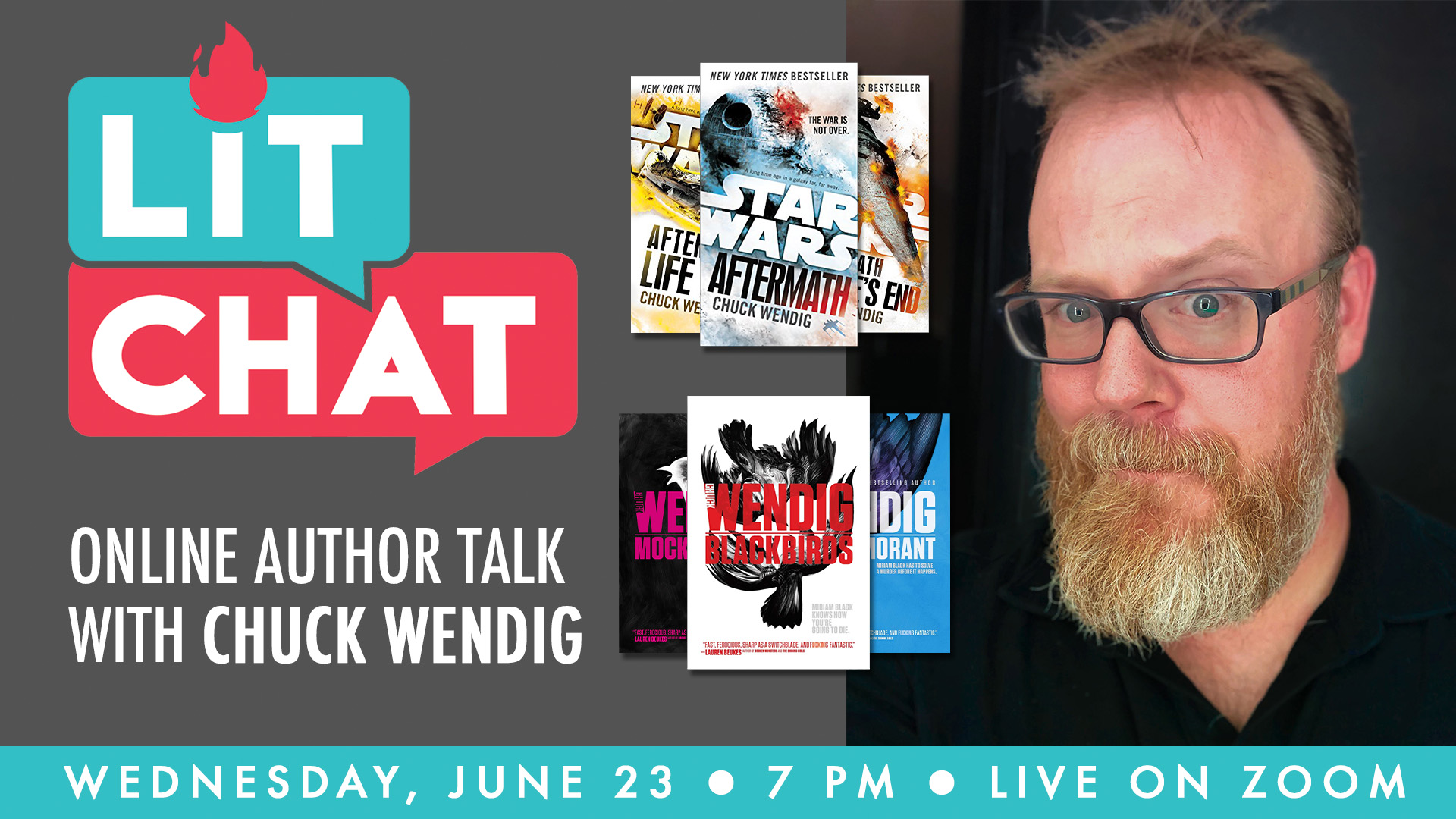 Have you ever read a sci-fi or fantasy book and wondered, what kind of a mind thinks up these new worlds? Find out and get a peek inside of one at our Lit Chat with Chuck Wendig!
JOIN:
Lit Chat with Chuck Wendig, Wednesday, June 23, at 7 pm. Click here to register.
Chuck Wendig is the New York Times and USA Today bestselling author of Star Wars: Aftermath, as well as the Miriam Black thrillers, the Atlanta Burns books, Zer0es/Invasive, Wanderers, and the upcoming The Book of Accidents (July 2021). He's also worked in a variety of other formats, including comics, games, film, and television. A finalist for the John W. Campbell Award for Best New Writer and the cowriter of the Emmy-nominated digital narrative Collapsus, he is also known for his books about writing. He lives in Pennsyltucky with his family.
READ:
Check out all of Chuck's work in the library catalog, including his new novel out in July, The Book of Accidents.
Chuck recommends Four Lost Cities, by Annalee Newitz. "The book I didn't know I needed to read, both in terms of a book that helped me understand the novel I was currently writing but also a book that contextualizes the end of cities, and in some ways, the ends of civilizations. But it also helps us see how something always rises, too. The end of one thing is the return of another. Not all is lost!"
EXPLORE:
Chuck recommends:
If you have access to Apple TV+, check out Ted Lasso. "I cannot evangelize this show enough. It is a show you don't think you want to watch, but trust me, you do." You can also check out the soundtrack to the first season on hoopla.
If you have access to the outdoors, try birding. "Go look at birds! Birds don't care about our petty problems! Super-relaxing and reminds us we need to protect the natural world." Need some help identifying those feathers? Check out the Field Guide to Birds of Florida.