Monday, November 15, 2021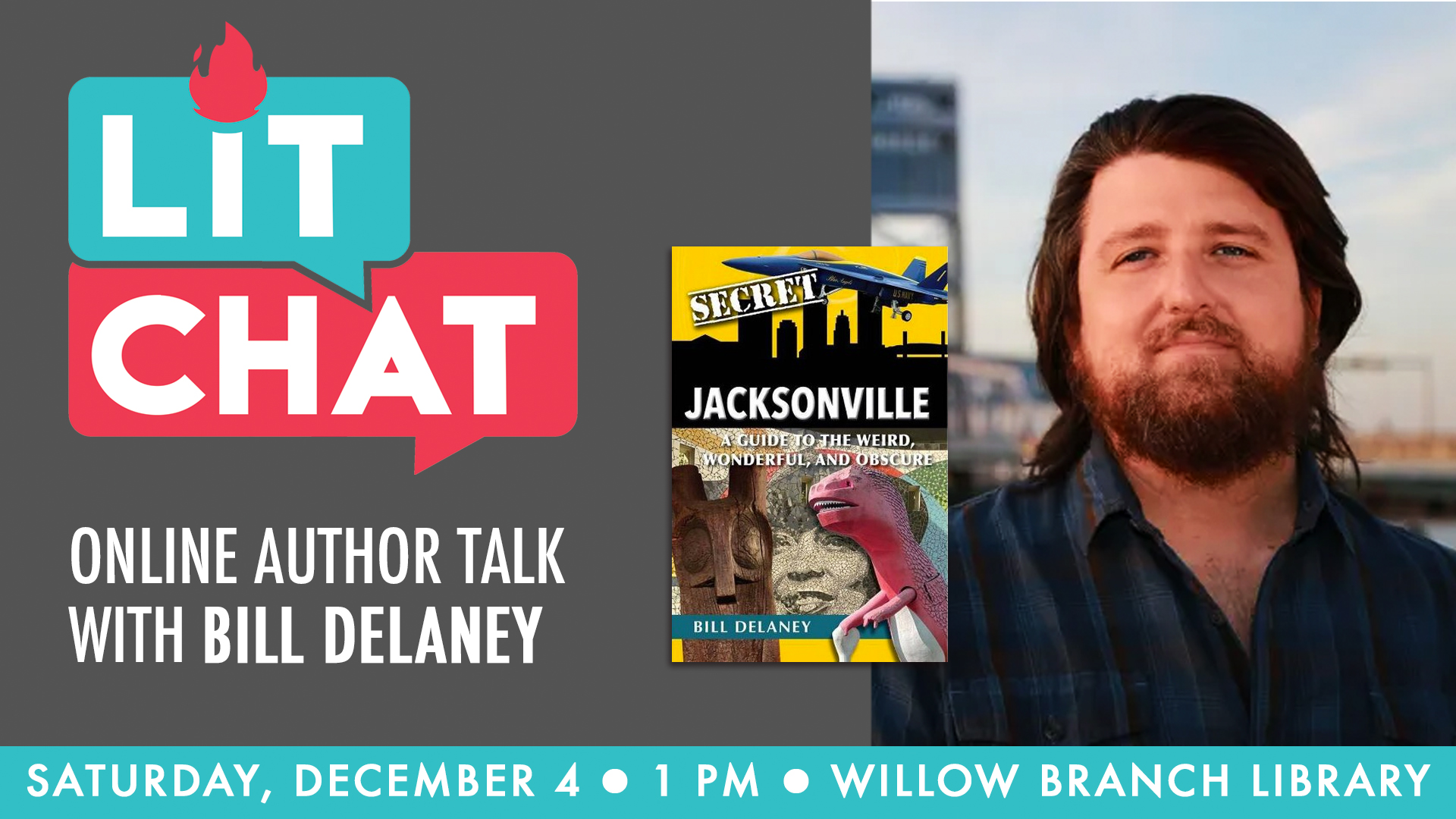 Dive into the "weird, wonderful, and obscure" parts of Jacksonville history, including Willowbranch Park's role in LGBTQ+ and music history and the Main Library's collection of Le Moyne-DeBry Fort Caroline engravings.
#JOIN:
Lit Chat with Bill Delaney, Saturday, December 4, at 1 pm. This event will be held with a live audience at the Willow Branch Library, or you can watch it virtually via Zoom. Click here to register.
Bill Delaney is a writer, editor and higher education professional from Jacksonville whose work focuses on the culture and history of the First Coast. He is co-owner and editor of the publications Modern Cities, TheJaxsonMag.com and Edible Northeast Florida Magazine. He holds bachelor's and master's degrees in English from the University of North Florida.
#READ:
Check out Bill's book, Secret Jacksonville, in the library catalog. Looking for more fun Florida factoids? Check out books from other First Coast and Florida writers, including previous Lit Chat authors Tim Gilmore, Elizabeth Randall, and Tyler Gillespie.
Bill also recommends the following local reads: The Roots of Southern Rock in Jacksonville, by Michael Ray FitzGerald (another Lit Chat alum!)
100 Things to Do in Jacksonville Before You Die, by Amy West
Seen, by Julie Delegal
#WATCH and LISTEN:
Did you miss out on some of our previous Lit Chats? You can catch recordings of some of our events on our YouTube channel and our Completely Booked podcast! Check out the Lit Chat with Tyler Gillespie to see Bill Delaney in interviewer mode, and Michael Ray FitzGerald's Lit Chat to learn more about the history of Southern rock and its connection to Jacksonville.
#EXPLORE:
Read the book and now you're excited to see Secret Jacksonville up close? Take a walk around town and check out a place you've never been before! If you want a guide, Bill Delaney is leading a Secret Jacksonville walking tour on December 11 with tickets available here.
You can visit the Willow Branch Library and Willowbranch Park at 2875 Park St. Check out great events at the library, including storytimes, a graphic novel book club, Teen Advisory Board, cross-stitch, and more!
When the Main Library is open, you can visit the Le Moyne-DeBry engravings on the 4th floor in the Special Collections department. You can also schedule a tour of the Special Collections department by request by calling 255.BOOK.
#HOW USEFUL WAS THIS ARTICLE TO YOU?
If you closed that survey pop-up but are ready now to let us know how useful this article is to you, we'd love to hear it. Click here for a very short survey so we can make our content fit you better. Thank you!