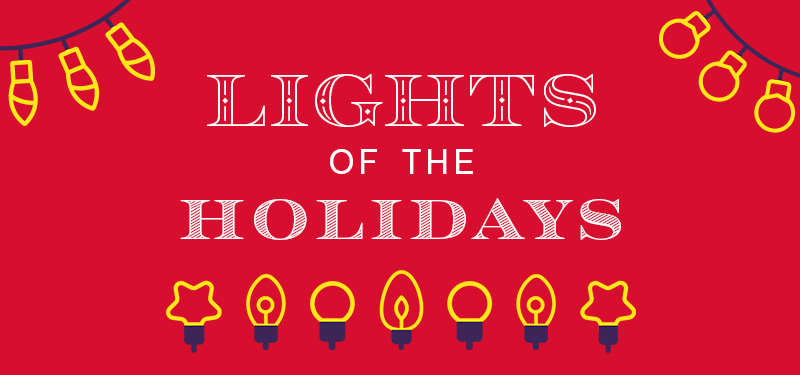 #Lights of the Holiday Season
In the days leading up to December 21 – the darkest day of the year – more and more people will be lighting candles, hanging twinkle lights, decorating trees (and bushes) and filling the skies with fireworks during this festive time of year.
Celebrations of Light : A Year Of Holidays Around The World by Nancy Luenn covers 24 holidays and festivals that feature lights heavily in their celebrations and traditions. Several of these religious holidays, feast days, and cultural festivals take place in November and December. There are over a dozen that take place in December alone!
#Celebrating with light
Diwali and Hanukkah are both known as a "Festival of Lights" and involve lighting clay lamps or candles on a menorah. Shubh Diwali! by Chitra Soundar is a beautiful child-friendly introduction to the Hindu festival. For a classic Hanukkah tale, Hershel and the Hanukkah Goblins by Eric A. Kimmel is sure to deLIGHT (pun intended)!
Many of the traditions surrounding Yule and the Winter Solstice involve light, as well. Newberry Medalist Susan Cooper's beloved poem-turned-children's-book The Shortest Day captures the magic behind the returning of the light in a way nearly everyone can appreciate. This seasonal treasure was gorgeously "illuminated" by artist and Caldecott Honoree Carson Ellis.
Did you know? The tradition of decorating Christmas trees is more than 400 years old! Merry Christmas, Mouse! by Laura Joffe Numeroff follows the star of If You Give a Mouse a Cookie as he decorates his very own Christmas tree! So, if you're looking for some new traditions – you can't go wrong with the #1 New York Times bestselling team of author Laura Numeroff and illustrator Felicia Bond.
For more holiday books, check out this list of popular titles celebrating winter holidays around the world and share them with your kids!
#Booklist