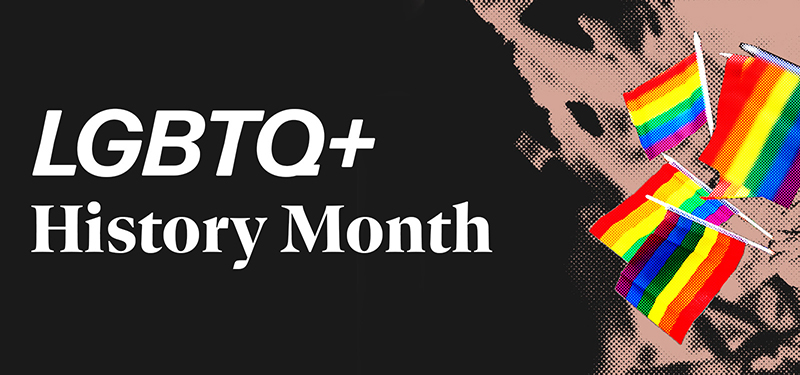 #A Place in History
October is LGBTQ+ History Month, which celebrates the achievements and contributions of exemplary lesbian, gay, bisexual, transgender, and other queer-identified role models throughout history. Like other celebration months, it is also an opportunity to highlight historic and current issues facing the community, celebrate milestones, and educate or welcome others who would become allies.
LGBTQ+ History Month started in 1994, when a Missouri high school teacher named Rodney Wilson gathered together other teachers and community leaders who believed that a month should be dedicated to the celebration and teaching of gay and lesbian history. The group selected October because 1) public schools are in session at that time and 2) existing traditions, such as Coming Out Day (October 11) and the anniversary of the first March on Washington for gay and lesbian rights (October 14, 1979) occur that month.
LGBTQ+ History Month now also includes these observances:
The anniversary of Matthew Shepard's murder on October 12, 1998, which led to the Matthew Shepard and James Byrd Jr. Hate Crimes Prevention Act in 2009.
Spirit Day on October 20: Millions of people wear purple on this day to support LGBTQ+ youth and take a stand against the disproportionately large amount of bullying and harassment that they face because of their identities. It's the largest LGBTQ+ anti-bullying campaign in the world.
Solidarity Week (formerly Ally Week) is a student-powered campaign to support LGBTQ+ students and educators. It has evolved over the years based on student feedback. Its goal is to help people learn about and practice solidarity with people of different identities and to serve and center those most impacted by oppressive systems and behaviors.
#The Power of Stories
While there are more and more LGBTQ+ actors, athletes, politicians, scientists, and every day people living openly and "out of the closet" on our screens and in our communities: You don't always get the opportunity to talk to them or ask them questions. That's where biographies, memoirs, and personal essays by LGBTQ+ people can make a huge difference.
Don't know many other LGBTQ+ people? You can read true and fictionalized stories to see how others have dealt with things like coming out. Are you struggling now that a child, parent, coworker, or close friend has come out to you as LGBTQ+? The Library's collection contains stories, health information, resources, and LGBTQ+ history that can help.
Mixing helpful definition with personal anecdotes, The ABCs of LGBT+ by Ashley Mardell is a great resource for teens and their parents. In Mardell's own words, "This book is also for allies and LGBT+ people simply looking to pack in some extra knowledge . . . a critical part of acceptance. Learning about new identities broadens our understanding of humanity, heightens our empathy, and allows us different, valuable perspectives."
The stories of gay rights leaders as well as every day LGBTQ+ teens are explored in books like The Book of Pride: LGBTQ Heroes Who Changed the World by Mason Funk, All Out: The No-Longer-Secret Stories of Queer Teens Throughout the Ages by Saundra Mitchell, and Beyond Magenta: Transgender Teens Speak Out by Susan Kuklin.
#Booklists
Whether you're thinking about coming out, have been out for a while, looking for a role model or someone to whom you can relate, navigating the rough waters of ally-ship, or just trying to learn more about this topic: The Library has a number of resources to aid you on your journey.
Because it's LGBTQ+ History Month: We've highlighted several biographies and other non-fiction titles about LGBTQ+ icons and how they affected American (and world) history. While not exhaustive by any means, these books cover Stonewall, Harvey Milk, the fight for marriage equality, the repeal of Don't Ask Don't Tell, and other milestones in the Gay Rights Movement.
#For Youth
#For Adults