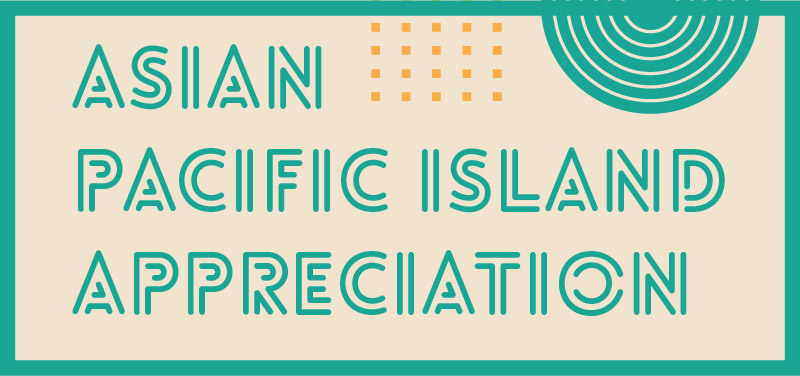 #From Standouts to Struggles:
#Celebrating Heritage, Learning from Others
In May, we celebrate Asian Americans, Pacific Islanders and Native Hawaiians and their contributions to the history, traditions, and culture of these great United States. Asian Americans are those who trace their heritage back to countries like China, Japan, Thailand, Malaysia, Korea, India, Vietnam, the Philippines or to one of the dozens of other countries in the Far East, Southeast Asia, or the Indian Subcontinent. This heritage month also honors Native Hawaiians and those whose background stems from Guam, Samoa, and other Pacific Islands. The US Census reports that around 22 million people, the fastest growing racial or ethnic group in the US, identify as Asian American or Pacific Islander (AAPI). Of that number, over 500,000 identified as Native Hawaiian in the 2010 Census.
#A Few Standouts in the AAPI Community
Members of this diverse community have helped shape American life for almost two hundred years. They have fought bravely in our country's wars, built railroads, and played key roles in our nation's history. Significantly: our nation's current and first female Vice President, Kamala Harris, is also our first Black VP and the first Asian and Pacific Islander elected to the office. There are several books about VP Harris including her own 2019 memoir, The Truths We Hold. The newest biography, Kamala's Way: An American Life by Dan Morain, which was released in early 2021, chronicles her political career.
Last year, PBS released "AAPI History Spotlight: Saluting STEM Pioneers" which featured six standouts in Science, Technology, Engineering and Math like Colonel Ellison Onizuka, US Air Force Pilot and the first Asian American astronaut in space. Also included were Chien-Shiung Wu (whose work in experimental physics aided in the development of the nuclear bomb) and Reshma Saujani, the author of Girls Who Code. Click here to check out the full list.
Readers of middle grades books and graphic novels may be familiar with the name Gene Luen Yang, American Cartoonist, Eisner Award winner, MacArthur Fellow, and creator of American Born Chinese, Level Up, The Shadow Hero, Secret Coders (series), Dragon Hoops, and many others. He's also worked for Dark Horse Comics, DC, and Marvel. Fans of Avatar the Last Airbender will also recognize his work from the ongoing series of comics and graphic novels that picked up where the popular TV show left off. In 2016, the Library of Congress named him Ambassador for Young People's Literature. His books are regularly used in classrooms across the U.S. to teach children about stereotypes.
Marvel will release its long-awaited live-action version of Asian-American superhero Shang-Chi to theatres later this year. If you're new to this Avenger's story, Gene Yang's new comic Shang-Chi Vol. 1: Brothers and Sisters is available right now on Hoopla.
Asian Americans and Pacific Islanders have had a huge influence on the American way of life, history, and on mainstream culture. But not all depictions of those in the AAPI community have been positive.
#Representation in Media
While it was not wholly-embraced by the Asian American community, the movie Crazy Rich Asians (based on the Kevin Kwan novel) did enjoy massive commercial success and may have paved the way for even more Asian-American lead films and TV shows. It was the first major Hollywood film to feature a majority Asian-American cast since the film adaptation of The Joy Luck Club by Amy Tan. The film is available to watch for free on demand with Hoopla.
Recently, Netflix has also had a lot of success with To All The Boys I've Loved Before (the adapted from Jenny Han's YA novel of the same name). The more visible the AAPI community is throughout all forms of media, the more likely their stories are to be published or adapted to the big or small screen. However, not all media representation is helpful. There is a long history of Asian Americans and Pacific Islanders being portrayed on film in racist and harmful ways. For more on the topic of how media stereotypes of exoticism and docility have affected the perception of Asian and Asian American Women, check out Slaying the Dragon, which is available to stream for free on Kanopy.
In 2019, The Berkeley Forum invited cartoonist Gene Luen Yang to speak at the University of California, Berkeley on Asian and Asian-American representation through creative mediums. Among other things, he talks about the dramatic shift in representation (from foe to friend) of the Chinese and Chinese Americans in comics and other media during World War II. It was believed they were America's best ally in the fight against the Japanese.
#Japanese Americans and WWII
They Called Us Enemy by George Takei is a graphic novel/memoir of the author's experiences as a child prisoner in the Japanese-American internment camps of World War II. George Takei, of course, is best known for his portrayal of Hikaru Sulu, helmsman of the USS Enterprise on the original Star Trek series (and six Star Trek feature films). What most people don't know about the famous actor is that in addition to losing family in Hiroshima, his parents actually lost their home, bank accounts, and family business as a result of their "internment" during World War II. Enacted as a reaction to the bombing of Pearl Harbor, people of Japanese descent living in the U.S. (including citizens) were kept in isolated camps between 1942 and 1945. After their release from the camp, his family lived homeless on "Skid Row" in Los Angeles for five years while they attempted to rebuild their life.
#History of the Heritage Month
Heritage and history months like this one are the perfect opportunity to celebrate. For those in the community, it's a time to take pride in the accomplishments of people with similar backgrounds. Their hard-won victories not only changed the history books but they pave the way for more to follow in their footsteps. If you're not Asian American, Pacific Islander, or Native Hawaiian, it's a chance to learn from people who have different life experiences than you.
In the 1970s, shortly after the nation's bicentennial celebration, several resolutions were introduced to Congress to make Asian-Pacific Heritage Week a reality. A joint-resolution eventually passed the House and the Senate and was signed by President Jimmy Carter. The first observance was held in May of 1979. The timing of the annual celebration honors the immigration of the first Japanese to the United States on May 7, 1843, and to mark the anniversary of the completion of the transcontinental railroad on May 10, 1869. The majority of the workers who laid the tracks from Iowa to San Francisco were Chinese immigrants.
In the early 1990s, Congress decided to extend the celebration to the entire month of May. President George H. W. Bush signed that bill and since then, presidents have proclaimed May as "Asian-Pacific Heritage" and (then later) "Asian American and Pacific Islander Heritage Month" every year since. Celebrations usually include community festivals, government-sponsored events, and educational activities for students.
Find more at: https://asianpacificheritage.gov/
#To Know a People, Know Their Stories
By hearing other's stories and uplifting different voices within the AAPI community, we can all reach a greater understanding of and appreciation for the experiences of this diverse group of people as well as the positive impact they've had (and continue to have) on our country.
This sort of representation and understanding is especially important now, when violence against the AAPI community and racism associated with the COVID-19 pandemic have sharply increased.
Stories created by and for the AAPI community help those within the community feel seen. And reading them can also help you, your families, friends, and neighbors learn, develop empathy, and avoid the risk of perpetuating negative stereotypes.
When people have a chance to tell their own stories, a more understanding and compassionate world is possible. We hope you enjoy this selection of books and encourage you to look and listen for more examples of great Asian American, Pacific Islander and Native Hawaiian voices in literature, film, pop culture, and in every other aspect of life.
#Booklist