Saturday, December 18, 2021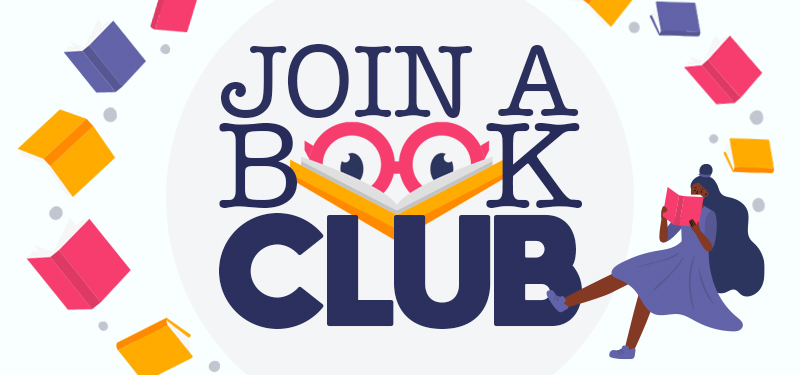 Is your New Year's Resolution to read more books, read books outside of your comfort zone, or talk about books with others? We've got you covered! Our 10 book clubs run the gamut from true crime and mystery to graphic novels and Florida authors. We are also kicking off our Jax Stacks Reading Challenge book club, where you can come and learn about great books that other people are reading and share your own favorites.
Check out the list of book clubs below and join your fellow readers for a great chat!
Thursday, January 6 @ 6:30 pm Discovery Book Club at Pablo Creek
The Soul of an Octopus, by Sy Montgomery
"An investigation of the emotional and physical world of the octopus."
Thursday, January 13 @ 1pm As the Page Turns Book Club at Mandarin
Cutting for Stone, by Abraham Verghese
"Marion and Shiva Stone are twin brothers born of a secret union between a beautiful Indian nun and a brash British surgeon. Orphaned by their mother's death and their father's disappearance, bound together by a preternatural connection and a shared fascination with medicine, the twins come of age as Ethiopia hovers on the brink of revolution."
Tuesday, January 18 @ 6 pm ComiClub Graphic Novel Book Club at Willow Branch
Ms. Marvel, Volume 1, by G. Willow Wilson
"Kamala Khan is an ordinary girl from Jersey City -- until she's suddenly empowered with extraordinary gifts. But who truly is the new Ms. Marvel? Teenager? Muslim? Inhuman? Find out as she takes the Marvel Universe by storm! When Kamala discovers the dangers of her newfound powers, she also unlocks a secret behind them. Is Kamala ready to wield these immense gifts? Or will the weight of the legacy before her prove too much to bear? Kamala has no idea, either. But she's comin' for you, Jersey!"
Tuesday, January 18 @ 6 pm Nuts About Reading Book Club at West
Before the Coffee Gets Cold, by Toshikazu Kawaguchi
"In a small back alley in Tokyo, there is a café which has been serving carefully brewed coffee for more than one hundred years. But this coffee shop offers its customers a unique experience: the chance to travel back in time. In Before the Coffee Gets Cold, we meet four visitors, each of whom is hoping to make use of the café's time-travelling offer."
Saturday, January 22 @ 12:30pm New Leaf Book Club at Highlands
Where the Crawdads Sing, by Delia Owens
"For years, rumors of the 'Marsh Girl' have haunted Barkley Cove, a quiet town on the North Carolina coast. She's barefoot and wild; unfit for polite society. So in late 1969, when handsome Chase Andrews is found dead, the locals immediately suspect Kya Clark. But Kya is not what they say. Abandoned at age ten, she has survived on her own in the marsh that she calls home. A born naturalist with just one day of school, she takes life lessons from the land, learning from the false signals of fireflies the real way of this world. But while she could have lived in solitude forever, the time comes when she yearns to be touched and loved. Drawn to two young men from town, who are each intrigued by her wild beauty, Kya opens herself to a new and startling world--until the unthinkable happens."
Saturday, January 22 @ 2:30 pm Mysterious Affairs Book Club at Highlands
"Private detective Agatha Raisin, having recently taken up power-walking, is striding along a path in Mircester Park during her lunch break when she hears a cry for help. Rushing over, she finds an elderly couple, Mr. and Mrs. Swinburn, in the middle of the green-with the body of an old man lying at their feet. The man, who the coroner determines died by poisoning, was known as "the Admiral," a gardener notorious for his heavy drinking, and Chief Inspector Wilkes writes the death off as an accident caused by the consumption of weedkiller stored in a rum bottle. Agatha is not convinced that anyone would mistake weedkiller for rum but carries on with her work at Raisin Investigations, until she receives an anonymous tip that the Admiral's death was no accident."
Monday, January 24 @ 6:30 pm Jax Stacks Reading Challenge Book Club at Mandarin
Categories: Books by Jacksonville authors AND Books being read by our library book clubs
Are you participating in our Jax Stacks Reading Challenge? Do you want to? Do you need a few more ideas for books you can read for that one elusive category? Check out our Reading Challenge book club! Each month we'll get together to talk about that month's featured categories as well as books that you have read or will read for any of the categories in the challenge. No reading is required to attend this book club, just an interest in our reading challenge and the ability to talk about great books!
Tuesday, January 25 @ 6:45 pm Flamingo Book Club at Beaches
"Palm Beach. A prominent high-society matron - who happens to be a fierce supporter of the President and founding member of the POTUSSIES - has gone missing at a swank gala. When the wealthy dowager Kiki Pew Fitzsimmons is later found dead in a concrete grave, panic and chaos erupt. The President immediately declares that Kiki Pew was the victim of rampaging immigrant hordes. This, as it turns out, is far from the truth. Meanwhile, a bizarre discovery in the middle of the road brings the First Lady's motorcade to a grinding halt (followed by some grinding between the First Lady and a lovestruck Secret Service agent). Enter Angie Armstrong, wildlife wrangler extraordinaire, who arrives at her own conclusions after she is summoned to the posh island to deal with a mysterious and impolite influx of huge, hungry pythons."
Thursday, January 27 @ 7 pm Club 364.1 True Crime Book Club Online via Zoom
YellowBird, by Sierra Crane Murdoch
"When Lissa Yellow Bird was released from prison in 2009, she found her home, the Fort Berthold Indian Reservation in North Dakota, transformed by the Bakken oil boom. In her absence, the landscape had been altered beyond recognition, her tribal government swayed by corporate interests, and her community burdened by a surge in violence and addiction. Three years later, when Lissa learned that a young white oil worker, Kristopher 'KC' Clarke, had disappeared from his reservation worksite, she became particularly concerned. No one knew where Clarke had gone, and no one but his mother was actively looking for him. Unfolding like a gritty mystery, Yellow Bird traces Lissa's steps as she obsessively hunts for clues to Clarke's disappearance."
Mondays in January Virtual Book Club on LibraryU
Everything is Horrible and Wonderful, by Stephanie Wittels Wachs
Join us for our weekly reading check-ins for our January LibraryU pick starting January 17, and save the date for February&nbsp28 for our live online meeting!
HOW USEFUL WAS THIS ARTICLE TO YOU?
If you closed that survey pop-up but are ready now to let us know how useful this article is to you, we'd love to hear it. Click here for a very short survey so we can make our content fit you better. Thank you!