Friday, November 19, 2021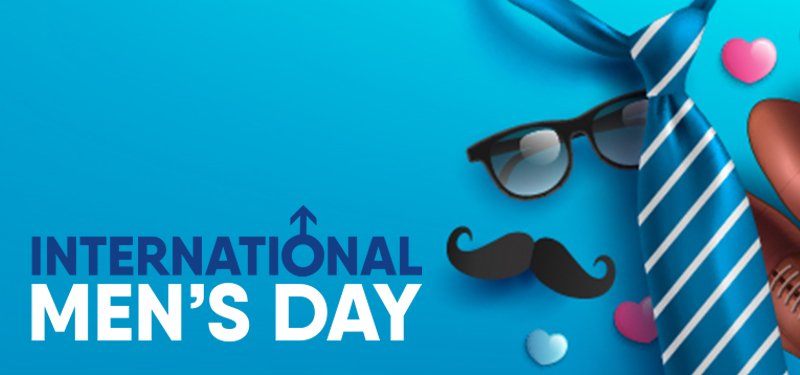 #International Men's Day
In more than 80 countries around the world November 19 is celebrated as International Men's Day. It's a day to celebrate the positive value men and boys bring to the world, their families and communities. Men's health, male role models and good-faith discussions on the topic of masculinity are all encouraged by this annual event. 
#The face of men's health
Have you noticed men growing a lot more facial hair this month? It's not just the drop in temperatures and it's not some new TikTok challenge. Whether growing a stylish "Movember" mustache or a full-on Non-Shave November beard, many men aim to "change the face of men's health" by raising awareness of and supporting those tackling prostate and testicular cancer and other health issues facing men and boys. 
If you or someone you love has received a cancer diagnosis, there will be a lot of questions. Consider a book like Managing Prostate Cancer: A Guide For Living Better by Andrew J. Roth, or other titles in the list below to provide some guidance and advice.
#Taking those first steps
Whatever your personal motivation -- weight loss, building muscle, disease prevention, etc. -- you can find helpful resources like The Male Body: An Owner's Manual by K. Winston Caine and The Better Man Project by W. Nathaniel Phillips right here at your Library.
Note: If you're thinking about making big changes in your diet or exercise routine, you'll also want to talk to your doctor, of course. But it doesn't hurt to get some ideas and questions together first!
#Building a better world
Young men: are you looking for an example or roadmap to follow? 
The New York Times bestselling book Reach: 40 Black Men Speak On Living, Leading And Succeeding by Benjamin Todd Jealous takes the idea of the positive male role model and runs with it. Inside, there are 40 first-person accounts from well-known Black men like the Rev. Al Sharpton, John Legend, Isiah Thomas, Bill T. Jones, Louis Gossett, Jr., and Talib Kweli, alongside influential community organizers, businessmen, religious leaders, philanthropists, and educators who serve as living proof that Black men are as committed as ever to ensuring a better world for themselves and for others.
#Talking tough, tough topics
Mental health can be as difficult for men to talk about as anyone. Have you or a male role model ever been described as the "strong, silent type?" Have you been told things like "boy don't cry" or "man up?"
In I Don't Want to Talk About It: Overcoming The Secret Legacy Of Male Depression distinguished therapist and bestselling author Terrence Real talks candidly about issues that affect men and boys like depression, body image, and other "taboo" subjects surrounding men and masculinity. Man Enough: Undefining My Masculinity by Justin Baldoni interrogates some of those expectations (and restrictions) that our society has placed on men and boys.
Baldoni---well known as an actor and director---is also a social activist and non-profit CEO. His viral TED talk from 2017 "Why I'm done trying to be 'man enough" has over 7.8 million views.
#The Challenge
Like Movember and No-Shave November, International Men's Day is more than a celebration; it is a challenge. Men are challenged to share experiences, mentor young men in their communities, face tough issues openly and honestly, and to ask for or offer help when needed.
Talking about cancer or mental health isn't easy, but there are resources that can help. If you're curious, the Library is a great place to start. We actually have quite the 'stache (pun intended)! There are even a few fun titles with mustachioed main characters!
So, whether you're looking to craft a distinct style (like Monsieur Poirot) or just looking for some simple grooming tips, we've got plenty of MANuals and how-to guides to keep you motivated. You'll find all that and more at the Library:
#Booklist