The theme for this year's Summer Reading Program, A Universe of Stories, was chosen because reading takes you to new places and new universes—sometimes even to the world of superheroes. And who doesn't love superheroes? "Teens—and everyone—loves them," said Youth Services Manager Lorna Reid. She added, "We all know [superheroes] or grew up with them. And when people think of reading, they don't always think that graphic novels or comic books count, but they do!"
When you read graphic novels, you're reading about something with a purpose and a plot. You may not see it entirely, but superheroes connect to teens and people in a very significant way. Superheroes can connect to us by showing positive ways to do something good in life, and they're an example of what we aspire to be in life. Think about it, wouldn't you want to make your society better?
As an intern for the Mayor's Youth at Work Partnership at the Main Library, I was able to participate in the third week of a teen program, Universe of Superheroes, to report for this story. The program, held on Thursdays from 3 – 4 p.m. in the teen department, is part of a six-week series. The activities consisted of a read-aloud, games, small talk, and making souvenirs. Specifically, the teen customers and I played two different games.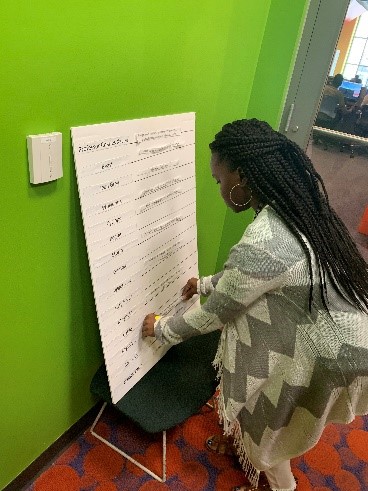 Intern Sadé Robinson matches an ability to a superhero in the Charles Xavier's Mental Matchup game.
Wolverine Pictionary allowed us to experience what it might be like to write with unretracted claws. To play the game you put three markers in between your fingers and are challenged to write a word for your teammates to guess in a limited time. In another game, Charles Xavier's Mental Matchup, we were divided into two different teams. The first team to match the superheroes' powers and abilities to the correct superheroes won a reward.
The instructor also read to us about heroes in the real world and superheroes in the fantasy world. She explained how real-world heroes such as Martin Luther King Jr. and Malcom X may have been the inspiration for the X-Men. At the end of the session, we made superhero magnets as a souvenir to take home.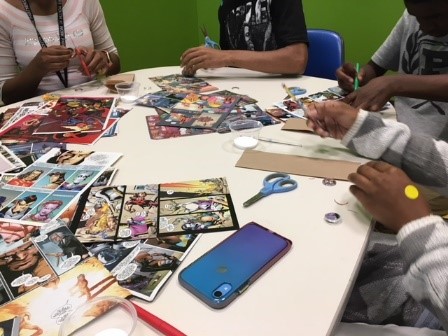 Teens make souvenir magnets from pictures in comic books.
I asked the other teens about their favorite part of the program. Jaheim, who likes manga novels and is a regular participant, said "I enjoy being in the company of my peers." Myra answered, "I liked the Wolverine Pictionary game. It was fun and challenged my writing skills." And Darrius said he liked "learning something new" each week.
As for myself, I enjoyed experiencing being in this kind of reading environment with my peers. I also learned how reading for 15 minutes a day helps students keep up their skills so they won't have to play catch-up when they return to school. Check out the rest of the Universe of Superheroes series and other Summer Reading programs throughout July.
Also, if you're into superheroes, the library has a great selection of books like the ones you see here, and more items, including DVDs.
Wolverine and the X-Men. Vol. 1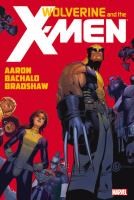 X-Men: Legion: Shadow King Rising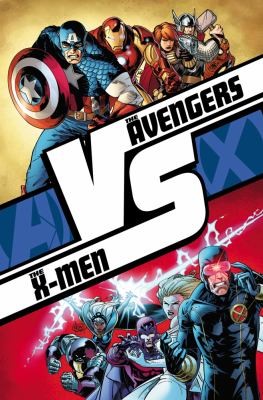 By: Sadé Robinson, CR&M Summer Intern