Friday, December 10, 2021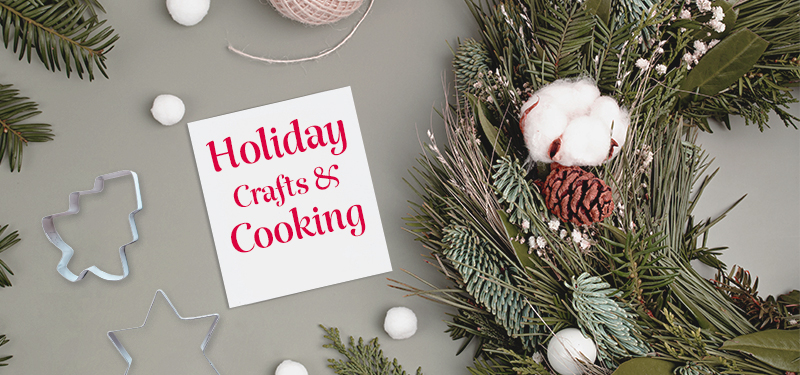 #Holiday Crafts and Cooking
Do you plan to skip the store-bought cookies and pre-made mixes and make something entirely from scratch this holiday? Looking for some new traditions, new decorations, or ways to make memories together with the kids?
Get crafty and get cooking with help from the Library!
#Crafting
Holiday Crafting And Baking With Kids by Jessica Strand is filled with family-friendly gifts, sweets, and treats – 26 cheerful projects – for celebrating all the winter holidays: Thanksgiving, Hanukkah, Kwanzaa, Christmas, New Year's, and more.
Want more? Craft your way through more than 40 festive projects with Sophie Pester's Homemade Holiday or pick up Oh Joy!: 60 Ways To Create & Give Joy by popular blogger and Pinterest sensation Joy Cho.
#Cooking
Do you just want to make your family, friends and coworkers go "wow" at your next party? Looking for ways to make that potluck more inclusive?
If you're cooking vegan for the first time this holiday, check out The Superfun Times Vegan Holiday Cookbook: Entertaining For Absolutely Every Occasion by bestselling cookbook author Isa Chandra Moskowitz.
If you want to up your game on that holiday staple: The Book On Pie: Everything You Need To Know To Bake Perfect Pies by award-winning New York Times food stylist Erin Jeanne McDowell can help you achieve those perfectly flaky pie crusts you've been craving. This go-to guide is great for just about any get-together.
Don't think you can be creative? Try mixing something familiar with something new. Who knows? That quirky dish from My Drunk Kitchen Holidays by Food Network Star Hannah Hart could quickly become a holiday favorite.
There's plenty of inspiration and step-by-step instructions for all culinary or creative endeavors waiting for you on the shelves (or in our digital collection).
#Booklist
For more ideas, check out: