Wednesday, September 15, 2021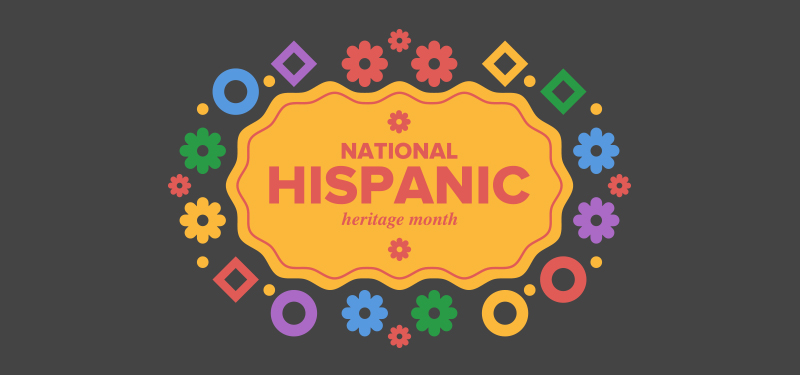 Celebrating Hispanic and Latino/a Culture
National Hispanic Heritage Month recognizes the history, culture and contributions of American citizens of Spanish and Latin American origin. Celebrated each year from September 15 to October 15, the observation started in 1968 as Hispanic Heritage Week under President Lyndon Johnson and was expanded by President Ronald Reagan in 1988.
Independence Days
September 15 is significant in that it's also the anniversary of the independence of five Latin American countries including Costa Rica, El Salvador, Guatemala, Honduras and Nicaragua.
Not only that, Mexico gained its independence from Spain on September 16, 1810. There is also Chile, which celebrates its independence on September 18. Belize celebrates on September 21 and, finally, Puerto Rico on September 23.
To bring this 30-day period to a close, many celebrate Día de las Américas (Day of the Americas) or Día de la Raza (Day of the Race) on October 12 – marking the arrival of Christopher Columbus (in 1492). In some countries, this celebration has changed to Día del Respeto a la Diversidad Cultural (Day of Respect for Cultural Diversity).
An Invitation
Heritage months can be many things to different people. For some, they are about honoring and preserving the past. But they can also be an invitation to those outside of the community – an opportunity to step into, learn about, and share in the appreciation of a living, breathing contemporary culture that is rich in music, great food, beautiful art, etc. For those who identify as Hispanic or Latino, Hispanic Heritage Month is a time to be proud, to share stories, and to uplift heroes. But it's also a time to think about the future.
Hispanic Heritage Month, like other celebrations of its kind, is one part history month and one part "pride" month. How you choose to celebrate is ultimately up to you. At the Library, we mark the occasion with festive displays and booklists that we hope will encourage you to learn more about yourself and others.
Notable Figures
If you haven't heard about artist Frida Kahlo, activist Cesar Chavez, and astronaut Ellen Ochoa, the library has some great biographies. Several Hispanic/Latino/Latina political figures have gained notoriety in recent years including Alexandria Ocasio-Cortez, Ted Cruz, Julián Castro, and Marco Rubio. The library has books by and about many of these figures. Maybe one of these people will inspire you in your educational or career endeavors?
In the entertainment and literary world, standouts include actress/singer/dancer Rita Moreno, The House on Mango Street author Sandra Cisneros, Lin-Manuel Miranda (best known for the musical Hamilton), Exile writer Julia Alvarez, and performing artists like Jennifer Lopez, Carlos Santana, Becky G, Demi Lovato and Gloria Estefan. Have you tried Hoopla? You can listen to the music of Selena Gomez or her namesake (the unforgettable Selena Quintanilla-Pérez) for free with your library card.
Fictional and Real-Life Heroes
Fans of Marvel and the Spider-Verse will of course want to check out Spider-Man Miles Morales. He's a biracial Black and Puerto Rican teenager (Afro-Latino) who fights crime in his Brooklyn neighborhood. The Library has several of his comics on Hoopla as well, available for checkout instantly.
For more real-life Hispanic/Latino heroes, check out Juan Felipe Herrera's Portraits of Hispanic American Heroes. You'll find celebrated professional baseball player Roberto Clemente among the 20 mini-biographies. If you're looking for female heroes: In Latinitas: Celebrating 40 Big Dreamers, Juliet Menéndez showcases influential Latinas from all over Latin America and across the United States.
If you'd like to learn about local leaders in the Hispanic/Latino community, the Mayor's Hispanic Leadership Awards recognizes those who have served the Jacksonville community in the areas of non-profit, faith-based, education, business, health care, arts and culture, military and community life. Candidates are chosen by an 11-member Hispanic American Advisory Board (appointed by the Mayor) who also advise the Mayor on issues relating to citizens of Hispanic/Latin American descent.
More Book Recommendations
A wonderful resource for noteworthy book suggestions to celebrate Latino/Latina heritage and culture is the Pura Belpré Award site. Established in 1996 and named after the first Latina librarian at the New York Public Library, this award presented annually to a Latino/Latina writer and illustrator whose work "best portrays, affirms, and celebrates the Latino cultural experience in an outstanding work of literature for children and youth."
Gathered together below is a list of excellent picture books, chapter books as well as fiction and nonfiction titles for adults to celebrate Hispanic Heritage Month. However you choose to celebrate or appreciate: these books are great reads any time of the year.
#What is the difference between Hispanic and Latino?
According to the United States Census Bureau, the Hispanic population is the largest minority group in the United States with 58.9 million people reported in 2017. However, not everyone who celebrates their heritage this month identifies as "Hispanic."
The children's book Pepe and the Parade: a Celebration of Hispanic Heritage by Tracey Kyle explores some of the different festivals and celebrations in Chile, Ecuador, Peru, and many other countries. There are also author's notes that explain the difference between Hispanic and Latino.
Hispanic: originating from Spanish-speaking countries.
Latino/Latina: refers to individuals from Latin American countries.
An individual may identify as both Latino and Hispanic (such as someone from Venezuela, for example). However, an individual can be Latina but not Hispanic (as is the case with Brazilians). Still others identify with their (or their family's) country of origin (Chicano or Mexican, Boricua or Puerto Rican, etc.).
If you'd like to dive a little deeper, books like An African American and Latinx History of the United States by Paul Ortiz and Inventing Latinos by Laura Gomez speak to this history as well as the evolution of these monikers, especially as it relates to black and indigenous folks in the Hispanic/Latina community.