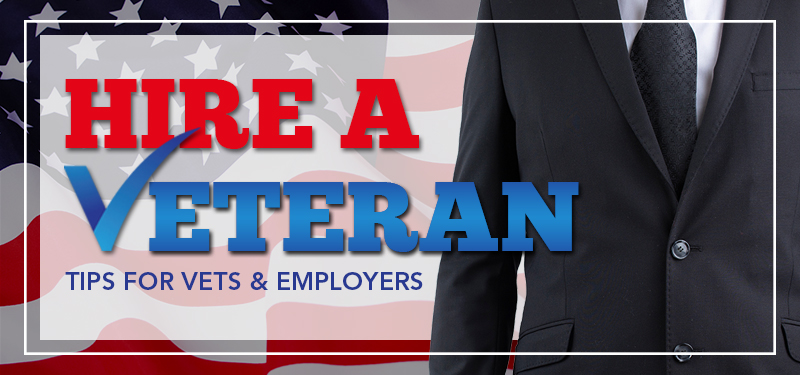 #Hire a Veteran
National Hire A Veteran Day on July 25 is an annual reminder and a call to action for employers and all those in hiring positions to seek out qualified veterans to hire and promote. It was founded by Marine Corps veteran Dan Caporale (who also founded the organization Hire Our Heroes). It is also a way to communicate to veterans the value and experience they bring to the table; veterans are highly trained, disciplined individuals with proven skills in communication and teamwork.
Unlike other celebration days focused on the military, veterans and related issues, this one is not just about raising awareness. Federal agencies like the Department of Labor and the Department of Veterans Affairs actually use the National Hire a Veteran Day platform to educate employers (with employer guides and training), empower veterans, and promote resources for job seekers like www.vacareers.va.gov and www.usajobs.gov.
#Tips For Employers
There are more than 18 million veterans in the United States and hundreds of military people retiring or making the transition to civilian life every day. These veterans bring many desirable skills and attributes to the civilian workforce.
If you're an employer, you might want to check out the US Department of Labor's Veteran's Employment and Training Service. Their 22-page Employer Guide to Hiring Veterans is one of the many resources available in our Government Documents Collection which is part of the Library's Special Collections Department. These can be found and accessed through the Library's online catalog. 
A few of the things the Employer Guide suggests:
Getting buy-in from HR managers, application screeners, and leaders from all levels of the organization. Everyone should understand the goals of your veteran hiring program.
Drafting veteran-friendly job descriptions. Rather than requiring "years of experience," make the descriptions competency-based. "Two to three years mandatory experience" could discourage/disqualify transitioning service members. The guide also provides common veteran competencies you might consider including.
Creating a veteran mentorship program for new veteran hires or an Employee Resource Group to help veterans learn the company culture.
#City Resources for Veterans
The City of Jacksonville works closely with the military, businesses, the community, and elected leaders at all levels to ensure Jacksonville is the "Most Military and Veteran Friendly City in the United States." Among other things, the City gives eligible veterans preference during the application process when applying for City jobs. To check out available/open positions, click here. For more information about the City's commitment to and services for Military and Veteran Affairs, visit the website.
#Library Resources for Veterans
For all job seekers, the Library has many physical and digital resources to help you find employment including our Career and Job Resources page. In addition to books on resume writing, cover letters, job searching, career transitions, and more: the Library also offers unlimited access to LinkedIn Learning with Lynda.com content. All you need is your library card to learn relevant, professional skills with on-demand courses taught by passionate, expert instructors. There are over 16K courses in everything from technology, management, leadership, business, marketing, multimedia, web development, design, and more. Of course, it's all completely free.
Our Reader's Advisory Team has also put together a list of books for transitioning service members. Good luck and thank you for your service!
#Veterans Getting Hired Booklist