Wednesday, February 16, 2022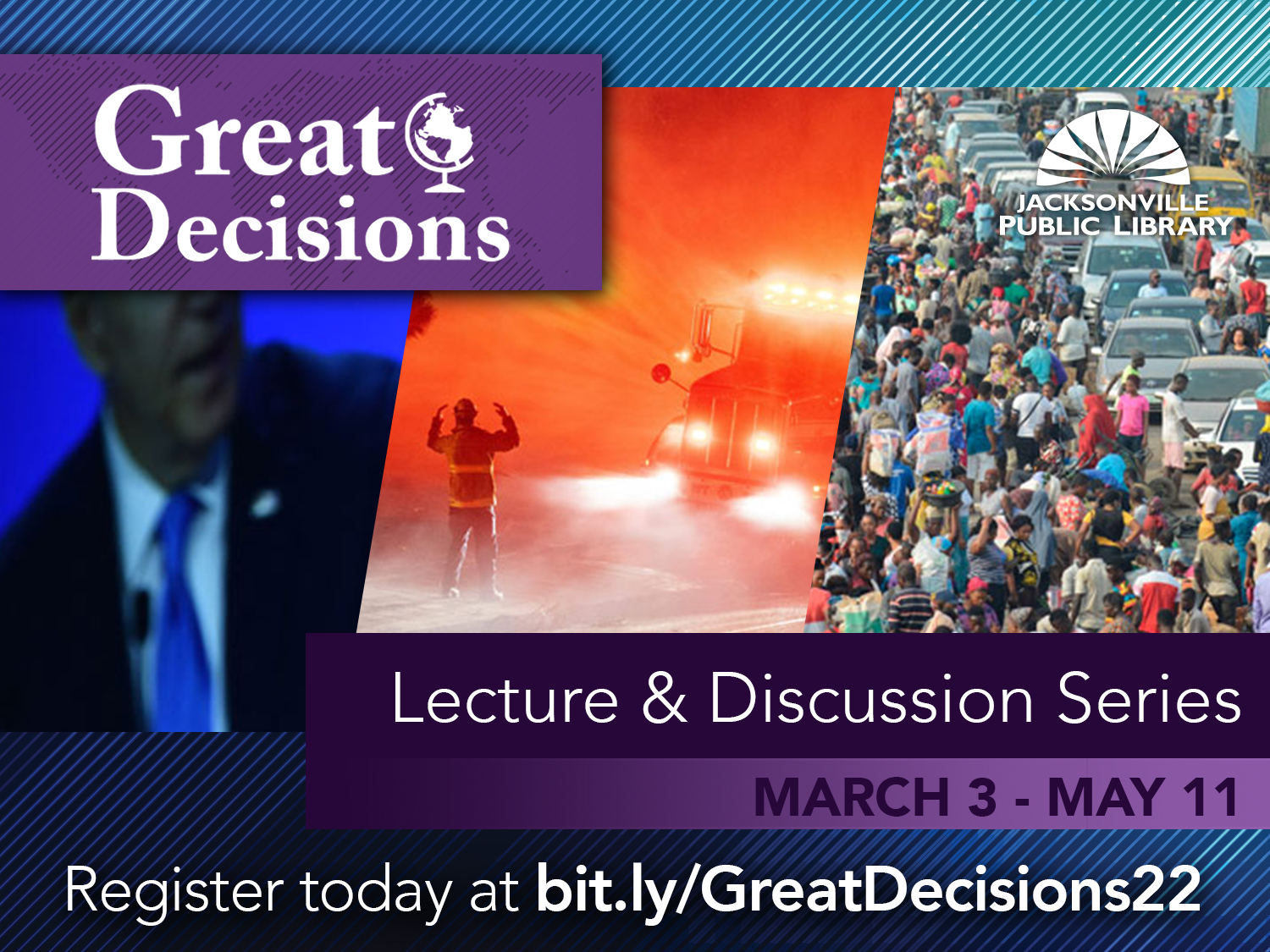 #What is Great Decisions?
Great Decisions is America's largest discussion program on world affairs. Discover the roots of the nine most critical issues facing America each year and how they impact foreign policy decisions. Created by the Foreign Policy Association (FPA), Great Decisions works with schools, libraries, and community centers across the country to prepare communities and their leaders for an increasingly interconnected world. Each meeting begins with a 20-minute video lecture* on a topic, followed by a facilitator-led discussion with a local subject-matter expert.
#Join:
Meetings will be held in-person at various library locations on selected dates starting March 3 through May 11 from 7 – 8:30 p.m. Seating is limited so make sure to register HERE. 
The topics for Great Decisions 2022 include:
Attend whichever meetings interest you! 
*Please note: The television series was not produced for Great Decisions 2022 due to lack of staff at FPA. However, the video lectures that kick off each meeting will still contain the same great information, presented in a different format.
#Read:
Tired of just reading articles? Dive deeper and gain a greater understanding of the Great Decisions topics for 2022 with these interesting reads!
As always, the Great Decisions Briefing Book (optional reading) is available for purchase on the Foreign Policy Association website but not required for participation in the program.
#Watch:
Stream award-winning documentaries, rare and hard-to-find titles, film festival favorites, world cinema and more on Kanopy, a film streaming service available for free through Jacksonville Public Library.
The documentary Myanmar's Killing Fields dives into the brutal military campaign against Rohingya Muslims — an effort that has been described by the United Nations as "ethnic cleansing."
Tidewater: The Rising Sea Level's Effect on US Military Bases explores how the U.S. military is confronting rising sea levels in Hampton Roads, Virginia, where the U.S. military has its highest concentration of bases facing rising sea levels.
#Explore:
Read digital magazines on your mobile device with Flipster. Access any time through Jacksonville Public Library's website! Find a wide variety of magazines including Foreign Policy magazine.