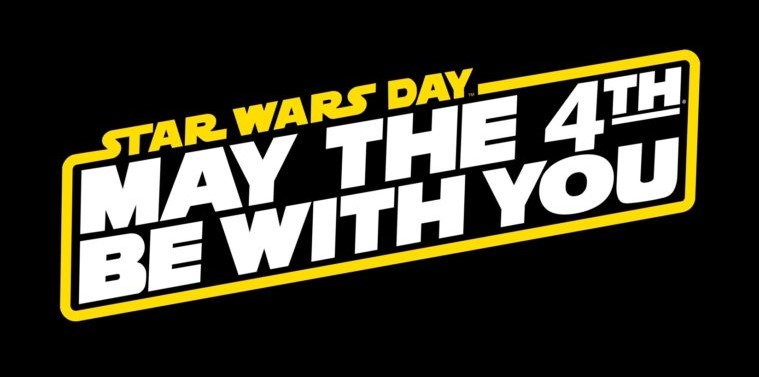 #Calling All Jedi
Are you a fan of space wizards who carry laser swords or are you just another scruffy-looking nerf herder? Catch up with your favorite Light Side (or Dark Side) users, spice runners, and fighter pilots from a galaxy far, far away… with Star Wars books, audiobooks, and comics! Or meet a whole new cast of characters making their debut across multiple media right now and later this summer in the newly-expanded High Republic era.
It's been nearly 44 year since the epic space western first dazzled audiences, introducing us to the amazingly powerful, Force-wielding Jedi as well as one of the most iconic and tragic villains in all of pop culture: Darth Vader. Since then, the Jedi mythos has been greatly expanded and other "Star Wars Stories" of hope and rebellion have been explored through the nine main "Skywalker Saga" films, "anthology" films like Solo: A Star Wars Story and Rogue One, several video games, a few beloved 3D-animated series, audio dramas, countless books and comics as well as popular live-action TV shows. There's even themed lands and attractions at the Disney Parks!
#Star Wars Day
Observed annually (and somewhat informally) on May 4th, this unofficial Star Wars Day has evolved from the popular catchphrase "May the Force be with you." And while it was very much started by fans, the "pun" has since been embraced by Lucasfilm and Disney (who own the rights to the franchise) who use the day to announce or premiere new shows (like The Bad Batch) or films and hype the release of other tie-in media. Still, fans have found their own ways to mark the occasion.
#Geek Out with Us
As much as we enjoy celebrating your love of the Star Wars galaxy: Unfortunately, we won't be having a comic convention or other big fan event this year at the Library. But that doesn't mean we've buried our light sabers in the sand. So, keep working on those amazing cosplay creations and stay tuned for future news and updates on Star Wars and other pop culture programs. In the meantime: enjoy the booklist at the bottom of this blog and check out some of our favorite photos from past celebrations.
#Never Tell Me the Odds
Star Wars is a huge franchise with multi-generational appeal. If you were born in the late 70s or early 80s, you most likely grew up watching Star Wars or, at the very least, living in a world and consuming media highly influenced by the phenomenon. If you were a little older when the original trilogy first came out, you might have taken your kids to see the prequel films between 1999-2005. In the years since, the Clone Wars animated series, Rebels, a sequel trilogy and now Disney+ shows have snagged a whole new generation of fans.
There have been some rough spots as well as long periods of inactivity and Star Wars has collected a fair share of critics. But rarely has so much content been produced at one time; it's a great time to be a fan – even if you're not a fan of every film or character. You can dig deeper into whichever era you're most invested in.
#You Don't Know the Power of the Dark Side
Even for Darth Vader – whose fall from the Jedi Order, decades of villainy, and ultimate sacrifice and redemption were chronicled in six films and dozens of other media – his character arc is apparently not completely finished. It is still (currently) being explored in a brand-new set of comic books which began its run in 2020. Among other things, this series reveals his first (failed) act of rebellion against his master, Emperor Palpatine (Darth Sidious), directly after learning of Luke Skywalker's parentage. For those fans of the sequel trilogy, it also has tie-ins to locations and themes introduced in The Rise of Skywalker like Exegol, the hidden hideout of the Sith and birthplace of Supreme Leader Snoke and the Final Order.
Fans will also get to revisit Vader's relationship to and on-going fight with former Master and best friend Obi-Wan in the upcoming series Kenobi, which brings back Anakin-actor Hayden Christensen opposite an older and wiser Ewan McGregor.
#We Are All the Republic
Set 200+ years before the Fall of the Jedi, the High Republic era shows the Jedi Order at the height of its power. Working in tandem with the Republic to spread peace and prosperity, they venture beyond the temple at Coruscant into the outer reaches of the galaxy with the new "Starlight Beacon." This space station and the hyperspace lanes the Republic relies on for trade and diplomacy to the Outer Rim come under attack, though, from marauders and Dark Side users. Currently, these Jedi and their fearsome foes the Nihil and the Drengir only appear on the page (or in audio dramas/audiobook format) in a few titles. But many more works are planned, some coming as early as this summer. In addition to the books and comics, a Star Wars television series called The Acolyte is currently being developed and will cover the rise of the Dark Side in the final days of the High Republic.
Early standouts of the era include the Jedi Master Avar Kriss, who was one of the first Jedi to respond to and investigate the "Legacy Run" disaster that compromised the hyperspace lanes and set off many of the subsequent events and conflicts in the novels. There's even a Wookiee Jedi named Burryaga – showing that any being can be Force sensitive (even if not everyone can understand him). Luckily, the third-person narrator not only translates but actually goes inside his head so readers get to know the lovable, kind, and courageous character.
#So This Is How Liberty Dies. With Thunderous Applause...
The new timeline released by Lucasfilm and Disney (focused mainly on TV shows and films) starts off with this new High Republic era followed by The Fall of the Jedi (The Phantom Menace, Attack of the Clones, The Clone Wars, Revenge of the Sith). One of the other new eras being explored is The Reign of the Empire (The Bad Batch, Solo: A Star Wars Story). The Age of Rebellion encompasses Rebels, Rogue One: A Star Wars Story and the original trilogy. The last of the new eras opening is The New Republic, where The Mandalorian (and Ahsoka) fits in. The sequel trilogy and another 3D animated show, Resistance, caps off the timeline with the Rise of the First Order.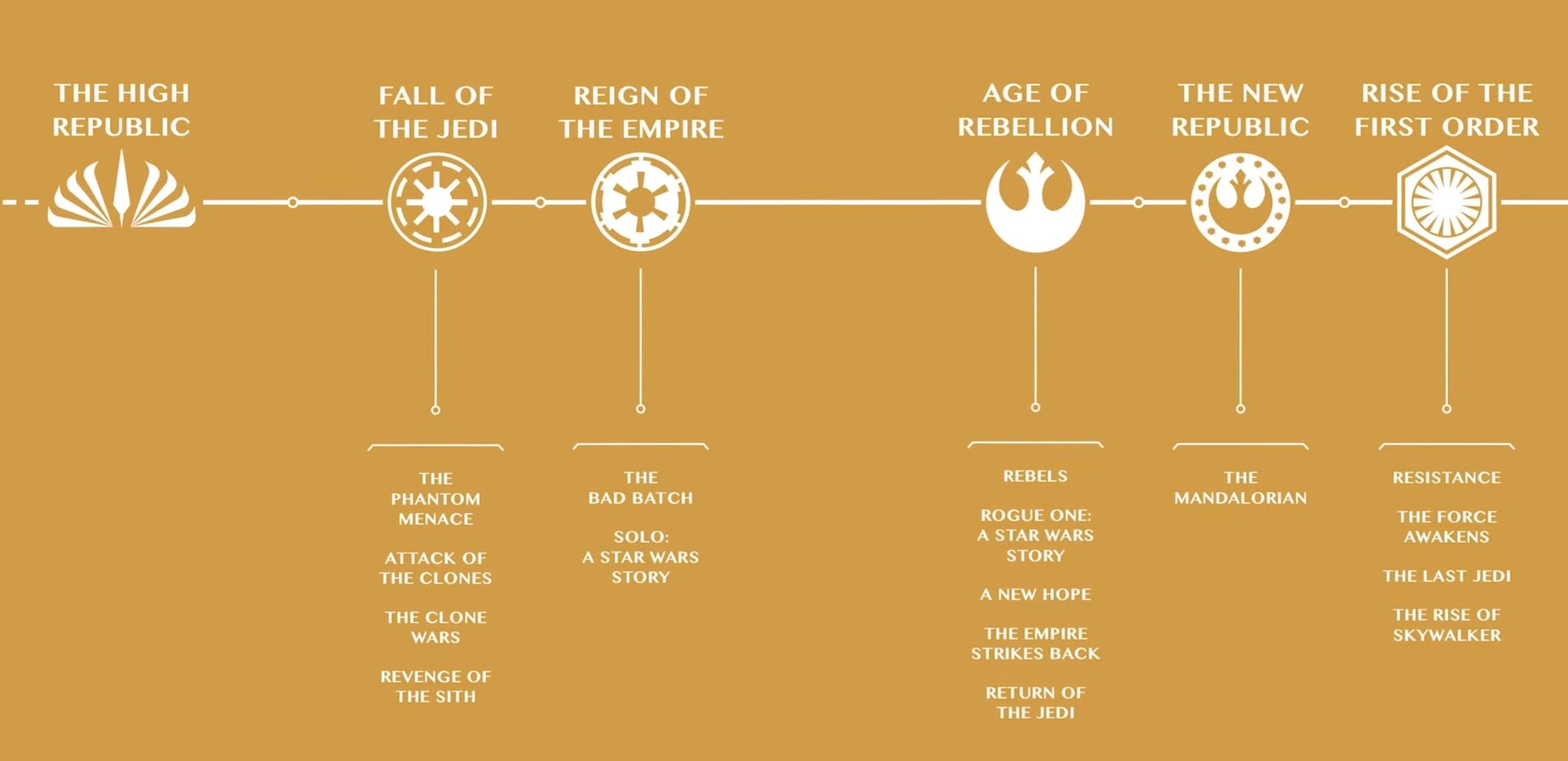 #Rebellions Are Built On Hope
The Mandalorian has also experienced huge success, not just for itself and its beloved cast of characters, but also for the Disney+ streaming service it helped launch. During its first two seasons, with episodes airing weekly, it became THE water-cooler show that also launched a thousand memes. The show's one critical (or marketing) misstep was not making Baby Yoda merchandise available for fans to purchase right away. Of course, now it's everywhere and abundant. Its second season also introduced the live-action version of Ahsoka Tano, another fan-favorite character and former Jedi, setting up The Mandalorian's first spin-off series.
Folks who are new to Ahsoka might want to check out the book by the same name (written by E.K. Johnston). It follows the Togruta (Anakin's former apprentice) and her time spent in hiding in the immediate aftermath of Order 66. Of course, to see how she survived Order 66, fans will want to watch the final season of the Clone Wars (released in February of 2020). She also appears in Star Wars: Rebels and it's her relationship to and search for lost Jedi Padawan Ezra Bridger (and the infamous Grand Admiral Thrawn) that will be the focus of her self-titled series on Disney+. Her story is far from over, leaving fans wondering when (or if) she'll return from the Unknown Regions to aid the new generation of Jedi.
#This Is the Way
Whether it's Luke, Leia, Han, or Chewie; those sassy, lovable droids who appear in almost every story across a variety of mediums; Ahsoka Tano, Rex, Grand Admiral Thrawn and others from the Clone Wars or Rebels series; Baby Yoda and The Mandalorian or perhaps those older Expanded Universe "Legends" you hope make a reappearance in the new canon… You most likely have a favorite character or era you'd like to spend more time with. The great thing about being a Star Wars fan: there's plenty of interesting characters to get excited about.
Unlike with the Force, you don't have to choose just one! You can balance your love of and absolute respect for General/Princess Leia alongside a (perfectly healthy) obsession with Darth Maul (spoiler: he survived being cut in half in the Phantom Menace). Or, you can always wait until "Revenge of the Fifth" (of May) to show your love for the former Sith apprentice - out of respect for the late, great Carrie Fisher. Or maybe you'd like to get to know Captain Phasma or another side character who didn't get quite enough screen time? There's most likely a book or other piece of media out there that will quench that thirst -- no disgusting green milk required.
#Want More Star Wars Lore?
There's so much more to Star Wars than the films and more to read than just the opening crawls! If you want more plot and character development than a two-hour movie or a limited series can realistically give you or if you're new to this side of the fandom experience, these books are a great place to start. They may not be the sacred Jedi texts but they do contain many Jedi stories from across the ages.
#Star Wars Comics
Have you checked out the comics available on Hoopla? Not only are these free to download – without waiting lists – there's over 700 Star Wars comics to choose from. Are you a fan of Rey, Finn, Poe, and Rose from "The Rise of the First Order" era? Check out Star Wars: Age of Resistance – Heroes. If you want to know more about Captain Phasma, General Hux, Kylo Ren, and Supreme Leader Snoke, there's a "Villains" collection available, too. There's even a High Republic Adventures series available on the site as part of the massive publishing crossover spanning comic books, novels, and young adult titles. In this particular series, you get to follow a group of young Padawans under Master Yoda's tutelage.
#Star Wars Books
You don't have to wait for these new shows for more character backstories, side-stories, and explorations. Maybe you'd like to know how Kanan Jarrus and Hera Syndulla met? Or maybe it's Luke and Leia's mother you'd like to know more about? Find out more about the inter-workings of Queen/Senator Padmé Amidala's inner circle (including her uniquely-talented and equally-devoted handmaidens) in E.K. Johnston's Queen's Shadow and Queen's Peril. Of course, you can also check out the booklist below!
May the 4th (and the Force) be with you this Star Wars Day.
#Adult Booklist
#Youth Booklist
Still want more? Check out this Star Wars Booklist from 2019.