Monday, December 14, 2020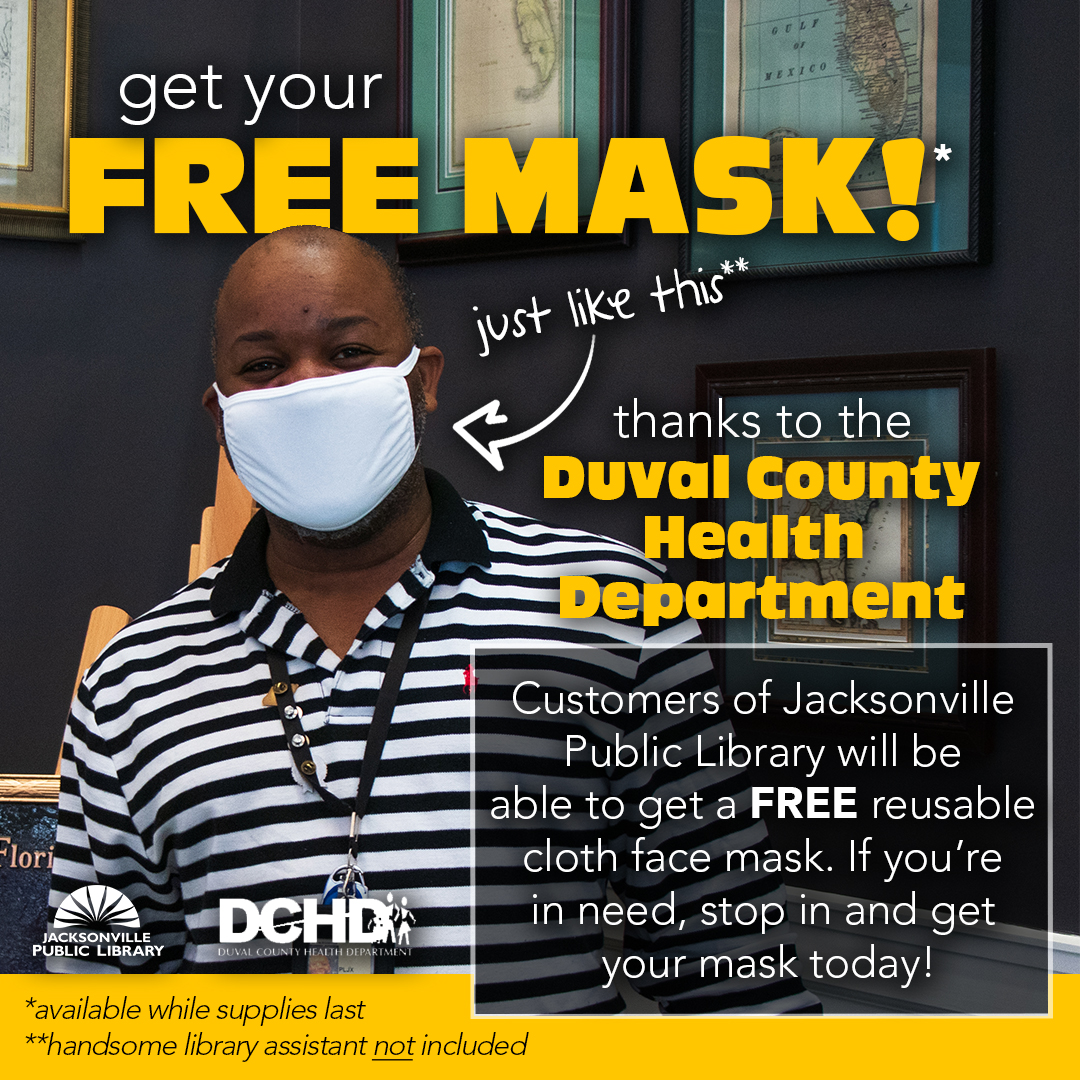 Thanks to the Duval County Health Department, through a grant from the Department of Health and Human Services, the Jacksonville Public Library will be giving away 50,000 free, white, cloth masks to library cardholders while supplies last! 
The Duval County Health Department obtained 50,000 cloth face masks to help reduce the spread of COVID-19, and to ensure compliance with The City of Jacksonville's Emergency Executive Proclamation 2020-005.
Masks will be at all open library locations during open hours. No appointment is needed.
Mask info and care instructions:
Fabric touching the skin: 100% cotton. Face covering contains silver and copper. The masks measure 6" x 4.5", excluding ear loops.
Machine washable up to 15 times before discarding. Tumble dry high. Do not use bleach, chemicals or disinfectant to wash this product.
If skin irritation occurs, immediately stop using the face covering. If irritation persists, consult your primary care provider.
Be mindful when wearing this product if you have a lung disease. Stop using this product if you notice difficulty breathing while wearing it.
This face covering is one way to combat the virus. Social distancing, handwashing and other CDC recommendations should also be followed.
Those who need a face mask can stop by any open Jacksonville Public Library location and show their library card to pick up a mask (while supplies last).
For a complete list of library locations and operating hours, visit jaxpubliclibrary.org/locations or call 904-255-BOOK (2665).
To learn more about Jacksonville Public Library's reopening plan visit jaxpubliclibrary.org/reopen.