Wednesday, December 2, 2020
Imagine being stuck at home and eating the same foods again and again and again. Did this happen to you in 2020? If so, it is understandable because 2020 was a year in which we mostly focused on staying alive and staying healthy, but our food choices can be about something more now that we are adjusting to this new stay-at-home lifestyle: FLAVOR! If you no longer find the foods you're eating a joy to make or delicious to eat, it is time to up your kitchen game and try a new recipe, and you can find tons of them in one of Jacksonville Public Library's cookbooks. To give you some ideas on where to start, I've listed 5 more food trends with some options from JPL's catalog.
Note: The asterisk (*) at the end of some of the titles indicates that they're also available in digital form.
—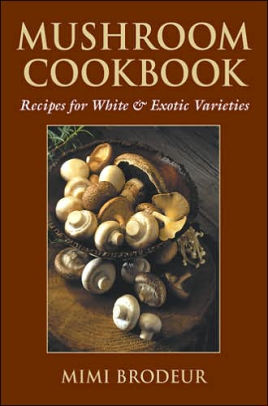 #1. Mushrooms
Mushrooms are versatile, easily grown and eco-friendly.  According to Whole Foods, this year we're more likely to have them mixed with the ground beef in our hamburgers. This works because mushrooms combine a nice texture with a comforting, savory flavor. Event Marketer says that the mushroom has replaced cauliflower as the food of the year. 
Books: 
Mushroom Cookbook by Mimi Brodeur
Wild Edible Mushrooms by Hope Miller
The Complete Mushroom Book by Antonio Carluccio
Portobello Cookbook by Jack Czarnecki
Shroom by Becky Selengut*
Digital Books: 
Wild Mushroom Cookbook by Ingrid Holmberg (Hoopla)
Growing Your Own:
The Essential Guide To Cultivating Mushrooms by Stephen Russell* 
Organic Mushroom Farming And Mycoremediation by Tradd Cotter
—
#2. Less Sugar, More Natural Sweeteners
As the largest consumers of sugar in the world, Americans have had their share of health problems associated with it. We are now buying significantly less sugar than we were a few years ago, and at the same time we've seen an increase in the use of other natural sweeteners. The challenge for cooks: make it taste good without sugar. 
Books: 
Food: What the Heck Should I Cook? by Mark Hyman*
The Blood Sugar Solution Cookbook by Mark Hyman*
Naturally Sweet by America's Test Kitchen
Diabetes Superfoods Cookbook And Meal Planner by Cassandra L. Verdi
Digital Books:
Diabetic Recipes by Susan Wallace (Hoopla)
Low Sugar, So Simple by Elviira Krebber (Hoopla)
Delicious Diabetic Recipes by Rani Polak (Hoopla)
The I Quit Sugar Cookbook by Sarah Wilson (EPUB/HTML/Kindle)
—
#3. Air Fryers
Home air fryers have been a steady trend for several years. This is likely thanks to an impressive technology that allows them to cook by moving hot air, which gives food a desirable, crispy texture while using less oil. Recently they've been increasingly combined with electric pressure cookers in combination appliances called multicookers. Their popularity means lots of choices for great cookbooks. 
Books:
Air Fry Genius by Meredith Laurence*
Air Fry Everything! by Meredith Laurence*
Air Fryer Perfection by America's Test Kitchen*
The "I Love My Air Fryer" Keto Diet Recipe Book by Sam Dillard
Digital Books:
Healthy Air Fryer Cookbook by Dana Angelo White (EPUB/HTML/Kindle)
—
#4. Other Pacific Rim Flavors
A number of Pacific Rim flavors other than Filipino foods are on the rise. The Michelin Guide predicted an increase in their use for 2019, and we're increasingly seeing this locally.  These include Thai, Korean, Japanese, Vietnamese, Taiwanese and Hawaiian. One of the best parts of this trend might be the delicious tropical fruits involved, like guava and passion fruit. 
Books:
The Gaijin Cookbook by Ivan Orkin*
The Food of Taiwan by Cathy Erway
Roy's Fish & Seafood by Roy Yamaguchi
Aloha Kitchen by Alana Kysar*
Kfood by Da-Hae West
Maangchi's Big Book of Korean Cooking by Maangchi*
Digital Books:
Koreatown: A Cookbook by Deuki Hong and Matt Rodbard (EPUB/HTML/Kindle)
—
#5. Alternative Flours
A large number of alternative flour options exist, and most of them are completely gluten free.  Whole Foods predicts an increase in their use this year. They can be quite tasty, but cooking with them might present some challenges. Luckily JPL has more than a few cookbooks that can help.
Books:
Bread Revolution by Peter Reinhart
The Best-Ever Wheat-and Gluten-Free Baking Book by Mary Ann Wenniger & Mace Wenniger*
Chickpea Flour Does It All by Lindsey Love*
Digital Books:
Pasta Reinvented by Caroline Bretherton (EPUB/HTML/Kindle)
The Joy of Gluten-Free, Sugar-Free Baking by Peter Reinhart & Denene Wallace (EPUB/HTML/Kindle)