Thursday, February 25, 2021
#Digital Learning Day
#Computers and the Library: A Look Back
Digital Learning Day celebrates the use of digital technology in learning. While libraries have always been centers for lifelong learning, it has been our embrace of technology over the last several decades that have kept us both relevant and essential in this new age of hand-held devices and instant access to information. That is also why, this past year, libraries were able to shift quickly to virtual programming and add more digital resources in response to the pandemic. Things have changed so fast. It's easy to forget that just 30 or 40 years ago, many of us had never even used a personal computer.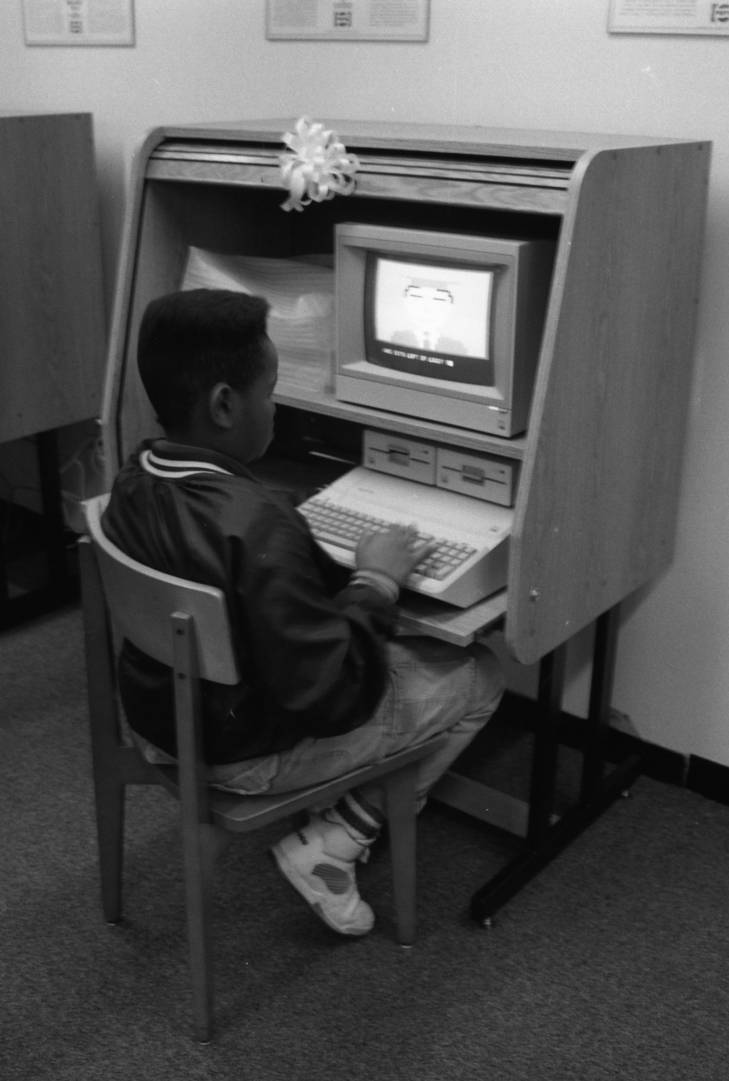 The appearance of desktop computers in libraries was still somewhat novel in the 1980s and 90s. Now, computers and the Internet are essential to library operations and the services we provide to the public. Computers have also changed how librarians and library staff do their work. Over the years, traditional card catalogs were replaced by online ones. Websites and online resources were added and the library made more and more room for computers and other devices. 
Adults and children use the computers inside libraries every day to study, learn, and access things like job applications. The Library is still sometimes the first place some children (and even some adults) come into contact with computers. For decades, libraries across the world have attempted to bridge the digital divide, provide Internet and computer access, and help people build the 21st Century skills they need.
Check out these other photos of the early days of computers in the Library, taken from Special Collection's digital archive:
#Going Digital to Support Lifelong Learning
Even if you are fortunate enough to have Internet access and devices at home: the Library can still be a trusted and valuable learning partner by providing access to quality digital resources that would otherwise come with hefty subscription fees. These include but are not limited to research databases, video streaming services (see more below), language learning software, eBooks, eMagazines, and online newspapers like the Times Union. But with so much information at our fingertips where would you even get started? 
Well, we have a few suggestions for you, all of them free with your library card!