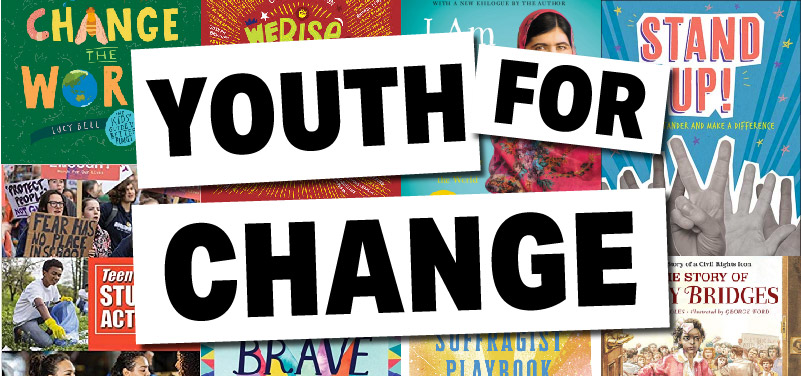 #Booklists for Youth Activism and Achievement
January 25-29 is 2021 Celebrate Literacy Week in Florida! Created to promote literacy and excellent reading habits in the students of Florida, this year's theme was "Humanity Tells A Story: What's YOUR chapter?" The youth of today are not just "future leaders" – many are effectively advocating for and affecting change right now. Their "chapters" are already being written. Thanks in part of social media and technology, these children and teens are using their voice, tech-savvy, and social influence to bring about positive change in their schools, communities, and the country at large. Examples of youth activists, inventors, business owners, and thought leaders are abundant and growing.
This isn't a new phenomenon. This month, we celebrate Braille Literacy. French-born Louis Braille was 15 when he developed the braille system that's currently used by blind people all over the world to read and write. There are many contemporary examples, of course. After nearly a decade of work that began in his teens, 26-year-old Dutch inventor Boyan Slat hopes to cut plastic pollution in the world's oceans in half by 2025.
Here in America, our first national "Youth Poet Laureate" Amanda Gorman was youngest poet to perform at a US Presidential inauguration at the age of twenty-two this year. She was first named Youth Poet Laureate of Los Angeles at the age of 16 and national at age 19. Reading from her poem "The Hill We Climb," Gorman showed a skillful mastery of language and spoken-word performance, empowering people young and old with potent verses like: "The new dawn blooms as we free it/ For there is always light,/ if only we're brave enough to see it/ If only we are brave enough to be it."
Seventeen-year-old Taylor Richardson (a.k.a. Astronaut StarBright) is an "advocate, speaker, a disruptor for good [whose} focus is on shining a light on inclusion and diversity in STEM (science technology engineering and math) through advocacy and philanthropy work." Taylor attends the Bolles School here in her hometown of Jacksonville. She is also a member of The Mars Generation, which encourages students to share their passion and excitement about space exploration and to pursue and promote STEM education and opportunities in their communities. To that end, she crowdfunded tens of thousands of dollars to send girls to see the films A Wrinkle in Time and Hidden Figures. She attended Space Camp and has expressed interest in becoming an astronaut and doctor. More recently, Taylor crowdfunded something she called #theblackfriendchallenge. Her original goal was to get at least 100 copies of The Black Friend by Frederick Joseph to kids to read in hopes to start the dialogue to combat racism. She's raised much more than that and has donated books to the Duval County Public Schools and several other places throughout Jacksonville in addition to organizations and schools in 30 other states - all to make sure these books are accessible to teens like her. The Jacksonville Public Library accepted Taylor's challenge and now will have copies of the book in all 21 Library locations in the coming days.  
For Celebrate Literacy Week, Florida students in grades 3-5, middle, and high school were asked to read from a list of civic-focused texts and then write a proposal on how they would like to affect change. Entries were graded on the creativity and feasibility of the idea as well as the overall quality of the written proposal. A highly-competitive award, only one submission per grade band could be submitted by each school district.
In these essays, students were expected to show an understanding of topics like civic history, the rights and responsibilities of Florida and American citizens, and how to advocate properly with government officials.
The Jacksonville Public Library would like to celebrate the accomplishments of these civic-minded students as well as the hard work of past, present, and future youth leaders by highlighting some additional texts on youth activism and achievement. We hope these books inform and inspire you!
#Youth booklist