Monday, September 30, 2019
#Calling All Authors for Jax Book Fest 2020
Application Deadline: Saturday, Nov. 30, 2019
Jax Book Fest Event: Saturday, Feb. 29, 2020
Jax Book Fest—a coming together of authors and readers—returns for its fourth year Saturday, Feb. 29, 2020, at the Main Library in downtown Jacksonville. As a free event, open to the community, Jax Book Fest features presentations and signings by authors of both national and local acclaim, book sales, children's activities and more. Local authors can submit an application to participate and showcase their books at Jax Book Fest 2020, which will feature New York Times bestselling authors Brad Meltzer and Karma Wilson as keynote speakers.  And young adults won't want to miss New York Times bestselling author Neal Shusterman.
---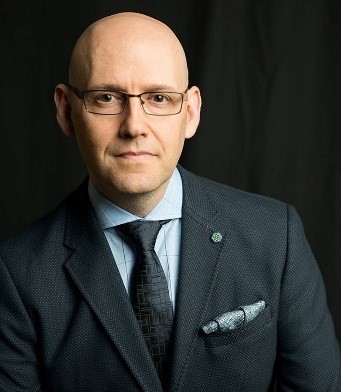 Brad Meltzer is the No. 1 New York Times bestselling author of The Inner Circle, The Book of Fate, and 10 other bestselling thrillers including The Tenth Justice, The First Counsel, The Millionaires, The President's Shadow, and The Escape Artist. His most recent book and first work of nonfiction, The First Conspiracy, is about a secret plot to kill George Washington. Meltzer has books on bestseller lists for nonfiction, advice, children's books, and even comic books, for which he won the prestigious Eisner Award. He is the host of Brad Meltzer's Lost History on H2 and Brad Meltzer's Decoded on the History Channel. (Based on Meltzer's book, Decoded.) The Hollywood Reporter recently put him on its list of Hollywood's 25 Most Powerful Authors. He lives in Florida with his wife.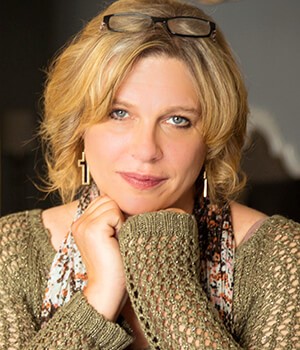 Karma Wilson writes humorous, rhythmic picture books for the very young and books that share her faith in a fun, understandable way with the youngest readers. Her books have received numerous state and national awards. They've been translated into dozens of languages, and have appeared on New York Times bestseller lists. Titles include A Dog Named Doug, Big Bear, Small Mouse, Duddle Puck: The Puddle Duck, Bear Snores On and dozens more. She lives in Montana with her family.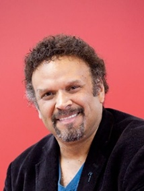 Neal Shusterman is the author of many novels for young adults, including Unwind, which was an ALA Best Book for Young Adults and a Quick Pick for Reluctant Young Readers; Everlost; Dry, which was a New York Times bestseller; Scythe; Thunderhead; Challenger Deep, which earned a National Book Award; and Downsiders, which was nominated for 12 state reading awards. His works include The Unwind Dystology, Unwind Short Story Collection, The Accelerati Trilogy, The Antsy Bonano Books, The Star Shards Chronicles and many others. He also writes screenplays for motion pictures and television shows such as Animorphs and Goosebumps. The father of four children, Shusterman lives in St. Augustine, Florida.
---
Authors: Apply now to participate in Jax Book Fest 2020
Now is the time for authors—especially local authors—and literary-related vendors such as writers' groups and publishers to submit applications to participate in Jax Book Fest 2020. Completed applications are due to the Jacksonville Public Library Foundation by Saturday, Nov. 30, 2019. Submit your application now.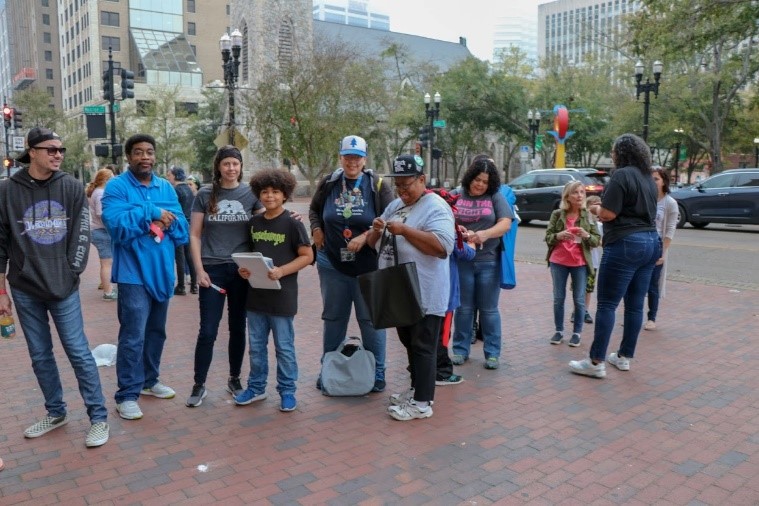 More than 4,000 attended Jax Book Fest this year, and even more are expected in 2020. J.R. Sharp, author of Feeding the Enemy and Breaking From the Enemy has participated in the event several years and said, "the energy of Jax Book Fest was wonderful throughout the day."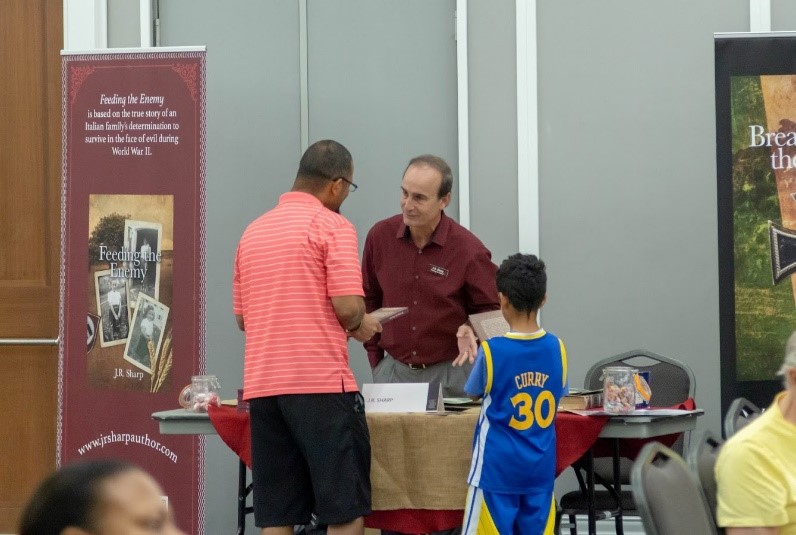 As a result of Jax Book Fest, Sharp sold dozens of books and was invited to give lectures outside of the library. He said the experience help him gain a "tremendous following" as an author.
Jessica Hatch, professional literary editor and owner of Hatch Editorial Services, said Jax Book Fest packed an aura of joy, excitement and discovery, as well as teamwork among the vendors. "Because the book festival is held in the Main Library in a central downtown location, it brings together people from many different Jacksonville communities," she said. "For the cost of a vendor table, it is so easy to put yourself in front of hundreds of readers and customers who would never have heard of you otherwise."
Jax Book Fest also gives Jacksonville authors the chance to connect with one another. "The best part of the festival was the interaction with so many other authors, book lovers, and the people of Jacksonville," said Sharp.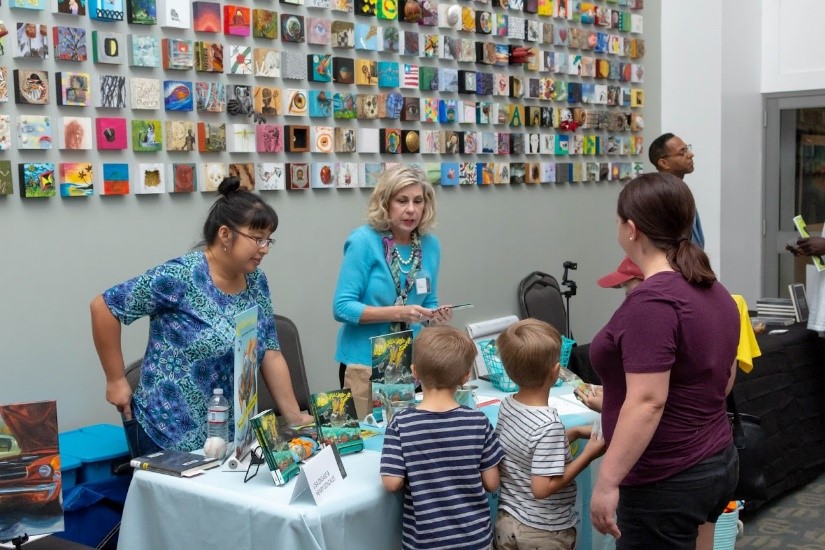 Our annual celebration of the written word focuses on authors residing in the Jacksonville area. Eligible Florida counties include Duval, Nassau, Clay, St. Johns, Baker, Union and Bradford. Georgia counties include Camden, Charlton and Glynn.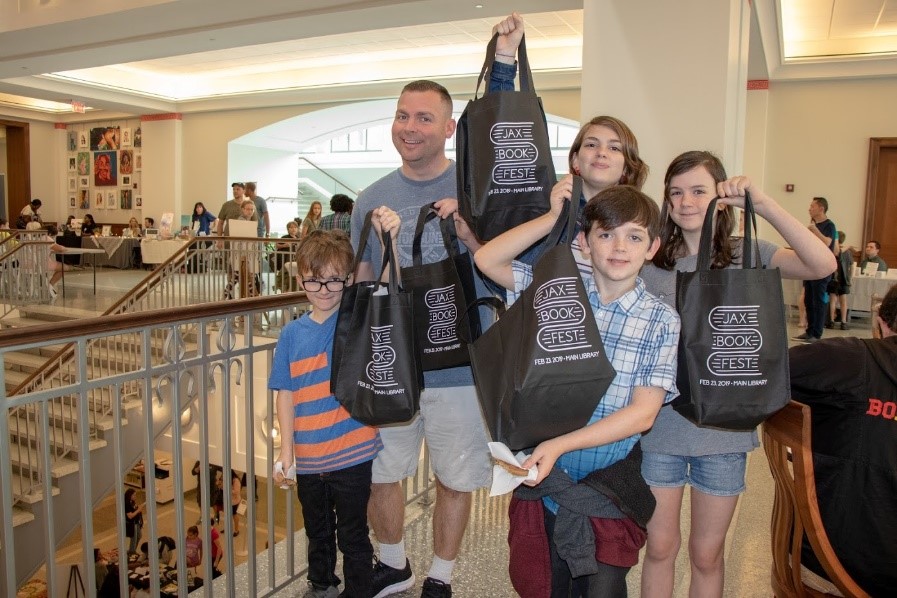 Totes up! Jax Book Fest is a family affair.
Completed applications are due to the Jacksonville Public Library Foundation's website by Nov. 30, 2019. Authors will be notified about their application status by Dec. 20, 2019. Please note that author participation space is limited, so applying to participate does not guarantee acceptance. For more information, please examine the rules and regulations of the Jax Book Fest application.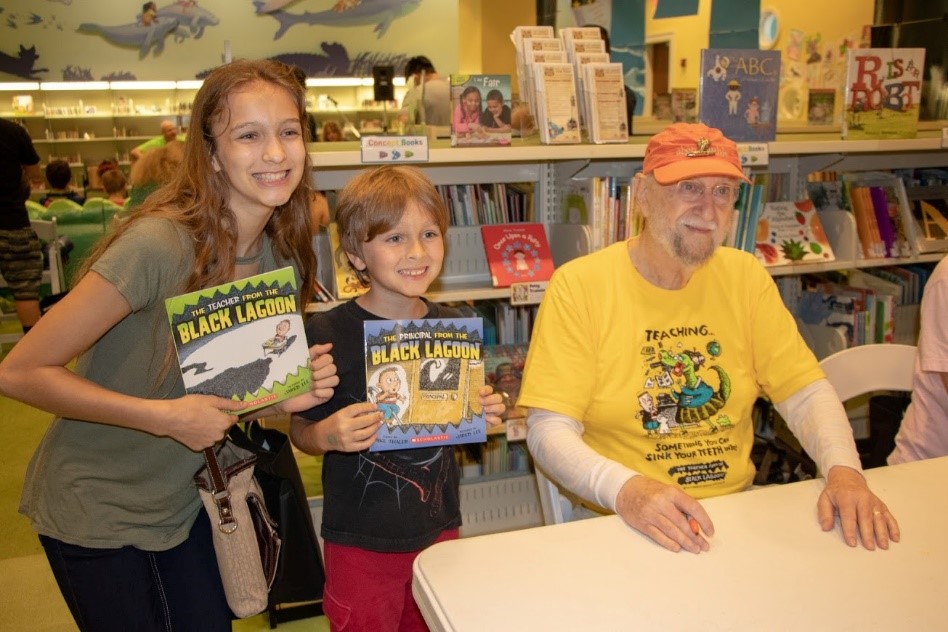 Book lovers and authors alike, mark your calendars for Jax Book Fest on Saturday, Feb. 29, 2019. And follow us on Facebook, Instagram and Twitter for updates! Also, subscribe to our e-newsletter for more information.