#The Library Wants Your Zines!
#What is a Zine?
Zines (pronounced "zeens") are hand-made and self-published pamphlets, comics, booklets, or mini magazines (sometimes called a fanzine) made by a single person or sometimes a small group. There are as many ways to make a zine as there are topics they cover. Most zines contain text and either original art or appropriated images. The resulting composition is then reproduced, in small batches, with a copy machine.
Zines come in all shapes, sizes and formats and cover subjects, subcultures or movements that sometimes get overlooked in larger scale publications like commercially published magazines or comic books. Zines can be made by anyone, even children, which means they are a great way to hone your art or storytelling skills and are a low-cost way to get into self-publishing. The means of production and distribution are up to you! It's also highly encouraged, within the community, to connect and collaborate with other zine makers and to trade zines back and forth.
#CALL FOR ZINES!
If you're a Jacksonville resident: We want your self-published zines for the Library's Zine Collection! Whether you're new to the medium, established zinester, or somewhere in between, submit a copy of your work to the Library.
We're especially interested in zines that:
Are regionally-based and reflect our community;
Inspire readers to re-examine and learn from underserved voices;
Cover the arts, music, comics, politics, gender issues and advocacy.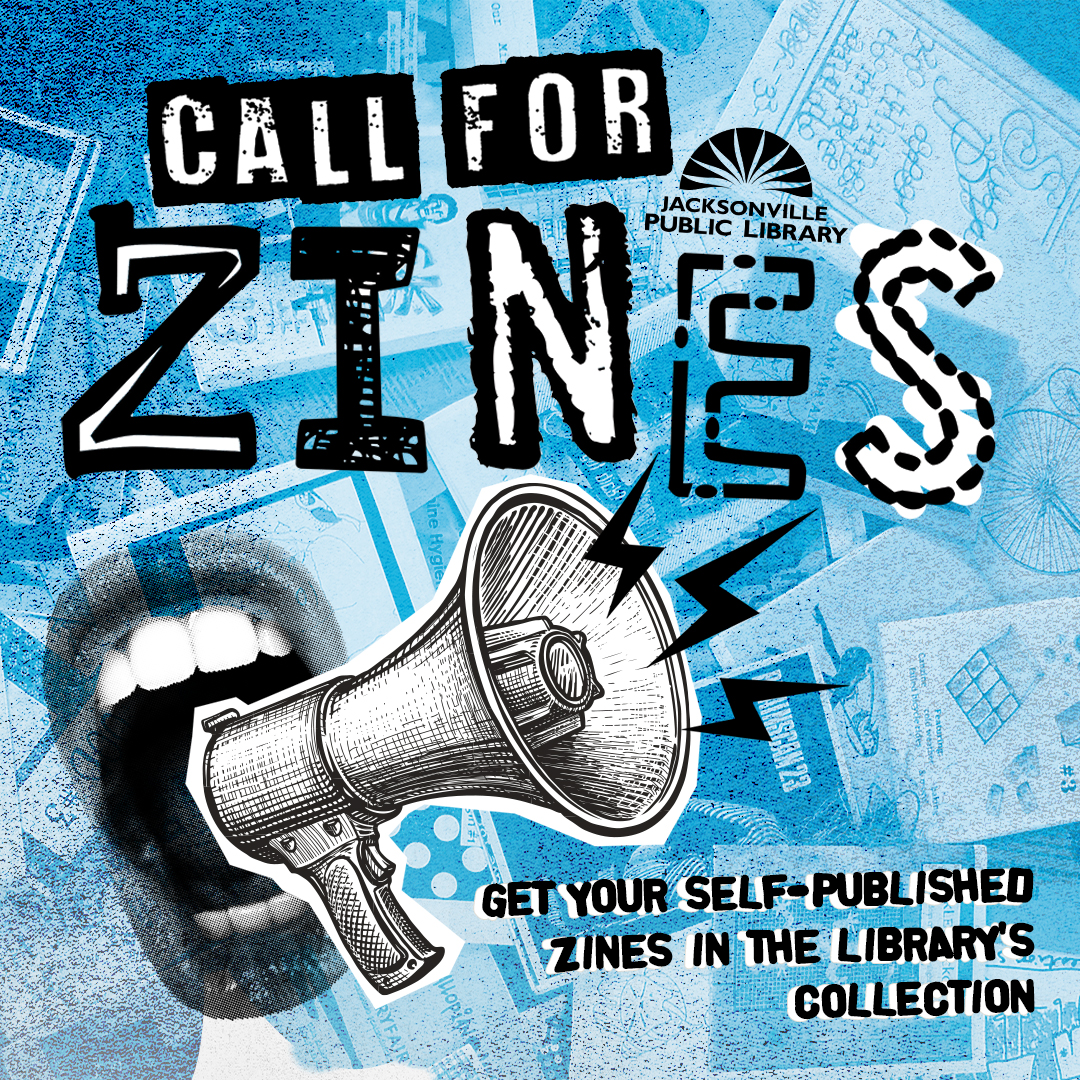 Important to note: The Library's Zine Collection is fully searchable in the library catalog. Not only that: Materials in the Zine Collection can be placed on hold and transferred to other libraries within Jacksonville. So, your work can be checked out at any one of our 21 locations.
#How to Donate
You can donate anytime in person or by mail to:
Main Library c/o Zine Collection
303 Laura St. N
Jacksonville, FL 32202
Be sure to include:
Name of Author(s)/Artist(s)
Volume number(s), if any
Year of publication
Your email address
There are also several drop boxes around town, sponsored by Duval Comics and Zines (DCAZ) and other community-minded businesses and organizations. Just look for the CALL FOR ZINES poster. There's no deadline to submit: We're always accepting new zines to the collection at the Library. The drop boxes may only be out for a relatively small period of time, though.
We accept zines of different shapes, sizes and formats. Whether hand drawn or hand written, photocopied and stapled, or professionally-printed: we want to see it all!
#Where Is the Collection Housed?
You will find the Zine Collection on the first floor of the Main Library, next to the Local Author Collection. Customers will need a library card to check out items but all are welcome to come in and view the collection during normal operating hours. To learn more, visit our Zines page.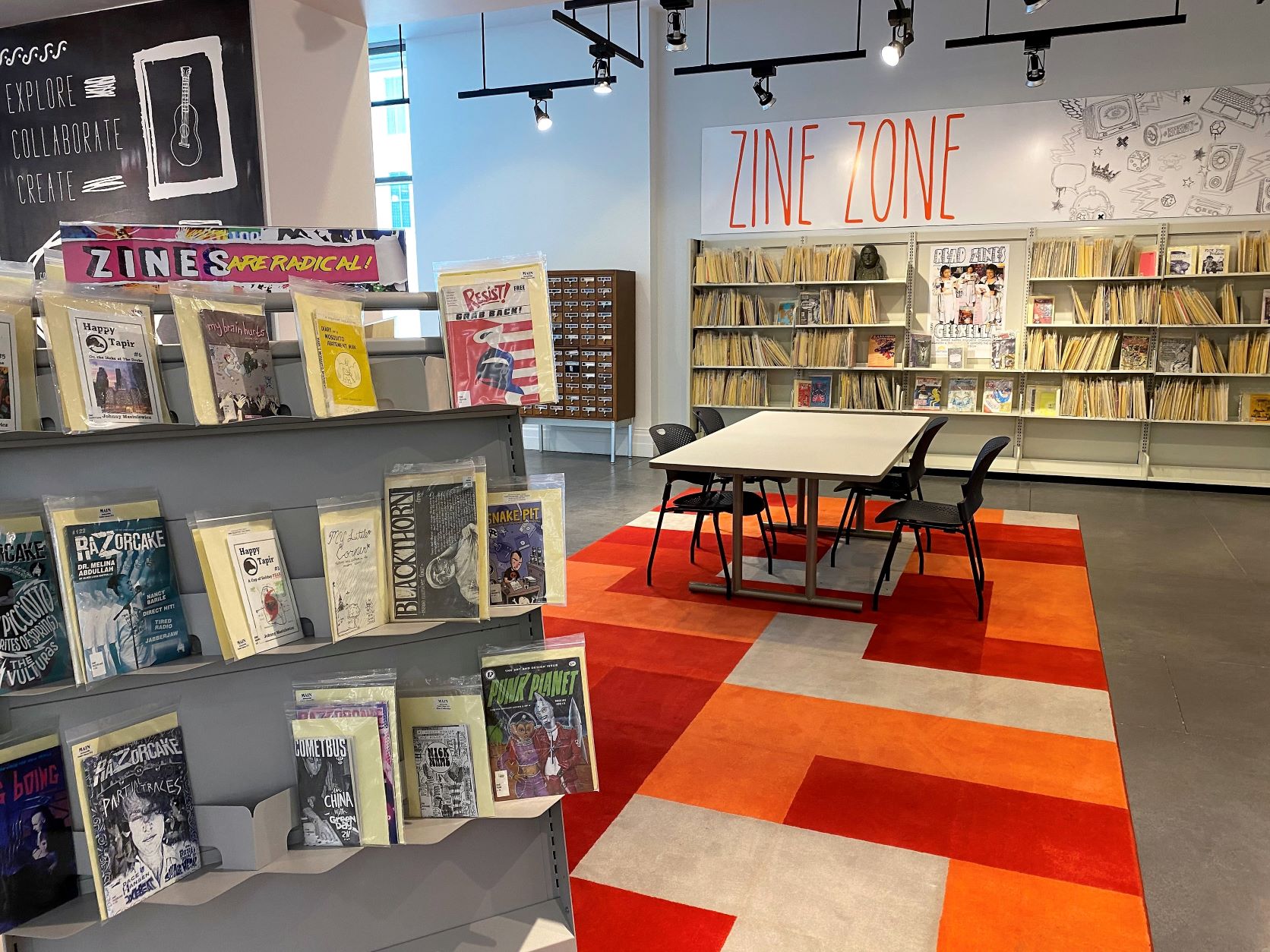 #Why Does the Library Want My Zine?
Zines often represent issues or experiences that aren't always addressed or reflected in a library's traditional catalog. While Jacksonville Public Library's Zine Collection is one of the first public library collections of its kind in the Southeast, collections like this are popping up all over the country. In practical terms: collecting, preserving and archiving these "alternative" histories/narratives provide primary source material that will aid researchers now and in the future. Plus, we want our collection to reflect the diversity of our community.
Zines have long been a way for marginalized communities to record their stories, share information, and organize for change. Zine libraries are making sure these stories are accessible and that those important histories aren't forgotten.
#Why Make Zines?
Zines are a cheap, accessible way to self-publish and promote your own art, comics, poems, writing, political musings, or just about anything else you can dream up. They're much more than a vehicle for self-expression, though. They allow creators of all background to produce and distribute work on their own terms.
In short, zines are:
Cheap and easy to make. You can get started with a 8.5 x 11 sheet of paper and a pencil.
Low-stakes. Don't know how to draw? Make it collage-style instead. Or collaborate with someone who does know how to draw. Zines are all about community and networking.
Hand-made. With all the time we spend staring at screens these days: isn't that refreshing sometimes? "Old school" art and craft techniques can be relaxing!
Experimental. There are no rules! The limit is your imagination.
#Always Wanted to Create a Comic or Zine?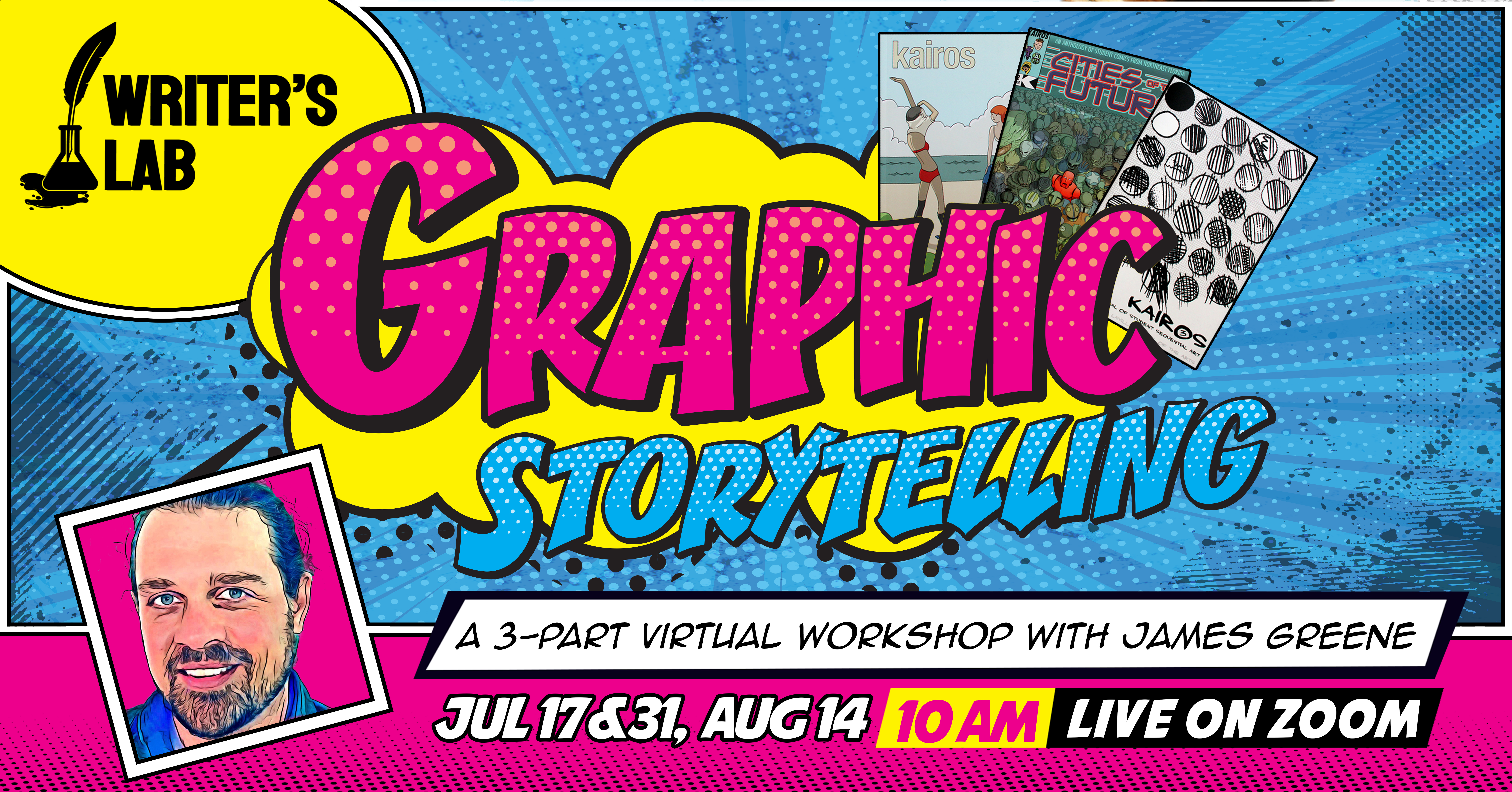 If you're new to sequential illustration and graphic storytelling, make room on your calendar for our upcoming Writer's Lab series. You'll learn some key lessons in creating your own comics and tips for working with others during "Graphic Storytelling" with instructor and comics educator James Greene. Join his three-part workshop Saturdays in July and August at 10 a.m.:
July 17: Words and Pictures
July 31: The "Invisible" Art
August 14: The Page as a Unit of Meaning
Sign up for one workshop or all three! You'll receive the Zoom link one hour before the event.
James is the creator of Meet the Neighbors and the KAIROS series of student comic anthologies.
We also have books about zine making available for check out like Whatcha Mean, What's a Zine? The Art of Making Zines and Mini Comics by Mark Todd. You can also check out our "Graphic Novels in Libraries Month" blog and booklist for more how-to books on comic making and inspiration from popular graphic novelist and illustrators.
We can't wait to see what you create and submit!